---
Paper Lanterns, Sakura Flower Lamps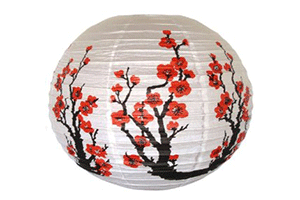 Made of rice paper, Chinese lanterns with flowers, red flower lapms
If you like to redesign and recycle, giving old furniture, mirrors or picture frames, table cloths and curtains a new exciting life, you will enjoy making Chinese lanterns with flowers of simple cheap lamp shades that you can buy at IKEA or decorating old paper lanterns that you already have at home. Your creativity and love for colors will guide you. Recycling decor is a hot topic. Supporting recycling movement while decorating your home is trendy.
Recycling old lamp shades or decorating colorless lamp shades require no special skills or talents. Interior redesign, furniture painting, creative recycling old shoes, resourceful wall decorating with old frames or making impressive personalized decorations for old lamp shades are the most economical way to refresh your home decor and add custom made accessories.
Room decorating with clutter and utilizing existing belongings are parts of creative home staging that recycles items you have. It saves your money and supports the environment. Easy to make Chinese lanterns with flowers are beautiful eco homes items that decorate interiors or backyard in style on a dime.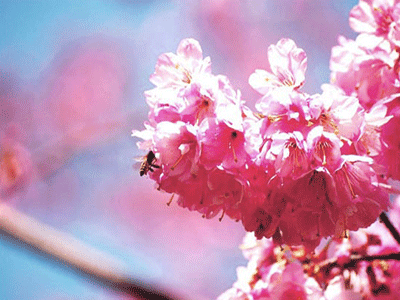 You can use any lamp shades, made of paper. The size or shape is not important. Select the color that is matching your interior furnishings and decorating color schemes or choose lucky Feng Shui room color for making Chinese lanterns with flowers. (Easy to make Chinese lanterns) You can experiment with single color shades or create colorful decorating design, and then paint branches and flowers.
Energy saving LED lights or low wattage bulbs that produce soft light are perfect choices for creating cozy environment in Asian style.
Chinese paper lanterns with flowers
Home decorating with custom made lamps feels natural for patios, backyards or eco home designs. Inspired by spring tree blooming, paper lanterns with flowers and branches make personalized decor items that are interesting, functional and inexpensive. (Handmade decorations ideas and cheap eco friendly gifts)
Making Chinese lanterns, hanging lanterns

Unique Sakura flower lamps are remakes of cheap lamp shades from IKEA. Hanging lanterns add exotic Asian style flavor and pleasant soft lantern lights to interior decorating. Round shapes of hanging lanterns bring balance and harmony, creating peaceful and relaxing atmosphere.

Sakura flower lamps can be used as indoor or outdoor lanterns. Unique lighting fixtures beautifully decorate rooms, gardens patios and decks.

Making Chinese lanterns with flowers

Draw Sakura tree branches with black ink, gouache or acrylic paint. Let it dry, then glue red flowers to branches, creating custom made Chinese lanterns for decorating. If you arrange LED light strings inside hanging lanterns, then you create energy-saving eco friendly lamps.

You can make few Chinese lanterns for decorating your backyard, deck or gazebo with pleasant soft lantern lights. Traditional, made of rice paper or contemporary, made of natural fabric or old lamp shades, hanging lanterns make lovely indoor and outdoor decor accents.

Recycling and inexpensive decorating ideas:
Eco friendly building with empty bottles
Decorating empty walls with clutter
Cheap high impact home decorating ideas

Inexpensive lamp shades for Asian home decor

Making Chinese lanterns

Paper lantern with Sakura tree branches, photo via pearandthebabes.blogspot.com

Made of rice paper, Chinese lanterns, Japanese Sakura flower, hanging lanterns, Asian decor

by Ena Russ
last updated: 11.01.2012