Cheap High Impact Home Decorating Ideas
---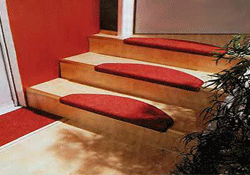 Red stairtreads, cheap home decorating ideas
A guest post by Corey Palmer, floormats.co.uk
If you want your home to make a big impact, then it is often a good idea to focus on one thing in each room, rather than trying to put too many interesting things in a small space. This is good news for anyone on a budget since it is much cheaper to change one thing. You might want to focus on color, on a dramatic piece of art or on a special item of furniture. Whatever you choose, make sure it is something you like and which you will still like months or years from now, and make sure that it will fit in with everything else in the room.
Cheap decorating ideas  with color
Color is one of the most useful tools when you are trying to make a high impact change to your home, without spending too much money. You can easily buy some cheap paint in order to brighten up a room, and your choice of color can have a dramatic impact. If you want to achieve a dramatic effect with as little cost as possible, then you can buy a smaller pot of paint and just paint one section of the room, or a single wall. You might even be able to achieve a high impact effect using a free paint sample. These tiny pots may be enough to paint the wall behind your shelves, or to fill in a small inglenook. If you are feeling very artistic, you might even want to try stenciling a pattern onto your walls or painting a mural.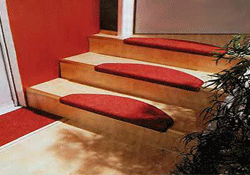 Even small little accents like stair treads on your stairways or pictures on the wall can make a huge difference for a relatively inexpensive price.If you prefer wallpaper to paint, but you want to avoid spending enough to repaper a whole room, then you might want to try papering a single wall or even using just one sheet of wallpaper. If the pattern is interesting enough, then a single panel of wallpaper can make an interesting feature. This is particularly true if your rooms are oddly shaped since you can fit the wallpaper into a small nook or use it to cover a short section of wall. (Look at felt wall decorating ideas.)
Cheap decorating ideas – interesting wall decor
Adding some art to your room can also make a huge difference, and it doesn't have to cost the earth. You can find some cheap artwork at car boot sales or at auctions of work by art students.
It is also possible to pick up some cheap prints of photographs or paintings, which can be framed and hung up in your room. You may want to experiment with hanging your pictures in different ways to create the best effect. (Look at empty wall decorating ideas with ordinary frames.)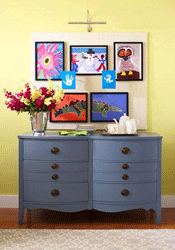 Cheap decorating ideas – 3d decor
Choosing a piece of sculpture rather than a painting can often make an even bigger impact since people are less used to seeing 3D artwork in family homes. You may be able to pick up an affordable piece from a sale or auction, but you can also try looking for interesting antiques or everyday decor items that could be considered art. Properly placed, a natural item such as an interestingly worn stone or even an industrial piece of machinery can work as a dramatic piece of art for your home decor. (The art of interior design, room decorating ideas, furniture painting inspirations.)
Cheap decorating ideas – personal wall decor
If you would prefer something a little bit more personal, then you should look for some good photos, or perhaps some art created by your children. You could also try creating a collage using old photos, postcards, fabric, or anything that you think will look good on your wall.
Recommended:
Decorating empty walls with clutter
Kids room decorating: clutter for creative walls design
Beaded curtains with crystals
More from cheap decorations

Colorful handmade birdhouse designs look beautiful on green branches and garden posts. Creative painting ideas turn wooden birdhouses into bright yard...