Red Poppy Painting with Crystals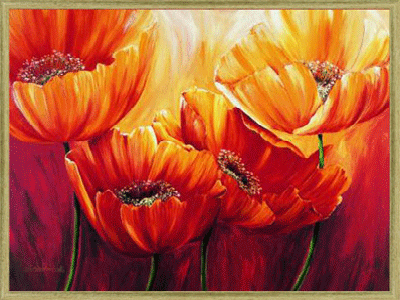 Red poppy painting
empty walls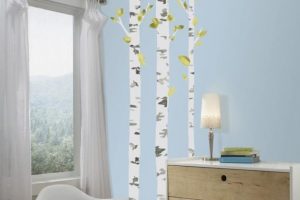 Red poppy flowers are modern room decor trend. Bright and tender red poppy bouquet, poppy painting or poppy flowers pictures are beautiful room decorations that Feng Shui home interior. Red poppy painting with Swarovski crystals opens a new way for innovative room decoration ideas. Sparkling poppy flowers on an empty wall is a good Feng Shui home decorating item that brings modern Feng Shui crystals into contemporary room decor.
Red poppy painting with Swarovski crystals a combination of tradition fine art, elegance and luxury room decor ideas that incorporate elite Swarovski crystals and Feng Shui symbols. Creative way of using Swarovski crystals as classic Feng Shui crystals on the red poppy painting offers unique room decoration ideas for an empty wall that are both exciting and eccentric. Red poppy painting and Swarovski crystals juzz up modern neutral or dark room decor ideas, emphasizing the depth of contemporary room decor.
The work of art with Swarovski crystals create a pleasant impression, improves mood, making people feel better, and evokes a desire to touch the impressive room decoration with beautiful flowers again and again. The style of unique red poppy painting, presented by Art Studio DEVIGO, is difficult to determine. Red poppy bouquet is created with stained glass pieces and fluorescent paint. A canvas plays the role of glass, and carefully selected Swarovski crystals work as classic Feng Shui crystals to Feng Shui home interior and decorate an empty wall.
Red poppy painting is the artist's inspiration by beautiful flowers, that offers creative art work and hand made room decor ideas for contemporary homes.
Poppy flowers – good Feng Shui symbols
Red poppy flowers are a symbol of the sun. According to the ancient classic Feng Shui home design philosophy, Feng Shui crystals and Feng Shui art work with these beautiful flowers are a sign of providence and truth. These ancient Chinese Feng Shui symbols, red poppy painting and Feng Shui crystals on an empty wall attracts abundance.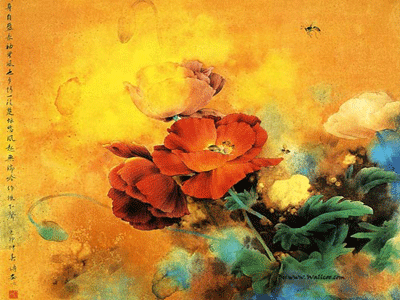 Red poppy painting with Swarovski crystals are perfect to Feng Shui home decor. Beautiful flowers painting and room decoration is good Feng Shui art work that adds bright color to an empty wall and contemporary room decorating ideas. Red poppy bouquet with Swarovski crystals is a unique gift to Feng Shui home decor with Feng Shui crystals, that make pleasant wishes come true.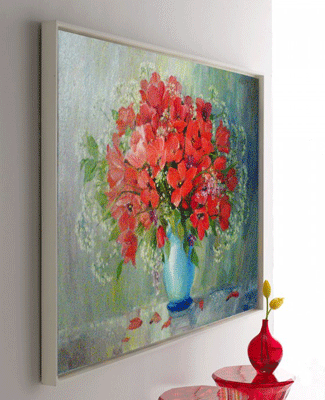 Recommended:
Modern floral room decor trends, red poppies on walls
Red and white dinnerware, floral pattern
Blue gift of roses with personal notes on the petals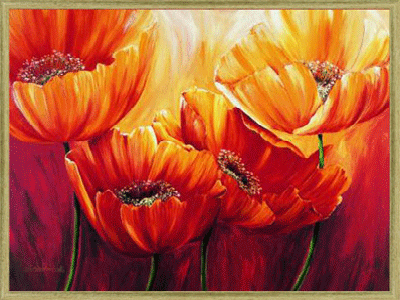 More from decorating with flowers

Fabulous designs take modern food decoration ideas to the next level blending innovative concepts with traditions and exploring new ways to...
and enjoy free articles sent to your inbox