Empty Picture Frames, Stylish Wall Decoration Ideas
---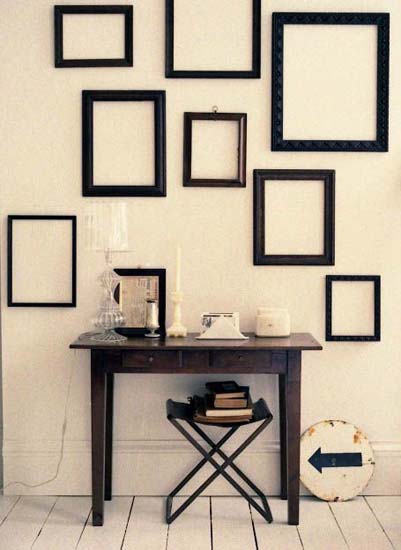 Empty antique, vintage or modern picture frames are modern interior decorating trends that encourage to experiment with creative wall decoration ideas, frame sizes, colors and styles, and make modern home interiors look charming, unique and interesting.
Picture frames in traditional geometric and odd shapes, various frame sizes and different picture frame styles, grouped with a larger picture frame, offer exciting contemporary wall decor ideas for modern home interiors. Empty picture frames that clutter your home are excellent material for inexpensive creative and modern interior decorating or home staging to sell your house.
Small picture frames can be arranged inside a large picture frame for unusual and attractive modern wall decoration. Vintage frames and antique picture frames look especially dramatic, adding a wonderful decorative element that will bring your room design to life.
Wall decoration with frames
Decorating with old picture frames, money saving wall decoration ideas
Wall decor ideas, decorating with ordinary frames for exceptional look
Photographs of decorating with picture frames
Stripes for wall decoration
Modern interior design with stripes
Striped wallpaper patterns for modern room decorating
Wall decoration with stripes width
Tips for decorating with picture frames
Hanging one large vintage or antique picture frames or grouping empty picture frames, creating an impressive collection create interesting and attractive contemporary wall decoration. All imperfections of wooden frames are great for giving some character to your room decorating.
Display your collection of small picture frames inside a large vintage frame or arrange various frame sizes around a beautiful antique picture frame to make your creative wall decoration ideas to stand out.
Mix black and white empty picture frames and bring a dynamic color contrast to your room decorating. (Decorating in black and white with color accents)
Cork board pieces inside of empty picture frames make attractive wall decorations that can be easily changed with photographs and small framed objects, and create a practical message center for your interior design.
Decorating a frame with  beautiful leaves and flowers, or a small framed object are another ways to add unique and impressive wall decoration ideas to modern interior design.
More from modern interiors

Warm metal accents are easy to incorporate into modern kitchen designs. Metal lamps, hardware, metal tiles, elements of kitchen designs will...