Stylish Striped Wallpaper Patterns for Modern Rooms

Living Room

modern wallpaper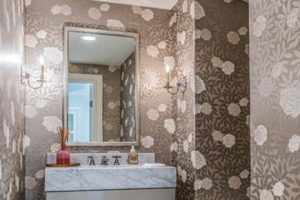 Striped wallpaper patterns are stylish and attractive interior decorating ideas that are perfect for large walls. Also bright and elegant stripes on walls add drama, decorating small spaces in style. Using matching striped wallpaper patterns and wall painting or mixing stripped wallpaper designs are fresh wall decoration ideas that create impressive and cheerful room decor.
Separating striped wallpaper patterns with empty space or using them on different walls, changing horizontal and vertical direction of stripes, zigzag  or wavy stripes on walls, using various stripes width and combining striped wallpaper with matching wall painting or floral wallpaper patterns are creative room decorating ideas and modern interior design trends for 2012.
Contemporary room decorating ideas call for unusual and unique ideas. Unleash your imagination and start think unconventionally. Striped wallpaper, positioned diagonally or the combination of short and long vertical and horizontal stripes, created with different wallpaper patterns look interesting, unique and stylish.
Modern wall decoration ideas, wall painting and stripe wallpaper patterns combination
Room decorating ideas with striped wallpaper patterns
1. Although modern wallpaper patterns become dated quickly and removing wallpaper is not easy, modern wallpaper patterns add rich textures, interesting themes and wonderful colors to room decorating ideas like wall painting never can.
2. Modern striped wallpaper patterns in green, brown, yellow, blue or light neutral colors are great for room decorating ideas in eco style.
Light green, yellow and white, stripes on modern wallpaper, elegant wall decoration ideas
Striped wallpaper designs in pastel colors with silver and golden details are latest room decorating ideas that create fabulous decor.
Room decor with stylish stripes
Wall decoration with stripes width and direction
3. Walls, decorated with striped wallpaper in light colors, can stretch small spaces, if you position stripes horizontally and vertically.
Striped wallpaper patterns, golden-orange and cream-white stripes, optical illusions and modern wall decoration ideas
4. Striped wallpaper border, installed around the room at a chair rail height from the floor, makes the ceiling look lower, but increases room dimensions, creating wider room. Human eyes immediately notice dynamic stripes on walls and start to follow the wallpaper border around the room. The ceiling will not be in focus.
Modern interior design with energetic stripes
Striped fabrics, room decorating ideas with stripes
5. You can decorate the room with striped wallpaper patterns and achieve the opposite result with vertical wallpaper stripes or placing stripes horizontally right under the ceiling.
Modern wall decoration ideas, striped walls, black and white stripes
6. Striped wallpaper patterns and curtains with stylish stripes are very effective and attractive room decorating ideas for creating pleasant optical illusions and changing proportions of the room visually.
7. Vertical stripes on window curtains, upholstery fabrics and striped wallpaper make rooms look narrower with higher ceiling. The creative combination of paint, striped wallpaper and flower wallpaper patterns allows to design spacious rooms and balance its dimensions.
Bright wallpaper patterns and beautiful wallpapers with flowers, modern wall decoration ideas
8. Horizontal stripes on window curtains, furniture items and striped wallpaper expand small spaces visually, offering interesting, inviting and cozy decorating ideas.
Modern wallpaper trends
Designer fabrics and modern floral wallpaper patterns
Modern wallpaper patterns and colors for eco style
Modern wallpaper patterns with vertical stripes, higher ceiling illusion, bright decorating ideas
More from room decorating

Throw pillows in various colors, designs, and patterns are one of the easiest ways to refresh your room design and inject...
and enjoy free articles sent to your inbox