Designer Fabrics and Modern Floral Wallpaper Patterns
---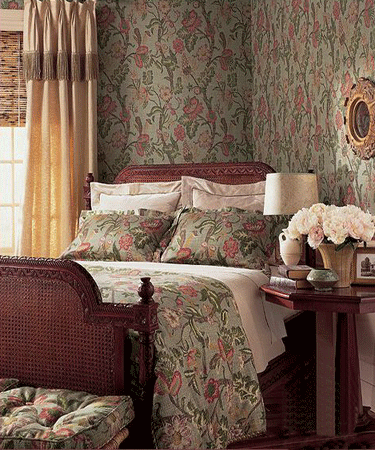 Modern retro wallpaper patterns, green-pink wallpaper patterns, traditional bedroom wallpaper designs
Modern wallpapers, made of unique designer fabrics, is the most beautiful room decoration. Different fibers and their combination produce high quality designer fabrics, new textures and exciting wallpaper patterns. Contemporary wallpaper fabric combines the designer wallpaper and designer fabrics properties, creating modern interior decorating material for luxurious, elegant and stylish room decor.
Modern wallpaper fabric is not just beautiful room decoration. Wallpaper fabric helps to keep the room temperature constant, offering comfortable room decor. Designer fabrics and modern wallpaper patterns make room decoration with decorative fabric unforgettable and cozy.
Today designer fabrics offer many traditional floral wallpaper patterns for retro room design and unusual floral wallpaper designs for contemporary room decor. Floral wallpaper patterns and modern designer fabrics color combination offer modern, warm and comfortable room decoration. The variety of patterns and room decorating colors can please most stylish customers, including teens. (Look at playful black wallpaper patterns for kids room decor.)
Retro modern wallpaper designs, floral wallpaper and designer fabrics, dining room wallpaper, green wallpaper patterns
Stylish metallic accents of modern room wallpaper designs and interesting unusual textures of designer fabrics and modern wallpaper patterns impress. Designer wallpaper patterns offer beautiful colors for modern room decor, contrasting black and white wallpaper, trendy purple or pink wallpaper designs, floral patterns and designs with stylish stripes and curves for creating personal, elegant and cozy dining room, bedroom or living room interior decoration. (Look at black wallpaper for mysterious room interior decor.)
Marburg factory offers hand made designer fabrics for exclusive room interior decor. Marburg is the only place in the world that produces designer fabrics for modern wallpaper manually and in industrial scale.
Pink wallpaper, Marburg designer fabrics and floral wallpaper designs, contemporary room wallpaper
Green wallpaper designs, floral wallpaper patterns for bedroom wallpaper, retro wallpaper patterns
The latest Marburg designer fabrics and modern wallpaper patterns show trendy crumpled fabric surfaces, stylish color combinations for contemporary room decor and traditional floral wallpaper patterns for modern room interior decoration with retro wallpaper fabric.
Contemporary bedroom wallpaper designs, floral wallpaper, purple flowers on black wallpaper fabric
Contemporary pink-black-white wallpaper, floral wallpaper designs, Marburg designer  fabrics
Luxurious designer fabrics and modern wallpaper designs are beautiful room interior decoration that creates elite room interior design that feels warm, charming and special. (Look at modern wallpaper designs for room decorating with green color.)
Modern retro wallpaper patterns, green-pink wallpaper colors for modern bedroom decoration
Modern wallpaper designs can attractively mask minor surface imperfections, add stylish color and interesting accents to room interior decoration. Elite designer fabrics and modern wallpaper patterns impress with the quality and the variety of stylish choices for creating beautiful and comfortable room design.
Recommended:
Wall wallpapers, patterns modern curve
Spring home decorating: modern trend and classic technique
7 popular decorating color combinations for 2011
Living room decorative cushions and pink wallpaper design, designer fabrics and retro wallpaper patterns for modern living room decor