Charming Home Decorating Ideas for Valentines Day

Holiday Decor

Red Color Accent

Valentines day ideas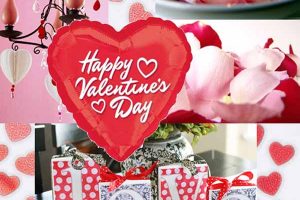 Valentines Day is an opportunity to create romantic atmosphere and enjoy a special time with your beloved. Cute Valentines Day ideas are a great way to surprise your loved ones. Pink, red and white Valentine decorations make your rooms feel warm, festive and inviting. (21 Valentines Day ideas for table decorating)
Pink, red and white colors, charming and interesting home decorating ideas, pleasant music, mysterious  candles light, unique Valentines Day gifts and exciting trips are parts of celebration. (Unique romantic hotel experience in redesigned old planes) Candies, chocolate, teddy bears, cupids, lace, ribbons and Valentines Day cards can be used for creative and inexpensive home decorating, gifts and cute Valentines ideas.
Beautiful Valentine decorations, like door wreaths with flowers, lace and ribbons, heart cookie cutters, buttons or ornaments attractively decorate front doors. Also you can use eco friendly felt, cotton, wicker or wood to make large heart decorations for your entrance and walls. (Eco friendly Valentine decorations and Valentines Day gifts under $10)
Bedroom heart decorations, home decorating ideas for Valentines Day
Decorating your bed in traditional pink, red and white colors, you can prepare your bedroom for an unforgettable romantic night. Pink and red are colors of passion and love.
Strong contrast, that red and pink tones create with white color, produces dynamic and exciting bedroom decor. Luxurious silk bed sheets and soft pink or red pillows add beautiful home decorating accents that make seducing Valentine decorations for your bed.
Romantic Valentines Day decor, bedroom decorating ideas, red pillows and rose petals
Pink or red curtains, chosen for Valentines Day, will look gorgeous also. Natural fragrances, fresh flowers, tender rose petals on the bed, soft light and relaxing music add pleasant details to your Valentines Day decor. (Modern flower arrangements, unusual centerpieces and gifts)
Pink curtains, bed sheets and pillows, romantic Valentines Day ideas
Handmade pink, red and white pillows are easy to make and inexpensive home decorating accessories that add more comfort and a personal touch to your bed and bedroom decor for Valentines Day.
Romantic bedroom decorating ideas, rose petals, candles, red bedding set
Cute LOVE, I LOVE U or BE MINE embroidery, small red balloons, flower petals and heart shaped or pink-red-white pillows are traditional symbols that make great Valentines Day home decoration.
Pink, red and white Valentine decorations, heart garland for bed headboard decorating
Rose petals on the bed, natural aroma candles, heart shaped pillows and napkins are beautiful home decorating ideas for Valentine's Day. ( Charming ideas for decorating with flowers, edible rose petals)
You can also decorate windows, walls, doors, kitchen and dining room lighting fixtures and a fireplace in your living room, dining room or bedroom, hanging pink, red and white hearts, balloons and small cute Valentine decorations everywhere in your house.
Easy to make cute Valentines Day decoration, red heart decorations, charming home decorating ideas
Decorating your house entrance or kitchen walls are unusual ways to surprise your Valentine. Inexpensive tablecloth, place-mats and napkins are great Valentines Day ideas for your dining table decor. (Tender rose petal decoration and gourmet recipes)
Easy to make cute Valentines ideas for kitchen decorating, charming heart decorations
End tables and shelves can be decorated with glass jars and pink-red-white candles or small baskets with flower arrangements for romantic Valentines Day. Towels, heart shaped soap dishes and aroma candles are charming Valentines Day ideas for your bathroom decorating.
Another modern way to add romantic accents to your home decor is Valentines Day vinyl wall stickers.
Charming cupid wall sticker, romantic Valentines Day ideas
Easy to make or inexpensive Valentines Day ideas create inviting homes and festive atmosphere with traditional pink, red and white colors, flowers, balloons, ribbons, cards, candles and heart decorations for happy Valentines Day.
Unusual and cute Valentines Day ideas:
Blue gift of roses with personal notes on petals
Food design: chocolate, flowers and edible decorations
Edible flower cuisine and gorgeous food presentation
Easy to make, cute Valentines ideas and inexpensive gifts

Here are great ideas for kids toys storage and wall decoration with small cars that everyone would love. DIY organizers, like...
and enjoy free articles sent to your inbox