Spring Inspired Home Decorating Ideas for Every Room

DECORATING SMALL APARTMENTS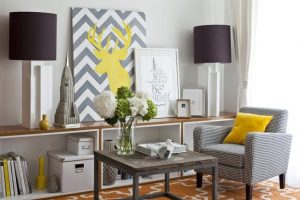 Spring calls for light and airy room decorating ideas. Light blue room paint colors for walls and ceiling invite beautiful spring sky into your home, creating more spacious and attractive interior spaces. Yellow and green room colors symbolize sunshine and fresh foliage, offering happy and cheerful home decorating ideas.
Seasonal room decorating with flowers, green house plants, flower wallpapers, flowers painting and floral fabrics adds natural accents and bright spring colors to modern homes, making them feel joyful and pleasant.
Adding fresh flowers or green house plants, flower wallpaper or floral fabric to your  room decor is not enough for creating airy and fresh spring home look. You need to make all small repairs, organize and redesign your interior space, creating more comfortable, functional and beautiful home before you fill your rooms with spring bright colors and floral designs.
Unique interior design ideas for spring decorating, ceiling and wall painting design
Select light room paint colors, like sky blue, sunny yellow or cream, citrus yellow or yellow-green hues, and decorate your walls and ceiling. Choose leaves and flower wallpapers for decorating walls, wooden furniture items and decor accessories, creating harmonious and elegant room decor.
Sky-blue ceiling, blue interior paint colors, modern ideas for spring decorating
With some enthusiasm, time and effort you can create stylish and personal spring home decor, using spring inspired colors, modern room decorating ideas and saving money on professional home decorating services.
11 ideas for spring decorating
1. Attractive colorful throws and cushions, bright tablecloths and napkins, made of floral fabric, add vivid color accents to interior paint colors, offering spring inspired bedroom or dining room decorating ideas and color schemes.
Colorful spring decor accessories, dining room and kitchen ideas for spring decorating
2. Window curtains are simple, inexpensive and very effective room decorating ideas that can quickly change the way rooms look. Light, semi-transparent or sheer curtains fabric with flowers or green leaves can brighten up boring room decor and make your home feel airy and pleasant, welcoming spring.
3. Modern room decorating color schemes, that include sunny yellow, light yellow, citrus yellow and all light yellow-green shades, look happy, energetic and inviting. (Green color for room decorating)
Wall decorating with flowers, red poppy flowers painting, bright  and colorful kids room ideas for spring decorating
4. Yellow window treatments, room paint colors or wallpaper designs create sunny and happy spring home decor.
5. Yellow window treatment designs are great choices for kitchen, bathroom, dining room, home office and kids room decorating. (Yellow color room decorating)
Money saving tip:
Decorate furniture and your room decor accessories with pieces of floral fabrics or flower wallpapers. Inexpensive and simple room decorating ideas help create new furniture designs and change room decor without buying new furnishings.
Better Home and Garden collection, www.bhg.com/ offers charming room decorating ideas for spring that includes floral fabric, flower wallpaper designs, spring green and sunny yellow room paint colors that add warmth and freshness to home decor.
Spring decorating with flowers, living room decor
Yellow-orange-green floral fabric, kitchen ideas for spring decorating
Green bedroom decorating ideas, floral fabric and  flowers wallpaper
Spring bathroom decorating ideas, yellow room paint colors
6. The drawers and lamp shades, decorated with green leaves, flowers wallpaper, floral fabrics for curtains or furniture upholstery are interesting and creative room decorating ideas for spring.
7. Picture frames, decorated with green leaves are charming living room decorating ideas that make spring decor look elegant and unique.
8. Red and green floral fabric for cushions can add beautiful spring flowers color shades to neutral room paint colors, creating more colorful and attractive room decorating.
9. Painting stylish stripes on window curtains fabric, combined with warm yellow room paint colors, is an attractive kitchen or dining room decorating idea that make room look both sunny and interesting.
10. Bright spring colors, like yellow, reddish-pink, bright red, orange and green color tones, can be added to room decorating ideas with modern bathroom accessories, colorful towels and wall paint colors. Strong contrasts create energetic room decor color schemes. (Modern bathroom decorating ideas)
Blue room paint and red poppy flowers, floral ideas for spring decorating, living room decor
11. A mirror frame or lamp shades, decorated with floral fabrics, look unique and unusual. Turning an ordinary mirror in a masterpiece is easy.
A mirror should have a flat frame. Decorate the frame with floral fabric or flowers wallpaper. You can use an old skirt, bright towels or a tablecloth that you do not need. Apply 4-5 layers of varnish to fix your creative design.
Money saving tip:
Declutter your home before spring decorating and find a floral fabric piece, old tablecloth or clothing from your closet that you do not need and can use for decorating your room accessories.
Room paint colors for spring decorating:
Matching room paint colors and furnishings
Blue-green interior color schemes, living room decorating
Spring decorating, neutral interior paint colors, bright decor
Flowers painting, contemporary office, ideas for spring decorating
More from home decorating ideas

Bright home interiors and amazing views of the ocean make this beach house a dream place. Large windows, light, neutral room...