Cool Teenage Bedroom Ideas, Teenage Bedroom Furniture and Storage
---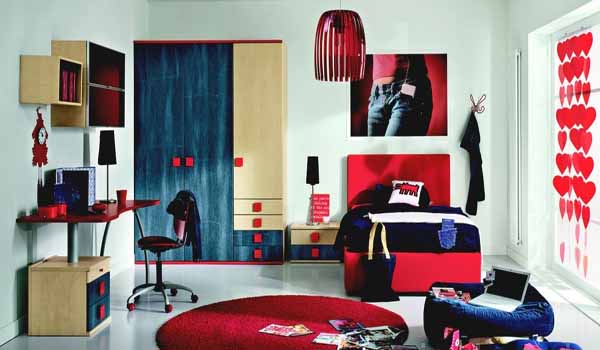 Teenage bedroom ideas, blue-red decorating color schemes and modern furniture for kids rooms
Teenage bedroom ideas surprise and delight. Belgian designers decide to blend a teen bed with a backpack, offering nice furniture for kids rooms and creative storage ideas that will keep a teenage bedroom in order.
Belgian furniture designers from Quinze and Milan, www2.quinzeandmilan.tv/ created an amazing combination of two different objects, a sofa bed and a backpack. Practical and functional, cool teenage bedroom ideas will delight young people and their parents. Bright red color accent and convenient storage ideas make sofa beds with backpack pockets excellent teens room decorations.
Modern red sofa with creative storage is comfortable and cool. All backpack pockets can be easily removed, cleaned and washed, which are great for teenage bedroom.
Red sofa bed with backpack pockets for modern teenage bedroom decorating
Getting rid of clutter and convenient storage ideas help organize a teenage bedroom. Old magazines and DVDs, controllers and cables, video games and chargers can go to large sofa bed pockets.
Small clothing items, like T-shirts, underwear and socks, that create clutter in a teenage bedroom closet, can be stored in a wonderful sofa bed pockets, creating more space in kids rooms. A lot of small items can be hidden in bright pockets.
Modern furniture design ideas, red sofa bed with pockets
Teenage bedroom ideas from Zalf
The Italian furniture for kids and teens from Zalf  is interesting also. Modern furniture for kids in bright colors provide complete solutions for kids rooms with plenty of storage and attractive decorating color schemes.
Black color, teenage bedroom ideas
Traditional bunk beds, built-in storage shelves and boxes, book shelves on walls, convenient desk drawers and space saving folding bedroom furniture wisely utilize available space in kids rooms and create functional contemporary teenage bedroom decor.
Teenage bedroom ideas, blue-red decorating color schemes and modern furniture for kids rooms
Modern teenage bedroom ideas from Zalf include multi-purpose furniture for kids rooms, large storage spaces, bright decorating color schemes and creative teens room decorations for walls.
Zalf, www.gruppoeuromobil.com/ is an Italian company that produces modern furniture, including furniture for kids rooms and teenage bedroom furniture.
Modern furniture for teens, and room decoration ideas
Bold lines, bright decorating color schemes, creative teenage bedroom decorations and functional furniture design ideas capture the viewer's attention right away. Many teenage bedroom ideas and concepts from Zalf are ideal for shared rooms, providing lots of storage space for two kids.
Ergonomic teenage bedroom furniture
Modern furniture for kids rooms from Zalf offer complete solutions for bedroom decorating. Modern teenage bedroom furniture items are practical and comfortable. If you teach your teen to clean and declutter his quarters sometimes, functional modern furniture from Zalf will keep teenage bedroom decor look attractive and spacious.
Teenage bedroom furniture
Ergonomic modern furniture for kids rooms help keep belongings organized, provide good rest on comfortable beds and support good posture at the desk. Regular cleaning and using
natural air freshener

are the way to create clutter free, functional, comfortable, stylish and healthy teenage bedroom decor.
More from modern furniture

Soft Work is a seating system featuring contemporary design in a minimalist style. Designed by London-based studio Barber & Osgerby for...