Ergonomic Bedroom Furniture for Teens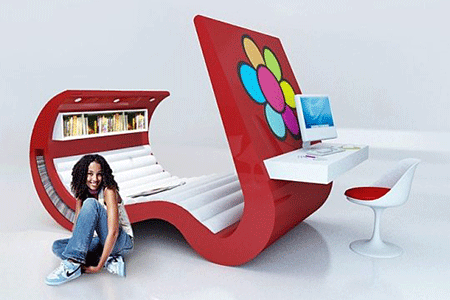 Modern teenage bedroom furniture, bed with integrated computer desk and storage
DECORATING SMALL APARTMENTS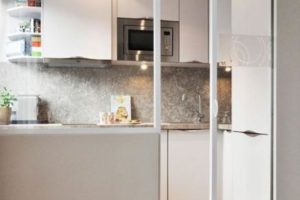 Every teenager needs a well-organized, functional, stylish and comfortable teens room. Three elements of functional teenage bedroom design are a comfortable bed, effective storage furniture with shelves or closet, and a study area with a modern computer desk and an ergonomic chair.
Today it is hard to imagine teenage bedroom designs without play stations, music centers or small TVs. Teens need a lot of storage. Even a small room for a teenager should include storage furniture pieces, modern book shelves or low storage units with drawers for organizing books, magazines and CDs. Space saving storage furniture designed for small rooms and wall shelves help keep a computer desk top clean and create functional teenage bedroom design.
Contemporary teenage bedroom furniture, that is stylish and functional, is excellent for youthful, attractive and comfortable interior design for young adults. Designer from Brazil, Roberta Rimme developed the concept of interesting, functional and attractive teenage bedroom furniture piece which is ideal for small rooms. This teenage bedroom design includes a bed with integrated furniture items and lighting. The bed with the built-in TV, DVD and play station, a small computer desk and a chair looks creative and original.
Contemporary teenage room design ideas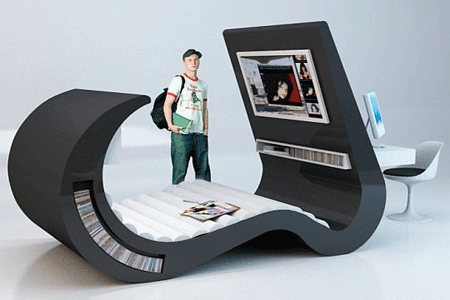 These contemporary design ideas created unusual and very attractive space saving storage furniture for teens rooms. Book shelves, bed side organizers for CDs and built-in lighting fixtures for reading create a wonderful space for a teenager to study, play and read.
The compact teenage bedroom furniture piece can be transformed into a comfortable bed at night, offering beautiful and functional small room solution for teens room design.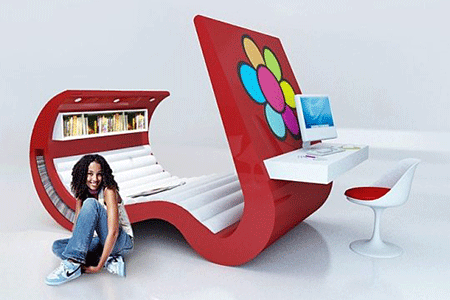 Contemporary computer desk for teenage bedroom design
Teens boys room design, organizing functional living space
There is no parent who did not think about the potential harm of a computer to teens health. Quality monitors have built-in protection from radiation, but computer blue light, especially in a dark and small room, is harmful for young eyes and can change sleeping patterns.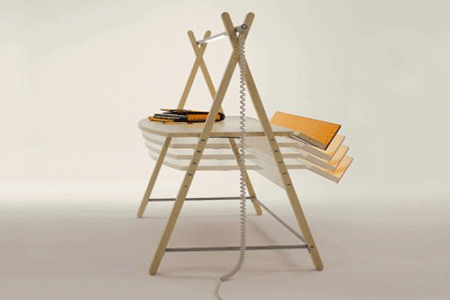 The correct body position, proper computer desk and ergonomic chair designs and ergonomic furniture arrangement are especially important for healthy and comfortable teenage bedroom design which decreases the negative effects of computers on the human body and brain.
Ergonomic desk for young kids and study area design ideas
The distance from teens eyes to a computer screen should be about 70 cm (or 28 inches). A computer screen should be positioned slightly downward, that is why the tilted computer desk is preferable for ergonomic teens room design. A computer screen position should protect eyes from glare. To protect young eyes, a room should be lighten while a teen is working or playing on the computer.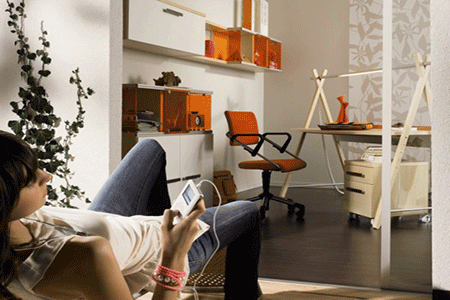 The height of ergonomic computer desk for a teenager is between 60-72 cm (24-28 inches,) and the proper size of computer desk top surface should be at least  80 by 160 cm (or 32 by 63 inches) even in a small bedroom.
Smart space saving ideas to organize cable clutter
If it is possible to find extra space in a small room for a computer desk that has two parts, one part is for writing and another for a computer or a laptop.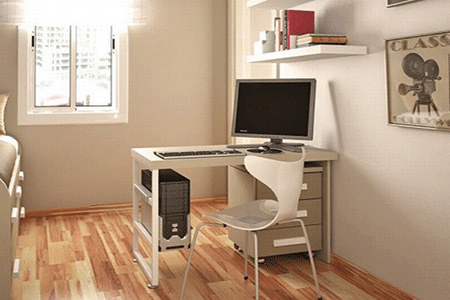 Of course, modern computer desks with storage shelves, drawers and organizers are a better choice for arranging functional and ergonomic small room design for a teenager.
Stylish space saving bedroom ideas for kids
Ergonomic chair for teenage bedroom design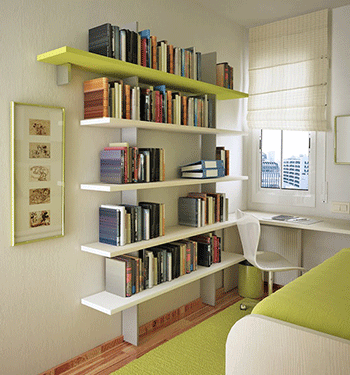 Ergonomic chair design should have rounded shape, adjustable arm rests, back support and comfortable seat. The seat height should be 40 – 55 cm (or 16 – 22 inches) and tilt range between 10 degrees back to 15 degrees forward. It is important for teens back protection to select good ergonomic chair design with adjustable back support, that allows up to 30 degree adjustment from the vertical position.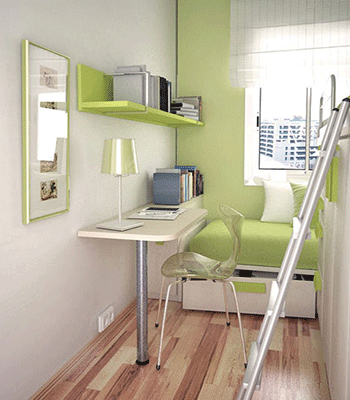 The distance from the front edge of the seat to the back support should be adjustable, between 26 and 40 cm ( or 10 – 16 inches.) The most comfortable armrests width is 5 – 7 cm ( or 2 – 3 inches,) and the armrest length should be less than 25 cm ( or 10 inches.) The height of teens ergonomic chair armrests should be adjusted between 23 – 26 cm ( about 10 inches.)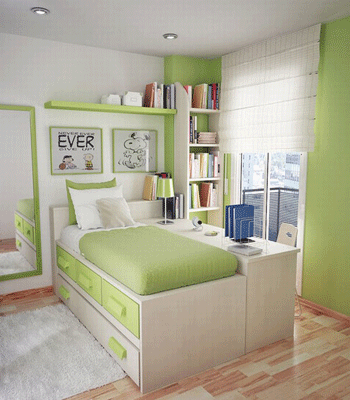 Buying teenage bedroom furniture
Choosing the bed, small room storage units, wall shelves, modern computer desk and ergonomic chair, ask if teenage bedroom furniture items are made of environmentally friendly and healthy interior design materials. Look for anti-static and anti-allergy materials for teenage bedroom furnishings, – furniture, teens room decorations and accessories.
Interior decorating from toddler room to teen quarters
Before buying furniture or decor accessories for your teenage bedroom, consider how easily they can be cleaned. Sharp corners of teenage bedroom furniture or rough metal decorations, glass surfaces of computer desk or wall shelves, porcelain or glass accessories, plastic teenage bedroom decor accessories, man-made decorating fabrics and plastic furniture are not the best choices for modern teenage bedroom design in eco style, specially if you need to decorate a small bedroom.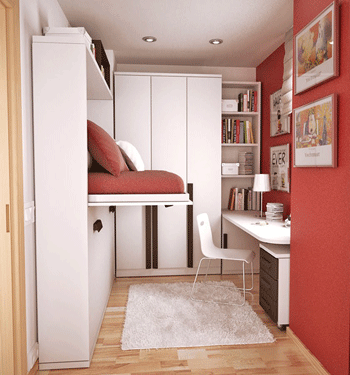 Designing study areas in small rooms
Kids room decorating ideas, clutter for creative wall design
Even in a small room, an ergonomic study area with a computer desk and ergonomic chair, book shelves and space organizers should be separated from a sleeping zone. A well lighted and large enough computer desk, ergonomic chair and space saving storage furniture items create productive teenage bedroom design with an inviting and functional study area.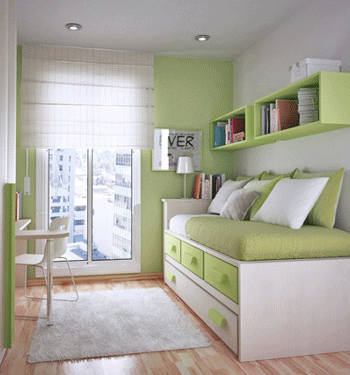 A comfortable bed allow good rest. Teens room decorations and accessories add style to teenage bedroom design and create pleasant and comfortable look. Two zones look attractive, improving organization and functionality of small room design for a teenager, and create welcoming living space for study and play.

It is possible to find enough space for a small bedroom even in a tiny apartment or home. Here are smart...