Home Furniture Designs for Comfortable Life, as We Understand It

Decorating Ideas

Fun Rooms

Furniture Accessories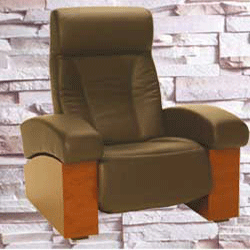 Fortuny, home theater chair from Belgium
living room furniture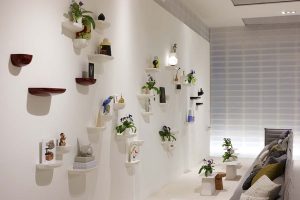 Multifunctional and easy to assemble, modular furniture design is one of modern interior design trends that blends functionality and flexibility. An interesting, comfortable, space saving and contemporary collection of upholstered living room furniture was born in the workshop of German furniture designer Katrin Greiling. Her modern furniture set is called Contemporary Bedouin Collection, and the first customer is Dubai Traffic company.
The Bedouins are a predominantly desert-dwelling Arab ethnic group. In winter, when there is some precipitation, Bedouins migrate deeper into the desert, and they seek refuge around secure water sources in the hot and dry summer. Bedouins prefer to live in the villages and cities during summer months. Modern furniture design from Germany offers a lightweight, economical, comfortable and space saving solution for simple and functional interior decorating which is perfect for their traditional lifestyle.
Historically their way of living has represented a military threat to urban rulers, and it has also been important to decide who belongs where, who owns the land and how will taxes be collected. Modern societies have made the traditional Bedouin lifestyle look less attractive. Some governments demand tribes to settle in urban areas.  Other governments have taken strong measures to regulate nomadic lifestyle. According to modern furniture designer Katrin Greiling, the Bedouin room furniture collection is a contemporary interpretation of the traditional Bedouin lifestyle which allows flexibility and encourages simplicity.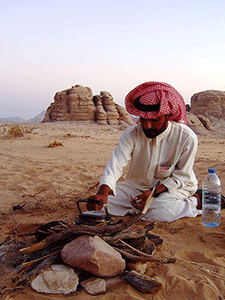 Modern furniture design for contemporary nomads
First ottomans were created by nomads long time ago. Comfortable, space saving and multifunctional, these room furniture pieces inspired light and practical modern ottomans.
A new generation of so called contemporary nomads, those who often change rental apartments searching for a new experience, better living and working conditions, will appreciate the new room furniture collection that is modern, functional and conveniently cheap.
Moroccan style home furniture, accessories and materials
Unique furniture design to recycle car junk yards parts
Kids furniture design for fun and smiles
Contemporary living room furniture design is thoughtfully developed for adventurous people and is suitable for large and small rooms. Students may like the modern living room furniture collection which creates comfortable and modern interior decorating on a dime, bringing comfort and simple design style into small rooms.
The modern living room furniture set can inspire great do-it-yourself projects. Visit the designer web site, www.katringreiling.com/ to see all photos of this unique home furniture design and manufacturing process.
The living room furniture collection includes 15 ready to assemble and easy to disassemble objects in different sizes and shapes. These parts can make living room sofas, ottomans, beds and tables of stacked mattresses.
Bedouin collection, contemporary living room furniture design ideas
Home theater, modern furniture design, inspired by ancient ottomans
Bedouin sofa, living room furniture design for modern home decor
Modern bed Bedouin, bedroom and living room furniture design
Bedouin collection of ottomans, modern furniture design ideas for contemporary nomads
Ottoman that can be a bed or a coffee table, modern living room furniture sets
Moving sofa or bed's baseboard, contemporary furniture design for modern nomads
Mattresses for Bedouin beds and sofas, creative, light and inexpensive furniture design ideas
Portable living room furniture parts
Luxurious modern furniture design for home theaters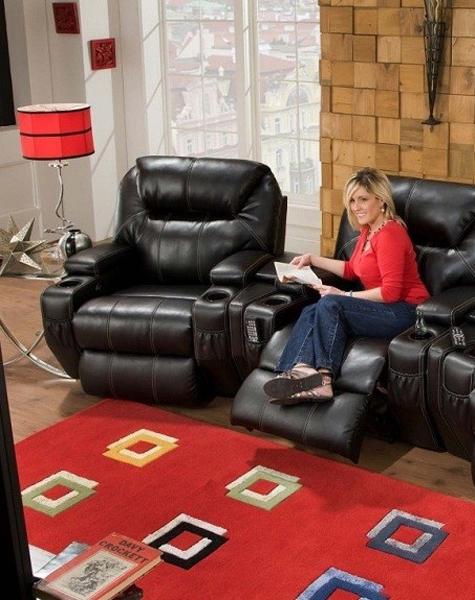 Modern furniture design company CINEAK,  www.cineak.com/, based in Belgium, is a manufacturer of luxurious leather theater seats. Their latest products, two new chairs for home theaters, were presented at the most prestigious exhibition, Integrated Systems Europe (ISE) in Amsterdam.
Modern kitchen furniture design, simple and sleek masterpieces
Contemporary furniture design, the unique chair with hair
CINEAK developed modern furniture designs for individuals to decorate family rooms and owners of in-home theaters. The seats are used for interior decorating of conference halls and public areas also. The prices for these new seats start from 4000€.

The modern furniture designs are handcrafted at the company's factory in a suburb of Brussels. Expensive upholstery fabrics, natural soft leather, stylish colors, handmade design and ultimate comfort make these theater chairs luxurious and exclusive.
The art of room furniture design, the future of the furniture
Interior designers present their chair masterpieces
The manufacturer offers a huge selection of upholstery materials, including natural and man-made leather in 20 different colors. Custom-made modern furniture pieces can have a console table for holding glasses for drinks and popcorn.
Vedette, theater recliner, luxurious modern furniture design ideas
Fortuny, theater seating, comfortable furniture design for modern home decor
Fortuny Deluxe, as well as Vedette, are example of quality modern furniture designs that provide a great level of contemporary comfort with moving wooden back and side panels. Long films, and even a few of them, are not a problem in these home theater seats. The body will relax in a comfortable position as long as it takes, because the head support is adjustable also.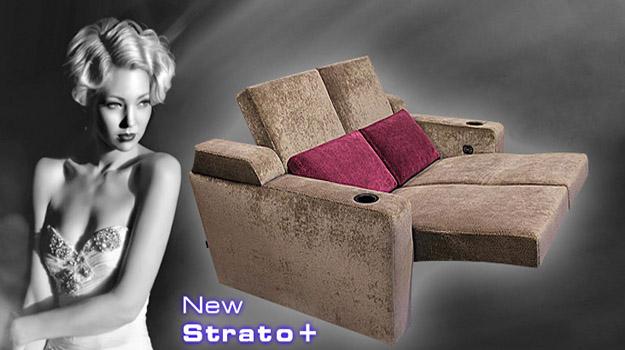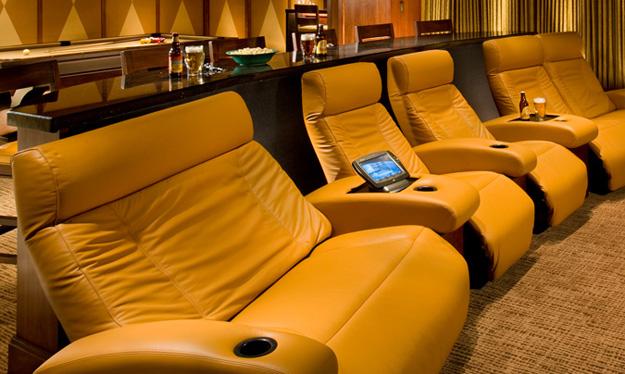 The company representative says that until recently their furniture design was too expensive for people to buy. Now the company decided to make luxurious modern furniture for home theaters more affordable, developing cheaper models.
Modern furniture design ideas
Glowing design idea from the ocean floor
Home office furniture, ergonomic elegance
Modern furniture design for cats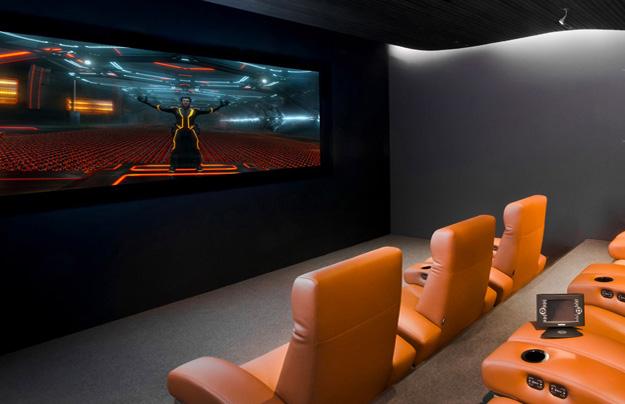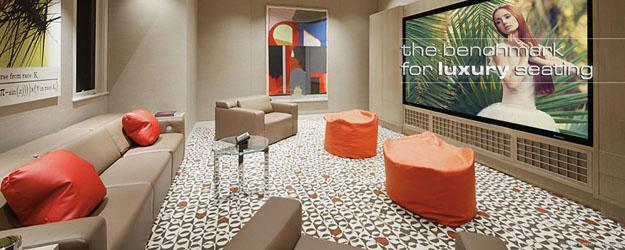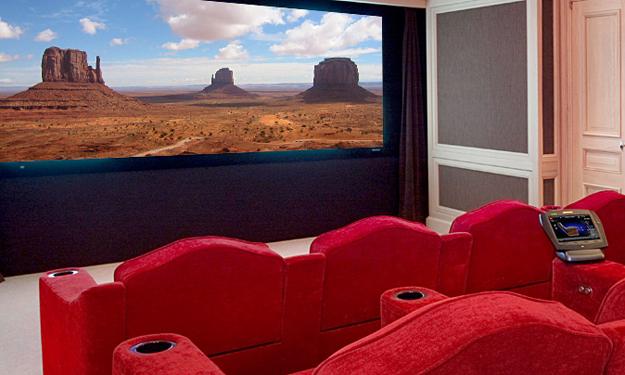 More from interior decorating

Home textiles and fabric prints are stylish ways to personalize modern interiors and give a touch of style to any room...
and enjoy free articles sent to your inbox