Retro Kitchen Design, Vintage Stoves for Modern Kitchens in Retro Styles

Decorating Ideas

Kitchen Ideas

Lights Appliances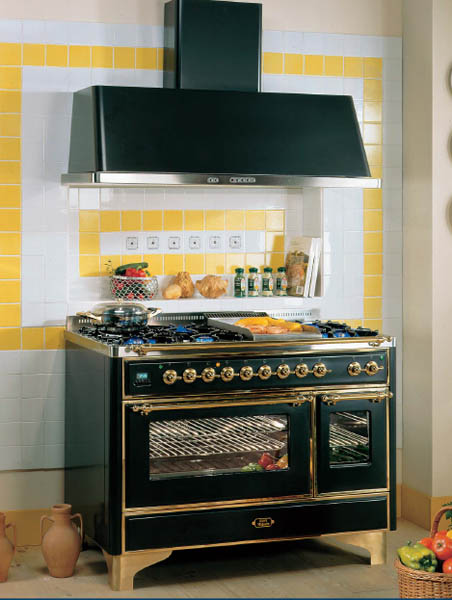 Black vintage stove and yellow wall tiles for kitchen decorating in retro styles
vintage style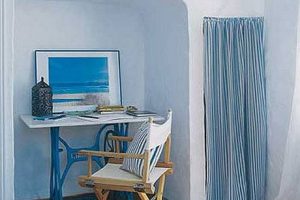 Retro kitchen design with modern vintage stove is popular and stylish. Vintage style is in vogue. Retro style clothes, hairstyles and interior design, including vintage kitchen decorating ideas, are modern trends that feel novel and interesting, familiar and comfortable.
Rich kitchen colors of modern kitchen appliances and cabinets, burgundy red, emerald green, antique white, graphite gray and midnight blue, combined with golden or silver handles and lighting fixtures, make kitchen decorating ideas look colorful and expensive, welcoming and elegant. (Royal golden-blue kitchen design)
Deep red, green, gray and blue color shades of vintage stoves and ovens look gorgeous with bronze, stainless steel or chrome metal details, creating retro kitchen masterpieces for vintage style decorating. (Purple kitchen cabinets and wall decoration)
Modern gas stove in retro style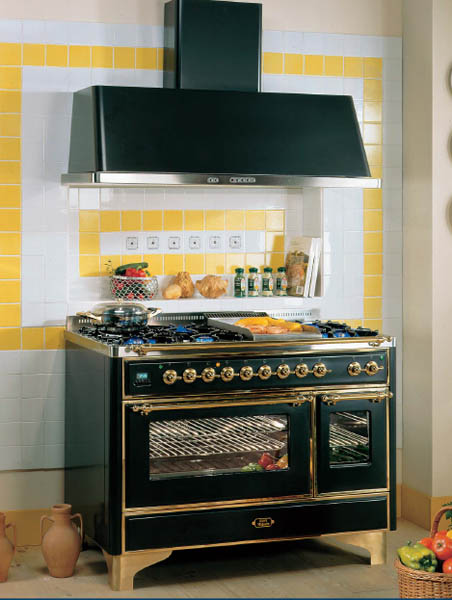 Vintage stoves and ovens from ILVE
Designed in few beautiful colors, burgundy red, emerald green, antique white, graphite gray and midnight blue, looking antique stoves and ovens from ILVE are perfect for kitchen designs in retro styles. Specialised in gas stove and electrical cooking appliances, modern retro kitchen design ideas from Italy are attractive and innovative, offering comfort and functionality for modern kitchen design and decor.
The company offers attractive ideas for equipping modern kitchens in retro styles with vintage stoves and ovens that are at the top of world production. The wide choice of vintage kitchen stoves sizes and colors can satisfy any kitchen design requirements, creating warm and beautiful modern kitchen decor.
Vintage kitchen appliances
Gas stoves and ovens, and electrical kitchen appliances for cooking demonstrate elegant and creative styling, which is excellent for luxurious modern kitchens in retro styles.
Modern kitchen decorating ideas
Kitchen decorating to dress up the fridge
Modern dinnerware in antique and retro styles
Charming, looking antique stoves, make striking focal points in kitchen design, emphasizing unique shapes and rich colors of kitchen designs in retro styles. Vintage stove and furniture feel personal and inviting, adding sentimental flavor and unique character to kitchen decorating ideas.
ILVE gas stove designs and electrical kitchen appliances for cooking are created for safety and comfort, pleasure and style. The experience, gained during 35 years of developing kitchen stoves and ovens, allows the company mix chic design with advanced technology.
Modern trends
Trends in modern kitchen decorating
Kitchen appliances design trends
The latest vintage kitchen appliances compliment modern kitchen interior trends, offering simple and elegant, colorful and antique looking vintage stove designs, which enhance kitchen decorating ideas in retro styles.
ILVE, www.ilve.it/ distributes its vintage kitchen appliances in more than 40 countries worldwide, including USA, striving to meet modern retro kitchen design requirements through innovations, elegant styling, functional and beautiful vintage stove designs.
Ideas for decorating in retro styles
Christmas decorating in retro style
Modern bathrooms in retro styles
More from interior design styles

Modern house design in Japanese style celebrates the functionality and elegance of minimalism. Airy, bright rooms look inviting and comfortable. Natural...
and enjoy free articles sent to your inbox