Fridge Door Decorating Ideas, Delightful Vinyl Stickers

Interior Design Ideas

Kitchen Ideas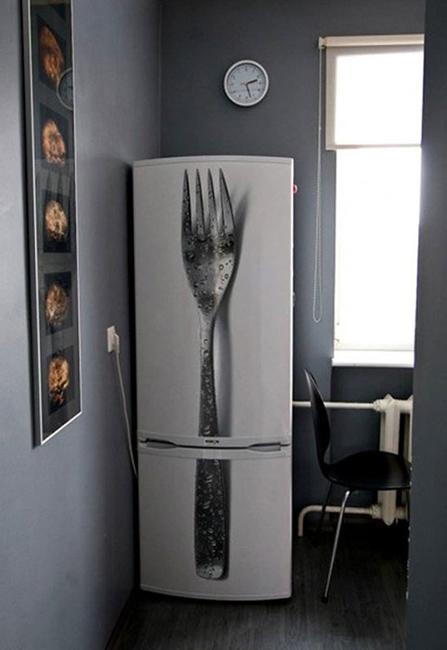 Fork, 3d vinyl sticker, fridge door decoration idea
door and decoration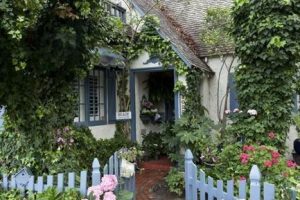 Vinyl stickers are an excellent solution for dull, plain white or black fridge door decoration. Vinyl stickers are easy to use or remove whenever you want to create new door decoration. Fridges are most significant home appliances. Delightful vinyl stickers are attractive and straightforward kitchen fridge door decorating ideas that dramatically change your kitchen decor.
There are many cute, funny and colorful wall vinyl stickers available for kitchen cabinets and fridge door decoration. They entice your kitchen interior with positive emotions, set a perfect mood and create a welcoming atmosphere. Delightful and creative vinyl stickers give you a unique opportunity to show your personality while designing unique kitchen cabinets and fridge door decoration.
Modern decorating ideas, wall vinyl stickers, decals
Kitchen decorating to dress up the fridge
New stainless steel refrigerator for modern kitchens
Vinyl stickers themes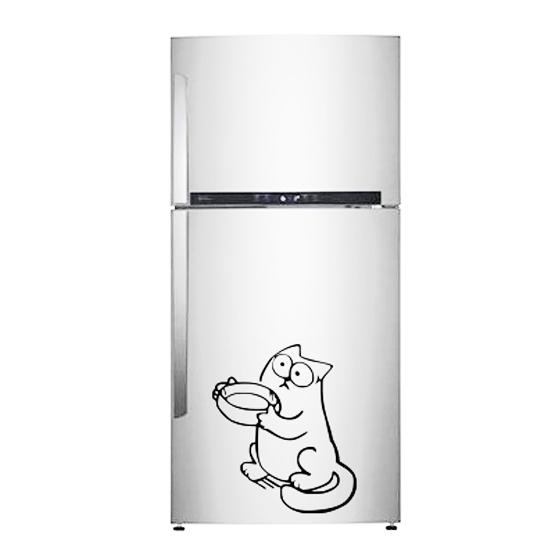 Selecting removable wall stickers for your fridge door decoration allows combining modern kitchen decorating ideas with your personal preferences. It is a great idea for old or new fridge door decoration to consider personalized vinyl stickers. An ordinary white or black fridge door can become colorful and exciting with custom-made decals for fridge door decorating images and become a focal point in your kitchen.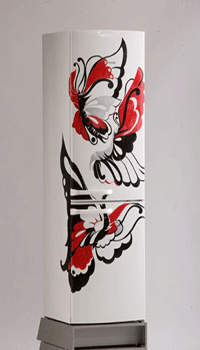 Bright kitchen wall stickers and small decals with flowers, letters or silhouettes look exciting and refreshing on the white and black fridge door or any other kitchen appliances.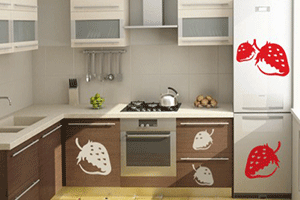 Modern kitchen decorating ideas and themes can include wall vinyl stickers with berries, red or green apple images, kitchen utensils or cooking scenes.
Your favorite food images make excellent fridge door decoration, and you can choose something less traditional for your modern kitchen decor.
The choice of vinyl wall stickers, kitchen cabinets and fridge door decorating ideas depends on your preferences, your kitchen decor style, matching interior and furnishings colors and the mood you plan to create in your kitchen.
Kitchen decorating and design trends
1. Fridge door decorating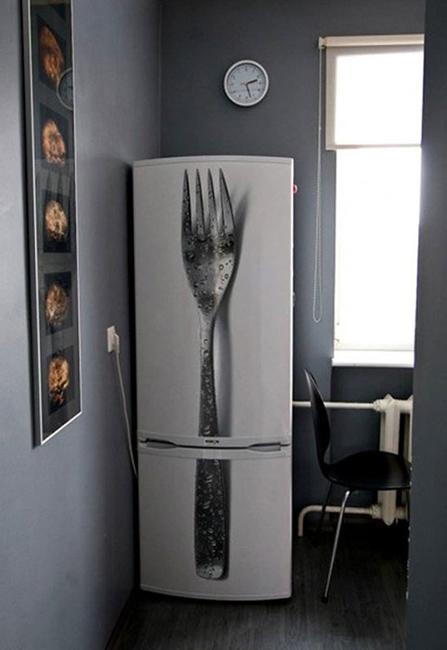 From home staging point of view, kitchen stickers are useful fridge door decoration. Removable wall stickers are one of the simplest kitchen decorating ideas that dramatically change the way kitchen looks.
2. DIY decorating ideas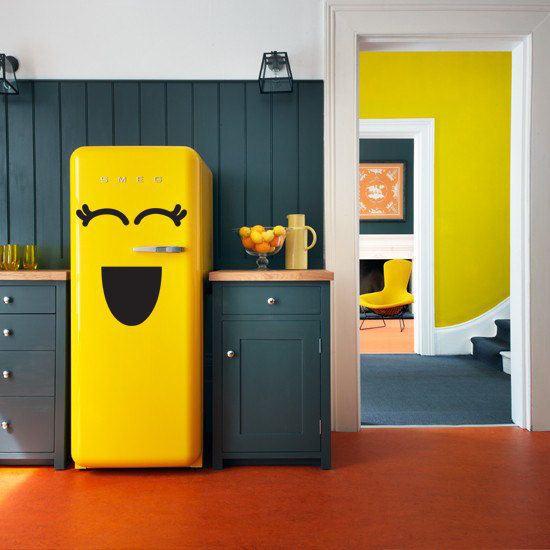 Decorating with kitchen wall stickers is an easy do-it-yourself project that quickly creates beautiful fridge door decoration. Modern kitchen stickers can be removed and reused for smaller kitchen appliances, furniture, accessories, toys, and windows. Personalized vinyl stickers is an opportunity to design unique modern kitchen decor with contemporary kitchen cabinets, walls, a fridge door, and small kitchen appliances.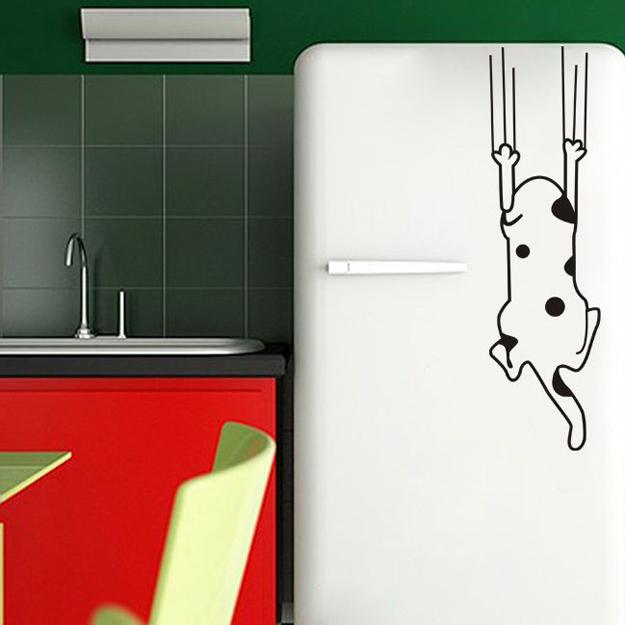 Fridge door decorating with modern kitchen stickers is a perfect DIY project for kids. Selecting attractive fridge door decoration theme and creating personalize design are a great way to get in touch with your artistic side and enjoy time with kids.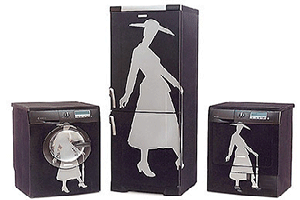 You need a self-adhesive tape, a marker, scissors, a fridge and your imagination.
You can make your pattern for your fridge door decoration, including stripes, abstract or floral design, and use it as a template.
Draw contours of the image you want to have on your fridge door or just design small elements of it with a vinyl film.
Carefully cut out pieces, paste them on the fridge door surface after wiping the fridge with a liquid soap solution. Take your time. Go slowly. Wipe it dry with a paper towel.
As the final step, you can add more fun to your project. You can create a unique design with buttons or plastic letters. Collect any small and light items that clutter your home and use them for a creative door decoration. Small wooden toys or decorative fabrics pieces, glued to vinyl stickers make your fridge design and kitchen decor unique, eye-catching, and personal.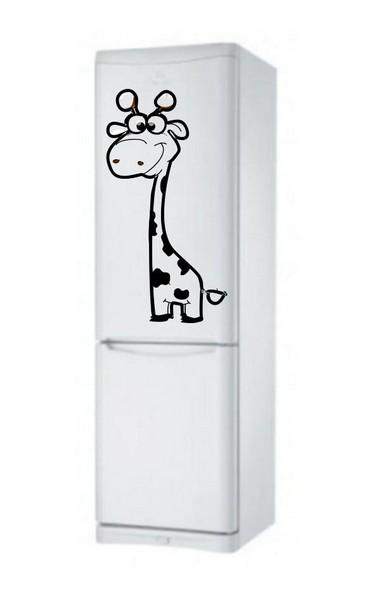 More from modern kitchens

From traditional ceramic tile designs to trendy wood-like, shiny metal, and mesmerizing glass, there is seemingly unlimited ways to brighten up...
and enjoy free articles sent to your inbox