New Stainless Steel Refrigerator for Hi-tech Modern Kitchen

Kitchen Ideas

Lights Appliances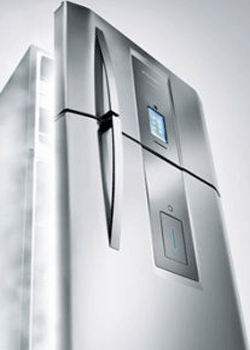 New stainless steel refrigerator with computer for modern kitchen design
modern kitchens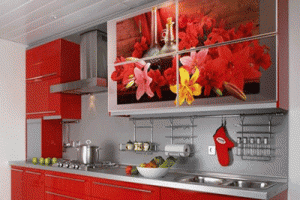 A stainless steel refrigerator is one of popular modern kitchen ideas. It immediately catches your attention. The simplicity and elegance of contemporary home appliances design and materials add style to kitchen interior. A stainless steel refrigerator with a built-in computer and TV is even more impressive. Your eyes and your guests' eyes are immediately drawn to shiny stainless steel kitchen appliances that emphasize contemporary lifestyle and modern kitchen decor. (About modern kitchen color trends 2011)
Today many homeowners who want to improve or enhance the overall look of their kitchen prefer to buy a stainless steel kitchen appliances that are symbols of class and convenience. A built-in computer, that becomes a common feature, helps create contemporary lifestyle, great look and functional modern kitchen design.
When planning to buy a stainless steel kitchen appliances, you need to consider several factors such as user-friendliness, durability, reliability, features and maintenance costs. Keep in mind that stainless steel fridge designs are available in various models, and it pays to find and purchase a high-tech kitchen appliance with a built-in interface.
New stainless steel refrigerator with a computer for modern kitchen design
Electrolux, Sweden kitchen appliances manufacturer, in cooperation with Brazilian subsidiary company ProFusion decided to step up and surprise high-tech modern kitchen fans with a new kitchen appliance design, Infinity I-Kitchen refrigerator. Beautiful contemporary stainless steel refrigerator is equipped with integrated sensors which allow an access to various computer applications, including notes, contacts, memos, calendar, photos, tips and recipes.
The refrigerator's computer has 128 MB memory. 480 x 800 pixels resolution screen is perfect for all modern kitchen organization tasks. A new hi-tech kitchen appliance allows to monitor the fridge temperature and food quality, order groceries online, watch TV, send or receive e-mails.
More about contemporary kitchen appliances and modern kitchen ideas:
Home appliances: yellow-silver stove concept
Kitchen tea kettle for functional comfort and safety
Kitchen decorating to dress up the fridge
Stainless steel fridge, modern kitchen appliances design for contemporary homes

Here are great ideas for kids toys storage and wall decoration with small cars that everyone would love. DIY organizers, like...
and enjoy free articles sent to your inbox