Modern Dinnerware Trends for Contemporary Table Setting

Decorating Ideas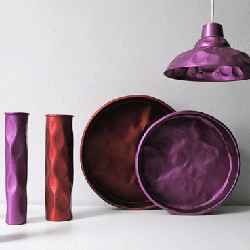 Designer dinnerware, lamp shades and vases for contemporary dining room decorating
design trends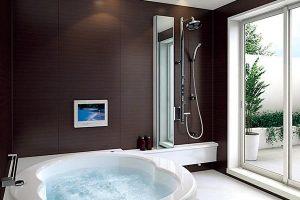 Today contemporary dinnerware sets are a crucial element of modern home decor. Trendy, classic, elegant, or playful, original dinnerware sets and tables decorations in traditional and contemporary styles create a certain mood and help bring unique decorating themes into your dining room.
Modern dinnerware for casual dining comes in traditionally round designs and square, rectangular, oval, and triangular shapes. Triangular and square dinnerware sets are super-modern ideas for creating contemporary table decor, but contemporary table setting is not about form only. The modern style is a blend of attractive design, modern colors, unique accents, decorating themes, and patterns for dinnerware sets and table decorations that perfectly match dining room decorating ideas.
Edible flowers for table decoration and gourmet food recipes
Eco style kitchen shelves decorating
Romantic American steak presentation
Modern tableware
Some old-fashioned table decorating ideas, patterns, and designs, like tiny flowers on round-shaped serving dishes or inspired by nature patterns on luxurious china plates in retro styles and antique tableware, are still modern. Still, contemporary colors, geometric patterns, and stylish graphics adorn modern dinnerware sets showing the latest trends that blend contemporary design and modern art.
Vintage style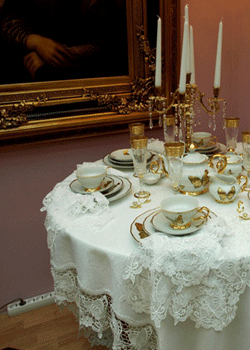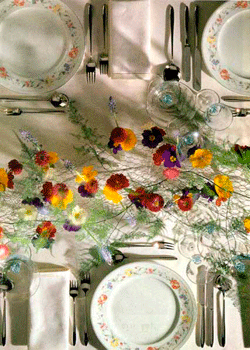 Contemporary dinnerware
Contemporary art, fashion, and modern interior design ideas influence dinnerware design trends. Stylish table decorations and contemporary dinnerware sets are integral parts of the art de la table that creates beautiful table decor and a pleasant atmosphere for enjoying meals in style.
How to Feng Shui dining room decorating
Modern interior decorating color for a spacious look
Apple kitchen decor and green color inspirations
These casual dinnerware sets and modern table decorating ideas demonstrate the latest trends. Current colors, trendy tableware decoration patterns, and beautiful themes create gorgeous and unique dinnerware for casual dining and special occasions.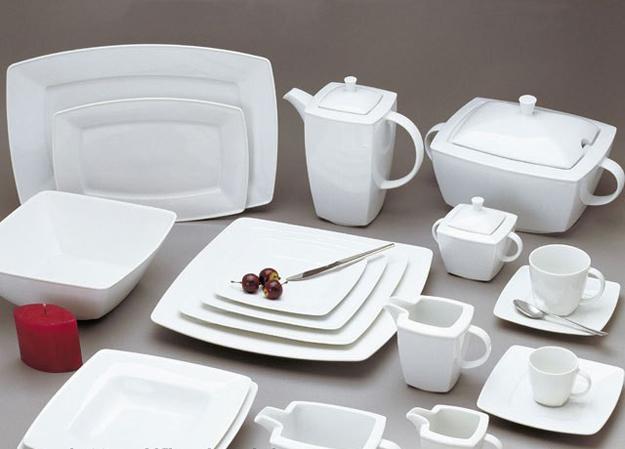 Current color trends, new table decorating themes, and contemporary table decor ideas will guide you if you plan to update your everyday dinnerware sets or buy beautiful tableware for your new home or special occasions.
1. Contemporary dinnerware sets in eco style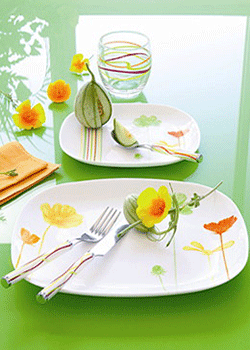 The latest dinnerware design trends include modern tableware in eco style. These dishes, bowls, glasses, and cups come in natural color shades and designs inspired by nature. Gorgeous images adore glasses and serving dishes, creating beautiful table decor with lovely branches, flowers, and leaves.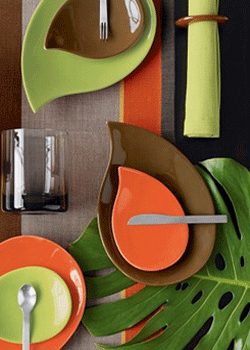 Green colors, nature-inspired table decorating ideas, plates, and table decorating fabrics in neutral color tones, brown color shades, beige or soft pastels, yellow and orange color shades combine with natural textures of wood, glass, metal, stone, clay, and straw. Raw and eco-friendly materials and fabrics made of natural fibers look great with nature-inspired contemporary dinnerware sets designed in eco style.
2. White tableware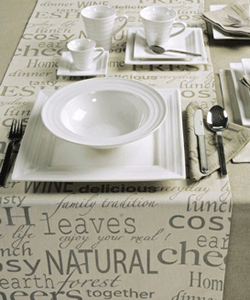 White dinnerware or light gray, beige, black, and their combinations are elegant contemporary dinnerware trends. Simple shapes and contrasts created with black, gray, and white dinnerware look elegant and classy.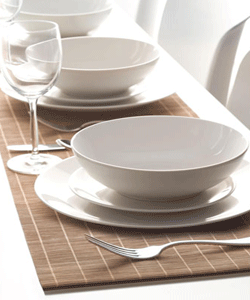 Contemporary triangular or square plates, bowls, serving dishes, beige and light gray table decorating fabric colors, and natural wood texture create modern table decorating in a minimalistic style, perfect for colorful food presentation.
3. Asian dinnerware trends
White dinnerware in rectangular, round, or square shapes is great for casual dining and unique event table setting. The contrast that white, gray or black china creates highlight Asian dinnerware design with calligraphic strokes and enhance colorful food presentation. White dinnerware sets look great with natural decor items, offering an excellent choice for wooden table decoration.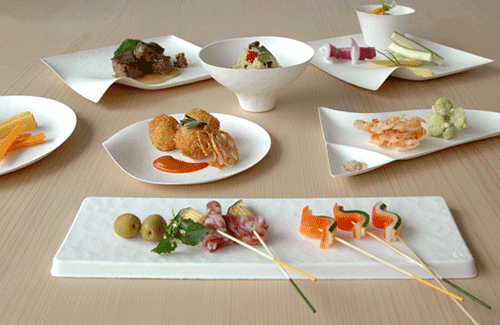 4. Modern dinnerware sets in retro styles
Tender pastel colors of pale pink, sky blue, mint green, lime, and vanilla-yellow, and serving dishes made of frosted glass create modern table decor in retro style. Beautiful themed decor ideas, like colorful flowers, natural landscapes, village life scenes, animals, fruits or vegetables, butterflies, and birds, create elegant decor accessories and modern tableware in retro styles.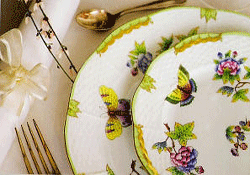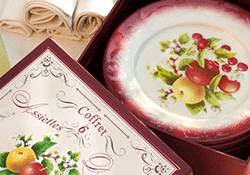 Bright and sentimental dinnerware sets in retro styles create impressive, romantic table decoration with white tablecloths, candles, and crystal glasses.
5. Contemporary dinnerware sets with geometric patterns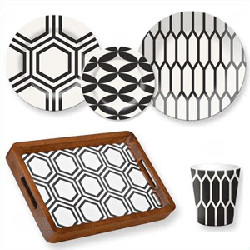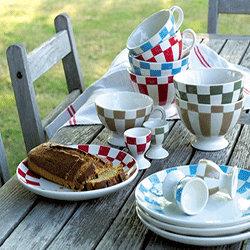 The squares and circles, polygons and triangles, modern curves and checks, chevrons and ovals, stylish stripes and donuts, polka dots, and spirals are contemporary dinnerware trends. Simple shapes, white background, and intense color contrasts are three elements of modern dinnerware sets that beautify table decorating with geometric patterns.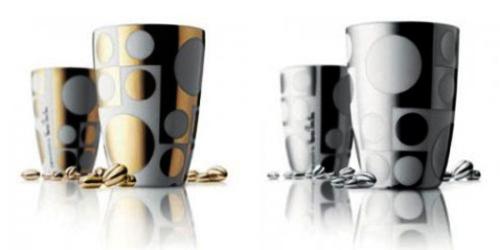 6. Casual dinnerware inspired by tropical flowers and ethnic motifs
Edible flowers for blooming table decoration
Tiger year: favorable home decor items, food, clothing
Modern food design – nature, talent, sensation, action ingredients
Native art, Exotic African motifs, and bright South American patterns, reflected in modern graphics, add unique decorative accents to modern tableware. Bright and colorful floral designs bring matching colors to table decorating with the tropical theme. The combination of dinnerware sets in neutral colors and colorful decorating fabrics looks appealing and elegant. Nature-inspired shapes and glossy tableware surfaces create a festive, stylish, warm atmosphere of a tropical party.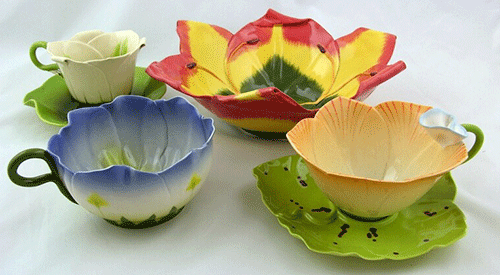 Unique latest trends in modern tableware
The latest trends in dinnerware design bring unusual shapes and patterns. Pixels, curves, and crumpled surfaces, combined with bright trendy colors or intriguing white-black color combinations, are modern design trends in contemporary dinnerware and dining room decorating.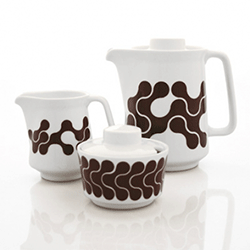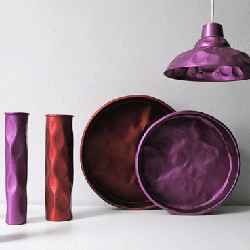 Warm metal accents are easy to incorporate into modern kitchen designs. Metal lamps, hardware, metal tiles, elements of kitchen designs will...
and enjoy free articles sent to your inbox