---
---
Retro Style Christmas Theme and Ornaments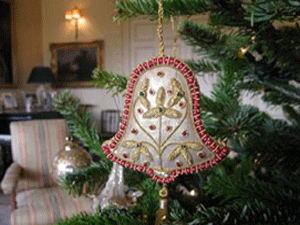 Unique retro Christmas ornaments, bell with glass beads, white-red-gold Christmas colors
Good old retro Christmas theme is one of 11 modern Christmas tree decorating trends for this winter holiday season. Retro Christmas ornaments and vintage cards, that can be fixed on branches or dinner table napkins with small clothespins, create beautiful retro Christmas tree decorating style and inviting retro style decor for celebrating traditions.
It is a great idea to decorate retro Christmas tree using old or new retro Christmas ornaments that remind the last century holidays. Retro style Christmas stocking, first artificial Christmas trees and old glass Christmas decorations create unique winter holiday decor. Cute glass Christmas decorations on natural or artificial Christmas trees branches can be arranged to design the selected retro Christmas theme. Icicles and pine cones, fruits and vegetables, flowers and leaves, fabulous characters, butterflies and dragonflies, hearts and stars, retro Christmas ornaments with beads and bows, golden or silver nuts and cones, birds and toys, edible homemade Christmas decorations, like candies and cookies, design unique retro modern Christmas tree decorating.
Retro Christmas ornaments and garlands, golden decorations, white-gold Christmas colors
Unique retro Christmas ornaments, silk bell with glass beads, white-red-gold Christmas colors
Retro style Christmas stockings, vintage fabrics, wood or old glass Christmas decorations and impressive retro Christmas tree top design are main elements of modern retro holiday decor. Wrapped in foil nuts, painted gold pine cones, red apples, sweets in shiny wrappers, retro style contemporary dinnerware sets with retro table cloth and napkins are perfect retro dining table decorations.
Retro style Christmas tree decorations, painted bells and balls, ornaments made of papier mache
Retro style Christmas stockings, old wooden or glass Christmas decorations on artificial Christmas trees  bring good memories and joy that can be doubled by the fact that the cost of creating modern retro Christmas decor is minimal.
It is not difficult to decorate retro Christmas tree in modern 50s or 60s  retro style. Retro Christmas ornaments can be hidden in attic boxes or bought on yard sale. New retro Christmas ornaments can be found in stores.
Retro glass Christmas decorations, retro holiday decor, balls and bows
Retro style Christmas tree decorations, golden stars
Retro Christmas ornaments, made of papier mache and hand painted, or retro Christmas decorations with clothespins are especially good for creating retro Christmas decor.
Hanging nuts, wrapped in silver or golden foil and cotton balls instead of artificial Christmas trees snow add charming accents to Christmas tree decorations, creating relaxing and homey retro Christmas decor.
Fruit theme decorating, golden apples and pears on retro style artificial trees
Retro style hearts and stars for holiday tree decorating, handmade decorations
Retro ornaments for holiday tree decorating, wooden decorations
Modern retro style requires small number of Christmas garlands and decorations. The less is more for staging modern retro style and elegance. Modern Christmas garlands and decorations have smaller lights, adding soft glow to artificial Christmas trees and creating beautiful retro Christmas decor.
Recommended:
Eco style Christmas decorating trend
Staging redesign for changing decorating style
Fruit theme, decorations ideas and functional accessories
Empty wall decorating ideas, retro Christmas stockings on a stick, retro glass Christmas decorations
by Ena Russ
last updated: 10.01.2012
and enjoy free articles sent to your inbox