Eco Style Christmas Decorating Trend
---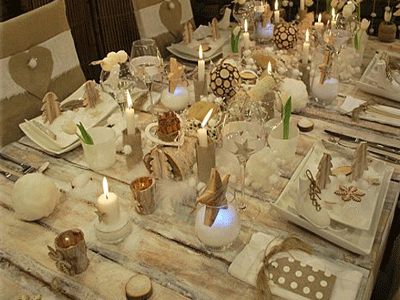 Simple and elegant eco Christmas table decorations
Eco Christmas decorating style is one of 11 modern Christmas decor trends for 2010-2011 winter holiday. Eco Christmas theme with handmade Christmas decorations, natural Christmas decor accessories, neutral colors and eco friendly Christmas decorating ideas remains popular for 2010-2011 winter holiday season. Christmas tree decorations, made of natural materials or fabrics, neutral Christmas colors and a lot of candles for holiday dinner table decor are important elements of natural style and eco friendly Christmas decorating.
Edible eco Christmas decor, like fruits, berries, candies and cookies, and eco friendly Christmas decorating ideas, that do not include artificial Christmas trees or plastic Christmas table decorations, create stylish, welcoming and informal winter holiday atmosphere and attractive dinner table decor in natural style. Elegant, but simple, made of natural fabrics and materials, like wood, straw, cotton, traditional wool or contemporary eco friendly felt, lace or burlap, Christmas tree decorations add country charm and warmth to Green holiday decorating.
Grape wines, viburnum, mountain ash and holly bush branches with small eco friendly Christmas candles are attractive holiday dinner table decorations that are perfect for eco Christmas theme. Wooden handmade Christmas decorations, rustic textures and elegant Christmas table decorations, made of burlap, wool or contemporary decorating felt, linen and cotton support natural eco Christmas decorating ideas. Lace, embroidery and beads, that add natural beauty to eco Christmas theme, are elements of luxurious eco friendly Christmas table decorations.
Modern eco Christmas decorating style requires simple shapes, like trees and stars, and neutral Christmas colors for staging natural winter holiday atmosphere. The refined beauty of every small Christmas decorating detail and the quality make eco Christmas decor feel elegant and aristocratic. Soft and relaxing atmosphere of eco Christmas decor is created naturally, without anything extra or artificial.
Calming, relaxing and natural environment, made of wood decorations, pleasant fabrics and eco Christmas decorating ideas offer winter holiday luxury of comfort and simplicity.
Neutral Christmas colors include all shades of natural wood brown, gray and white shades. Neutral Christmas colors and the absence of strong contrasts create tranquil and elegant modern eco Christmas decor.
Natural materials, handmade Christmas tree decorations, rustic textures and neutral Christmas colors create eco friendly Christmas decor that feels quiet, comfortable and cozy.
The basic palette includes muted earth tones, slate and brown Christmas colors. Red and orange decorating colors can be used for cheerful Christmas tree decorations and accents.
Elegant fabrics, lace, beads, embroidery, eco friendly Christmas candles add luxurious winter holiday decorating accents that create charming Christmas table decorations and festive winter holiday atmosphere. Knitting, embroidery and applique add warmth and country charm to eco Christmas theme.
Wooden Christmas decorations, green branches and dried flower arrangements, berries and nuts, Christmas garlands and decorations for the dinner table, made of felt, straw, burlap or wool, symbolize the tradition and support the eco Christmas theme, creating welcoming and comfortable eco Christmas decor.
Recommended:
The biggest Green decor idea for eco friendly Christmas
Home staging property for quick sale before spring comes
2010 Christmas decor trends, gold and brown
by Ena Russ
last updated: 04.11.2012