Modern Kitchens, Classic and Pop Art Kitchen Design

DECORATING SMALL APARTMENTS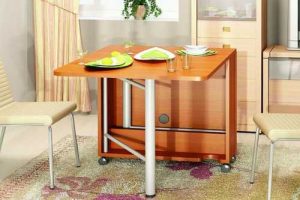 Modern kitchen design in classic style with pop art decorative accents is for those who like traditional kitchen designs and new modern interior design trends and colors. Designer Maria Kunyakin creatively combined stylish purple colors with classic white kitchen cabinets, contemporary elements of pop art interior design style with classic golden accents and wood carved ornaments, presenting beautiful traditional kitchen design, inspired by amethyst beauty and contemporary lifestyle.
Charming and comfortable kitchen design celebrates harmonious fusion of interior design styles, attractive contrasts, functional layout and modern kitchen design trends. Used in moderation and with a good taste, kitchen decorating ideas in pop art interior design style add more interest, energy and luxury to traditional kitchen designs.
Modern kitchen colors and bright color accents, beautiful amethyst tones, contemporary glass vases and plastic chairs are elements of pop art interior design style. Flowers create romantic atmosphere and add red-pink to kitchen colors. Classic white kitchen cabinets with acanthus leaves decorations and black-white color scheme, combined with purple tones and contemporary glass table, offer comfortable modern kitchen design, decorated with chic in pop art and classic interior design styles.
Royal blue kitchen design, carved wood kitchen cabinets
Wine kitchen colors, modern kitchens color schemes
Modern interior design inspiration and color scheme
Modern color, honeysuckle pink color decorating
Decorating with purple color, living room color schemes
Elements of traditional kitchen designs
White kitchen cabinets in classic interior style with a touch of gold and wood carving look bright, expensive and impressive. White, black and gray kitchen decorating ideas, like gray wall tiles and floor, black shelves and white-gray kitchen wallpaper create a calming effect. White ceiling and molding make modern kitchen design with elements of classic interior design style feel comfortable and cozy.
Modern kitchen color trends, elegant white kitchens
10 modern kitchen design trends
A modern interpretation of one of the most famous in the world sculptures,
Head of David fragment adds more classic flavor to modern kitchen design. Acanthus leaves ornaments, carved in wood, and acanthus leaves wallpaper pattern in white and gray colors bring classic elegance and ancient Greece theme into modern kitchen decor.
Silver tones look luxurious with soft upholstery fabric in magnificent purple. Inspired by the beauty of precious amethyst, purple colors are inspiring. White and silver tones bring more light into kitchen decor. Strong color contrasts with purple colors, dark wall tiles and red-pink flowers create elegant and classy modern kitchen design.
Modern kitchen cabinets, black and white color schemes
Modern kitchen cabinets, purple color schemes
Pop art interior ideas for traditional kitchen designs
Bold contemporary color accents bring energy into relaxing traditional kitchen designs. Amethyst purple colors, lilac, plum and eggplant tones remind pop art interior design style, making kitchen design feel unique and interesting. Black glass table top, dark gray wall tiles, sheer curtains and kitchen wallpaper create dynamic contrasts with silver furniture, chandelier and shiny tableware. Purple and black, white and silver add mystery and chic to modern kitchen decor.
Traditional kitchen designs in classic style celebrate symmetry. Pop art interior style allows to use L-shaped kitchen cabinets and move a modern chandelier with crystals from the center, positioning it above the dining table. Hanging vases with flowers are great for fresh or artificial floral decorations. Red-pink flowers add a colorful accent and romantic flavor to modern kitchen design.
Kitchen decorating and design trends
Modern kitchen color trends
Simple shelves and glossy black paint, luxurious and contemporary plastic chairs, silver candle holders and contemporary glass vases emphasize the fusion of styles, bringing classic elegance and pop art energy into unique kitchen design.
More from interior design styles

Modern house design in Japanese style celebrates the functionality and elegance of minimalism. Airy, bright rooms look inviting and comfortable. Natural...