Contemporary Cat and Small Dog House Designs

Furniture Accessories

Pet Design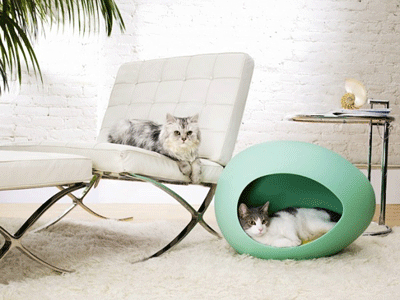 Modern house design for pets, contemporary plastic cat bed and a pillow
pet furniture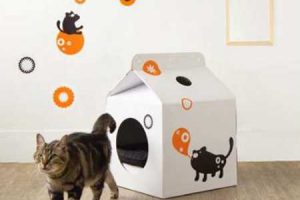 Contemporary cat or dog house design is an excellent addition to your stylish furnishings. Your home interiors will look great with a unique, comfortable and eco friendly indoor house for pets. Attractive cat or dog house designs can be selected to match your home furnishings colors and create welcoming home for you and your pets.
Contemporary pets house is an excellent choice for modern homes or apartments. Pets are an important part of a family. (Look at contemporary room heaters for pets) When they have their own cat bed or dog house, owners can be sure that they feel comfortable and secure. Contemporary pets house adds a stylish accent to home interiors also, creating homey and pet-friendlier environment. (Modern cat furniture design for function and attraction)
While pets can sleep on the ground, it does not mean the floor is a comfortable surface for dogs and cats. The floor is hard, cold or dusty, it does not provide much in relaxation and not good for pets health. A contemporary indoor doggy house or a cat bed are eco friendly products that offer an ideal solution for your home and your pet. Contemporary pets house designs offer comfortable personal places, where a dog or a cat can get in, feel safe and relax. (Luxury boarding hotel for pets)
Plastic cat or dog house, eco-friendly and safe for pets modern house designs, http://peipod.com
Contemporary doggy house designs pEi Pod look stylish. They can add beautiful color accents and soft shape to modern home interiors.
The manufacturer is offering many different colors to match your interior design color scheme. Modern house designs for small pets include soft pillows, as a part of designing a luxurious retreat for a pet. (Luxurious design ideas for pets)
Contemporary plastic doggy house for eco homes
Sizes and colors of contemporary pets house designs with pillows vary. It is made of eco friendly, safe, high density material that is also used for manufacturing various products for children. New modern house designs for small pets come in three sizes, each of which is great for cats, dogs and other small pets.
Design ideas for pets:
Design ideas for stylish furry pets
Pets to Feng Shui home
Mini pigs house design tips for safety and fun
Modern house designs for pets, contemporary plastic cat bed with a pillow
More from contemporary design

Modern house design in Japanese style celebrates the functionality and elegance of minimalism. Airy, bright rooms look inviting and comfortable. Natural...
and enjoy free articles sent to your inbox