11 Home Staging Tips for Stretching Small Spaces with Lights

Lights Appliances

Staging Home Interiors

lighting fixtures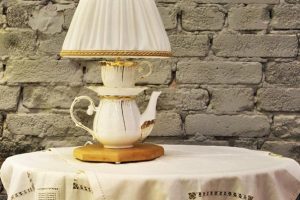 There are various simple and decorative techniques to expand small spaces with modern lights. Contemporary floor lamps, decorative wall lights and ceiling lighting fixtures add style and comfort to home interiors, making rooms look more spacious, modern and attractive.
The selection of light fixtures and arrangements depend on particular interior design tasks. 11 home staging tips will help decorate your home in style, stretch small spaces with contemporary lighting ideas and make your home interiors more beautiful and modern.
1. For increasing small spaces visually, select bright modern wall lights and ceiling light fixtures, and direct them to the walls. Use glossy wall paint and mirrors, because shiny or mirrored surfaces and glass home decorations reflect the light into the room and help increase small spaces size visually.
Well lit walls in white colors and mirrors are the simplest and most effective home staging techniques for small spaces decorating.
Ceiling light fixtures and decorative wall lights, modern lighting ideas that increase small spaces
Efficient and attractive combination of decorative wall lights and ceiling light fixtures, made of glass  and shiny metal or plastic, create brighter interior design, reflecting light from many surfaces and increasing the size of small spaces visually.
2. Strategically placed mirrors, metal or plastic furniture in light colors, a glass aquarium, glossy ceramic, metal and glass home decor items are simple home staging tips to increase small spaces visually. Glass, metal and white wall paints work well with the ceiling light fixtures, reflecting the light back into the room and creating spacious interior design.
Few ceiling lighting fixtures, modern wall lights and glossy surfaces increase small spaces visually
3. Dark surfaces, fabrics, chandeliers, pendant lights and track lighting fixtures make small spaces look smaller.
Home staging tips, space saving small bathrooms design
11 home staging tips, attractive bathroom decorating
Modern bathroom design, clever lighting design
4. Rooms sizes can be visually adjusted with different brightness, the amount of reflected from the floor, walls and ceiling light and its direction.
Glass, mirrors and modern lights for spacious interior design, small foyer decorating ideas
Recessed lighting offers great interior design ideas for small spaces. Decorative wall lights, contemporary floor lamps and ceiling light fixtures that provide recessed lighting increase small spaces visually, adding stylish accents to interior design.
7. To reduce the height of the ceiling direct floor lamps, wall lights and ceiling light fixtures to walls and floor. The ceiling in the shade looks lower, and rooms feel cozier.
Contemporary floor lamp and nightstand lights for bedroom decorating, modern interior design
To increase the height of the ceiling and stretch the size of small spaces use the opposite approach, – choose modern decorative wall lights, floor lamps or track lighting fixture designs that can direct the light to the ceiling. Bright, well lit ceiling seems higher, visually adding more room to small spaces.
Modern lighting fixtures, functional and stylish lighting ideas
Pendant lighting fixtures, interior design trends
Interior design with lights that change room colors like chameleons
8. To make a narrow room wider arrange decorative wall lights and ceiling light fixtures in a straight line along one of the walls. Traditional lighting ideas, when ceiling light fixtures are placed on the ceiling along the middle line, make hallways appear longer and narrower.
Contemporary lighting ideas, functional and decorative modern wall lights to increase small spaces size
9. Painted white or off-white colors and well lit walls makes entryways and hallways  interior design look wider. A track lighting fixture with wall lights is a perfect for the task item, offering impressive and flexible stylish interior design ideas.
10. Contemporary ceiling lighting fixtures, that can be directed at the right angle to the long side of a hallway or entryway, make narrow small spaces feel more spacious, wider and pleasant.
Contemporary lighting ideas, track lighting fixture that increases living room length
11. Few ceiling lighting fixtures, modern wall lights or an attractive track lighting  fixture with few lights, placed along the side you want to look shorter, balance interior design, creating bigger and brighter living spaces. Decorative wall lights on the long wall make the room look longer.
Spring home decorating, modern trend and classic technique
Interior design of the year, ideal car for busy women
Modern kitchendesign, simple and sleek masterpieces
Fluorescent lights and small ceiling light fixtures, modern interior design
More from home staging tips

Modern interior design trends come and go, and it is impossible to change your home interiors fast enough following them. To...
and enjoy free articles sent to your inbox