Modern Bathroom Design, Clever Lighting Design
Bathroom Ideas

Lights Appliances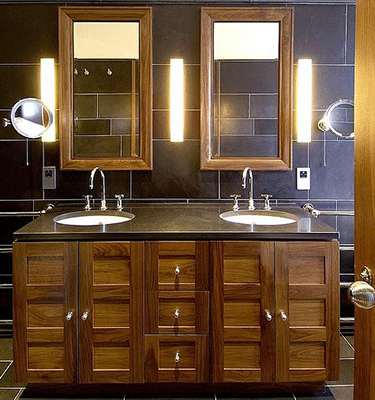 Effective bathroom lighting ideas, modern bathroom design
bathroom design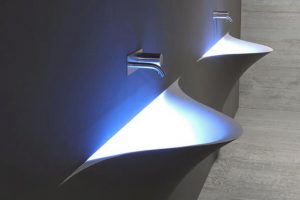 Lighting design for modern bathroom space is a excellent tool for creating comfortable, safe, spacious and stylish interior. Not all bathroom light fixtures are equally great for high humidity levels or temperature changes. Choosing right lighting fixtures and their arrangement helps make your bathroom design effective, practical and attractive.
Bathroom light fixtures are designed for specific zones. Safety is one of the most important modern bathroom design principles. Drops of water should not reach hot bathroom light fixtures, and you or your kids should not be able to touch hot lamps accidentally. LED and low wattage modern bathroom lighting design is a safe, eco friendly and stylish choice. (Modern bathroom, top 10 trends for 2011)
It is great if your bathroom interior has a large window. You can add modern bathroom light fixtures to illuminate specific zones, like a shower area and a bathroom mirror, with lights and save on general lighting. If your bathroom does not have a window, then you need to create effective general lighting design.
Effective lighting design, modern bathroom design
Also general bathroom lighting design makes a room with a small window more spacious, safer and more attractive. (Tiny bathroom, 7 tips for remodeling)
General bathroom lighting design
1. Usually three or more built into the ceiling bathroom light fixtures and two mirror lamps create effective and comfortable lighting design. (Modern bathroom lighting fixtures, fixed on the wall near a bathtub, above a bathtub or in a shower should be specifically designed for these areas with high humidity.)
Modern bathroom lighting design, creative storage with glass shelves
2. There are two modern bathroom lighting design ideas that are practical and stylish. First, – arranging bathroom lighting fixtures on the ceiling at the same distance from each. Second, –  placing bathroom light fixtures on the walls near the ceiling.
3. Small bathrooms can be visually increased in size with smart wall lighting design. (Small bathroom remodeling and staging ideas) Well lit walls create  the wall-wash light effect, which can be general or decorative to bring out texture on a wall, highlight a wall decoration or a wallpaper pattern. Attractive wall-wash lighting design increases the ceiling height and makes small bathrooms look more spacious.
Modern bathroom light fixtures for small bathrooms
4. Bathroom lighting fixtures with dimmers are great for changing the intensity and creating soft,  relaxing and quiet atmosphere. (Peaceful turquoise colors for bathroom design)
5. Rotating and sliding bathroom lighting fixtures help create a quick change in interior design without any additional decorating, a different mood or a new decorative accent. They are great for experimenting with fresh bathroom lighting design ideas.
6. Traditional bulbs make bathroom design feel softer and warmer. Halogen bulbs create bright white light that can be used for modern bathroom design with dark wood or black decor items and warm colors.
Contemporary glass shower, modern bathroom light fixtures
Local bathroom lighting design
1. You can design few zones: around sinks, shower, bathtub, toilet, storage area. (Modern bathroom design, walk-in showers and glass screens)
2. Two bathroom mirrors lights create modern and comfortable lighting that is not blinding.  It does not produce dark shadows on your face, does not distort mirror images and colors.
3. Bathroom light fixtures should not be reflected in the mirror.
4. Arranging bathroom lighting fixtures above the mirror, – vertical lighting design, – is not the best. Downward light emphasizes wrinkles.
5. Fixing bathroom lighting fixtures too low creates shadows on your face.
Modern bathroom lighting fixtures and storage solutions for small bathrooms
6. Bathroom mirrors lights should be neutral. Fluorescent bulbs distort colors.
7. Built-in the floor lighting fixtures allow to create unique and relaxing environment.
8. You can place bathroom lighting fixtures around a window or diagonally on a wall. Unusual lanterns and ethnic style bathroom lighting design ideas look modern, impressive and personal. (Moroccan style accessories)
9. Functional bathroom lighting ideas, like lights in drawers and cabinets, add more comfort to your design.
Smart storage solutions and bathroom lighting ideas, small bathrooms
10. Built-in lights in wall niches, above or around shelves are bathroom lighting ideas that are functional and stylish.
Contemporary bathroom lighting fixtures offer various attractive ways to decorate your bathroom interior with impressive, practical and attractive lighting design. Select the best option for your home and add more comfort to your bathroom with smart and pleasant lighting design.
Modern bathroom design:
Bathroom decorating with beautiful bathtub
Eco wall tile designs for modern life and style
Modern bathroom design
Unique small bathrooms, modern bathroom lighting design

Here are great ideas for kids toys storage and wall decoration with small cars that everyone would love. DIY organizers, like...
and enjoy free articles sent to your inbox