Altamarea Bathroom Sink Integrated into Large Wall Mirror with Carved Wood Frame
---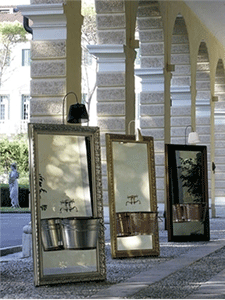 Modern bathroom mirrors with integrated sinks and lighting
Secjo bathroom sink is a unique design which integrated a metal bathroom sink in a large wall mirror. The mirror features a very decorative carved wood frame which can be made in different styles. These bathroom sinks are impressive, unusual and versatile, perfect for modern bathroom design. The bathroom sink and mirror frame come in two different models to embrace different tastes and match interior design styles.
The bathroom sink in Baroque style has gold or silver leaf pattern on its mirror frame. The carved wood design of the large mirror frame is enhanced by chic finishes that increase the effect and make modern bathroom sinks look luxurious and exclusive. The bucket-shaped round sink can have stainless steel, brass and copper finishes. The round shape is soft and beautiful, ideal for creating bold contrasts with a large rectangular wall mirror.
The Secjo bathroom sink and wall mirror is a perfect set for those who look for luxury bathroom design with a touch if sophistication and unique style. Functional, beautiful and contemporary bathroom sinks integrated in wall mirror bring originality into modern bathroom design and set one of the most spectacular design trends in bathroom sinks.
Modern bathroom sinks and wall mirrors in vintage style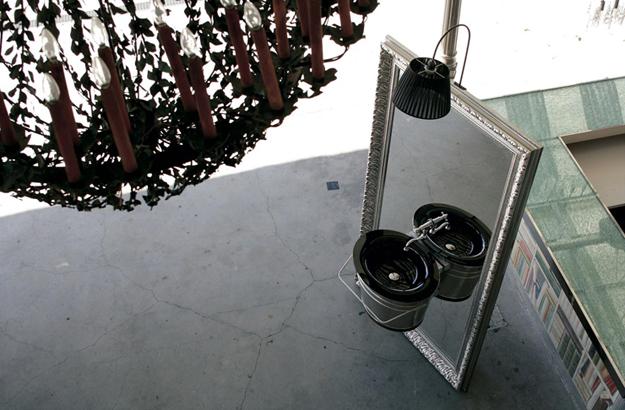 Italian manufacturer Altamarea developed a new collection of lighting fixtures with glass or fabric lamp shades and bathroom sinks integrated in bathroom mirrors. The new collection includes unique lighting and bucket-shaped metal sinks and mirror frames  that are designed for stunning  bathroom decorating.
The bucket-shaped sinks look antique, and carved wood mirror frames add to unique vintage charm of these fabulous bathroom fixtures, while integrated in large wall mirrors, these bathroom sinks bring innovative design into modern bathroom decorating.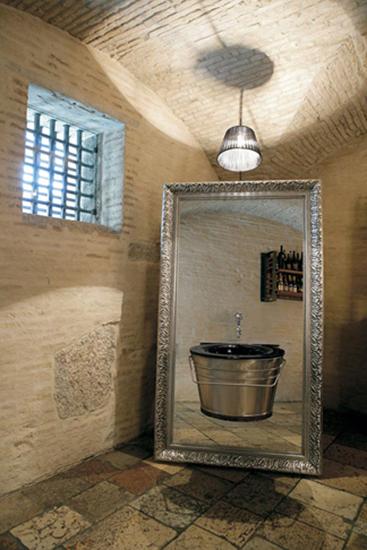 The Secjo collection of bathroom sinks integrated in wall mirrors with lighting fixtures are great for modern bathroom decorating in vintage style and creating stunning and elegant interior design that can enhance Art Deco and retro styles.
Small bathroom remodeling and staging ideas
Walk-in shower design for a lonely sole

The impressive, bucket-shaped, modern bathroom sink, attached to the bathroom mirror with lights, can be used inside and outside. Large modern bathroom mirrors feature gorgeous frames that have elegant carved wood decorations. The beautifully designed, carved wood, stone and metal mirror frames are available for exclusive customers.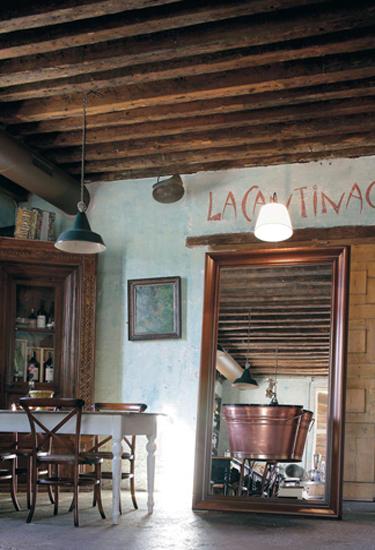 Designed as a shiny bucket, the bathroom sink is illuminated by stylish lighting fixtures in vintage style. Old fashioned, simple and elegant lamps with painted glass or fabric lamp shades are fixed right to the bathroom mirror frame and help create bright and functional bathroom decorating.
Interesting and truly unique bathroom accessories, furniture and fixtures give character to any bathroom design. The bucket-like round sinks look fabulous on huge bathroom mirrors, adding personality to bathroom decorating in vintage style.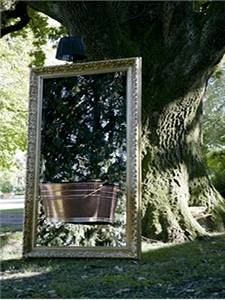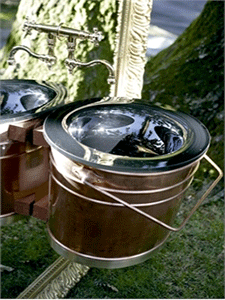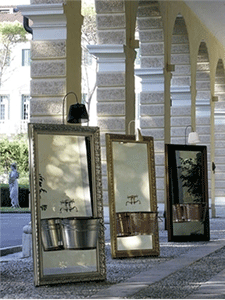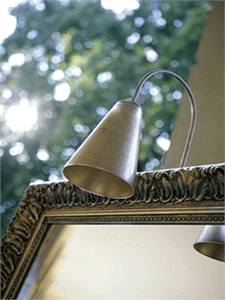 This set of the contemporary bathroom sink and mirror can be customized and made of different natural materials, – wood, stone and metals.  Carved marble mirror frames and marble bathroom sinks look especially exclusive and luxurious adding classy feel and chic to modern bathroom decorating. Also elegant Marmoglass bathroom sinks made of modern composite material are great for creating spectacular bathroom decor.
Modern vanities with sinks and wall mirrors
Altamarea is the bathroom design and manufacturing company which offers many other elegant and innovative contemporary bathroom vanities, sinks and cabinets that feature unique decorative details in vintage style. Softly curved lines and rounded edges, beautiful insertions of lace fabrics and carved wood make modern bathroom mirror frames look fantastic.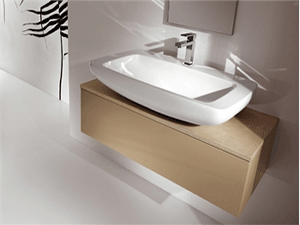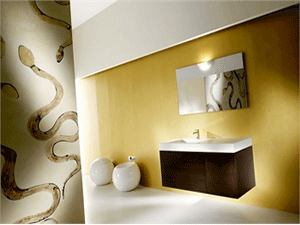 New bathroom vanities have simple top surfaces that can be made of solid wood, glass or artificial and natural stone, contemporary composite materials and metal.  Contemporary mirror frames have simple lines and are perfect for interior design in any style.
Eco wall tile designs for modern life and style
Blue and brown bathroom decorating ideas
Modular furniture elements with contemporary bathroom sinks and storage cabinets allow to create modern bathroom design in any size and make it functional, space saving and personal.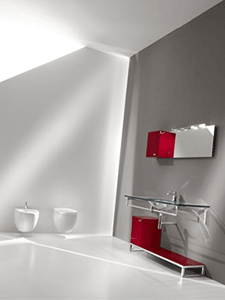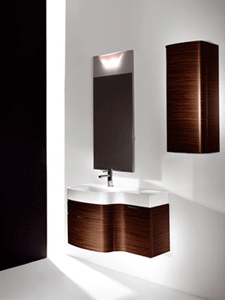 Classic or contemporary, old fashioned or new bathroom vanities, sinks, cabinets, wall mirrors and lighting fixtures from the Italian designers look impressive, showing sleek lines and natural colors, and bringing unique shapes into modern bathroom design.
More from modern bathroom

Wood planks, ceiling beams, mimicking wood tiles are modern ideas for bathroom design. Warm wood texture transforms the functional rooms and...