Home Staging Tips, Space Saving Small Bathrooms Design

DECORATING SMALL APARTMENTS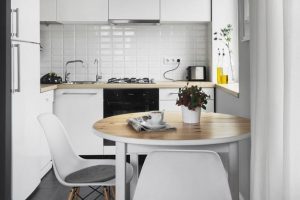 Small bathroom designs should be carefully planed to fit all accessories for creating functional and comfortable interior design and avoiding clutter. Simple space saving ideas and easy to follow home staging tips help utilize available valuable space, making bathrooms look appealing and inviting.
Decorating color schemes, that include colors for accessories, tile designs and wall paint colors, are an important element of spacious and bright bathrooms design. Light decorating color schemes with bright color accents offer a manifestation of airy and interesting small bathrooms design. (Small bathrooms design, light and color ideas)
Sliding doors, that can hide in the wall hollow space, small cabinets with shelves, that provide convenient storage for small items and towels, are great space saving ideas for small bathroom designs. Using corner space for fixtures and storage are practical space saving ideas for small bathrooms also. Corner vanities, bathtubs, sinks, toilets and storage units efficiently save space in small bathrooms.
Home staging tips and bathroom decorating ideas
Home staging tips for small bathroom designs
If you do not want to break walls, renovate your bathroom and actually add more space, decluttering, organizing and simple small bathroom decorating ideas can increase your bathrooms design visually, creating the illusion of a spacious interior.
Small bathrooms offer valuable space that is too precious to clutter. (Home staging game Clutter Hunt) Empty surfaces create the impression of comfortable and airy interior design with plenty of storage space, so effective storage ideas are very important for small bathroom designs, decorating and home staging.
1. Have on hand only items you constantly use and hide the rest away.
Glass shelves and lights, small bathroom decorating, storage ideas
White-yellow-orange bathroom decorating ideas, space saving layout
2. Create spacious and stylish design with functional, space saving small storage shelves and modern shelves decorating ideas. Shelves take less space than cabinets.
Arrange open storage shelves on the wall slightly above the eye level. Organize items in wicker baskets or plastic containers, adding attractive color accents and creating clutter-free, light and spacious bathroom design. (Feng Shui home bathroom)
Bright and spacious small bathroom designs, white-orange bathroom decorating ideas
Space saving bathroom decorating ideas, floral decor, small storage ideas
3. Arrange storage shelves under the sink. It is convenient to keep small bathroom items there. Declutter your home, because organized small spaces look bigger and neater.
4. Choose narrow and small bathroom cabinets with glass doors, stainless steel or glass shelves designs that do not stick out.
Space saving storage ideas, white-green tiles, bathroom decorating ideas
Small tiles, light colors, space saving small bathrooms design
5. Additional small shelves or a small bathroom cabinet can be fixed above the toilet, if you need more storage.
Spend some time, declutter, organize your small spaces and come up with creative and effective storage ideas that are best for your home, leaving top surfaces empty for simple, comfortable and spacious small bathrooms design.
Space saving small bathrooms design, glass shelves, white-pink bathroom decorating ideas
Decluttered and tastefully decorated, a small bathroom feels cozy, providing a pleasant, private and peaceful room for relaxation after a hectic day at work.
Bathroom decorating ideas
Bathroom decorating ideas, exceptional wall tiles
White color and light for breezy bathroom decor
Small bathroom storage ideas, space savers
Small bathrooms design, striped wallpaper, large mirror and attractive lights, black-orange colors
More from home staging tips

Modern interior design trends come and go, and it is impossible to change your home interiors fast enough following them. To...