Bathroom Decorating, Exceptional Wall Tiles

Bathroom Ideas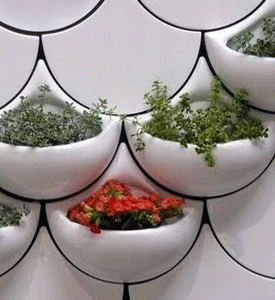 Creative ceramic tiles, contemporary bathroom tiles ideas
Tiles are great for modern bathroom decorating. They are available in all colors. Modern wall tile designs, patterns, sizes and colors can make your bathroom interior look relaxing and inviting, or surprising and dynamic. Selecting light and large tile designs make bathroom interior look spacious and bright. Dark bathroom tiles and a lot of details create cozy and personal space.
White bathroom tiles can feel boring. Dark colors make small bathrooms look smaller, so avoid black and dark tiles for your bathroom decorating or use dark wall tile designs only for a small area or on one wall. Black tile designs are mysterious, provocative and modern. Strong contrast that black color creates with other colors is stylish. (Modern bathroom design, top 10 trends)
Italian company Bisazza, www.bisazza.com/ created dark mosaic tiles collection for unique bathroom decorating. Luxurious navy blue and black wall tile designs are adorned with Swarovski crystals. Traditional ceramic tile designs with Swarovski crystals in dark colors are exceptional bathroom decorating ideas. (Bathroom decorating in blue-brown)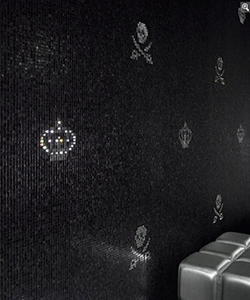 Another Italian company Evit, www.evit-srl.it/ specializes on unusual mosaic glass tiles for bathroom walls. Their new collection Passion, consists of beautiful mosaic glass tiles, that create impressive art work on bathroom walls.
Colorful and playful, cheerful and interesting mosaic wall tile designs from Evit are perfect for creative bathroom decorating ideas.
Colorful red-orange-white bathroom tile designs
Stylish black mosaic glass tiles for bathroom decorating
Designer from France Karen Ledolley-Smith, Kls Design, has developed exceptional ceramic tile designs that are great for modern bathroom decorating in eco style. Beautiful green leaves on ceramic tiles are excellent natural bathroom decorating ideas.
Green leaves, modern eco bathroom tile designs
Green leaves texture and colors, unique ceramic tile designs
Colorful leaves on designer ceramic tiles, beautiful texture, unique ceramic tile designs
Green leaves add unique texture and relaxing green colors into bathroom decor, creating pleasant space to enjoy all year around. (Eco wall tile designs for modern life and style)
Bathroom decorating tips
When you decide to remodel your bathroom or  sell your house, you want to create modern and stylish bathroom interior, comfortable for you or attractive to potential buyers. Functional and attractive bathroom decorating ideas make your house more pleasant, stylish and more expensive.
Glass shower door, shiny fixtures and white bathroom tiles are spacious bathroom decorating ideas

1. You can use any light or dark tile designs for your bathroom decorating. Dark wall tile designs look impressive on one wall or small area of the wall.

2. To increase the height of the ceiling in a small bathroom, install darker ceramic tiles on the wall from the floor to the height of 36″ or 90 cm from the floor. Lighter wall tiles, installed up to the ceiling, increase the size of small bathroom space.

3. If you need to balance your bathroom dimensions and make bathroom interior look square-shaped, you can narrow it with dark wall tiles or shower tiles designs. (Contemporary shower art design)

4. Long horizontal lines, that bathroom wall tile designs create, help make bathroom interior look longer.

5. Horizontal lines of ceramic tiles are smart bathroom decorating ideas that emphasize a large window in the bathroom.

6. White shower tiles, glass shower doors, glass shelves and light ceramic floor tiles are bathroom decorating ideas,  that are attractive, stylish and spacious. Floor tiles are easy to take care of, but they feel cold even in small bathrooms. Contemporary heated floor solves the problem and helps avoid another one, the excessive moisture.

7. Glossy bathroom wall tiles, mirrors and glass reflect more light into your bathroom, creating more spacious and bright modern bathroom decorating design.

Creative ceramic tile designs, bubbles on ceramic tiles for bathroom decorating

Stylish geometric patterns on ceramic tiles for bathroom interior

8. Floor tile designs with anti-slip surfaces is a safe choice for bathroom decorating.

9. Most people prefer decorative wall tile designs, made of ordinary square-shaped ceramic tiles. Handmade designer tiles, artful mosaic glass tiles or contemporary stainless steel tiles are more expensive, and it takes some time to get them.

White bathroom tile designs, functional bathroom decorating ideas

Modern wall tiles for bathroom, creative bathroom storage ideas

10. If you do not plan to sell your home soon and want to decorate your bathroom interior in modern style, spend some time looking for new wall tile designs that are available today on a market. Selecting wall tiles for bathroom decorating is not easy. The good thing is companies offer numerous beautiful and affordable products in various shapes and colors, and you can find what you like to buy for your bathroom decorating.

Bathroom decorating ideas:
Luxurious bathroom decorating and home staging tips
Feng Shui bathroom decorating
Bathroom decorating with beautiful bathtub and space saving shower

Creative wall, ceramic tiles, contemporary bathroom tile designs

Inspired by nature bathroom wall tiles, glass tiles for bathroom decorating

Here are great ideas for kids toys storage and wall decoration with small cars that everyone would love. DIY organizers, like...