White Color and Light for Breezy Bathroom Decor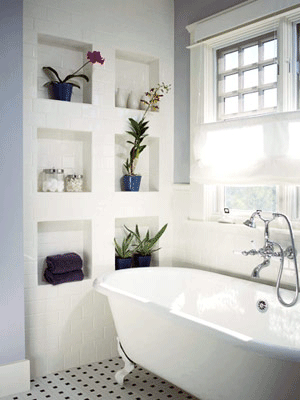 Small bathrooms, white paint colors
bathroom decorating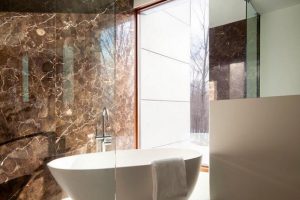 Small bathroom is a place where you can create unique interior decor that emphasizes the function, comfort and beauty. Small bathroom decor looks more spacious and airy, if you select white color and very light shades for walls, furniture and accessories. Bright lighting design and natural light help visually increase the space also.
You can add white color and light to existing bathroom decor with white accessories, ceramic tiles, curtains, glass and stainless steel shelves, a towel heater and shiny fixtures. White color, light fixtures design, a window and a large mirror (or two mirrors) create radiant light and more spacious small bathroom decor. (Modern bathroom design trends for 2011)
Effective light fixtures, mirrors, stainless steel accessories and white color tiles are cheap decorating ideas that fill the space with reflected bright light, creating clean and shiny interior. Candle-shaped light fixtures, glass accessories, white towels and flowers are great small bathroom ideas that add charming accents, white color and romantic style.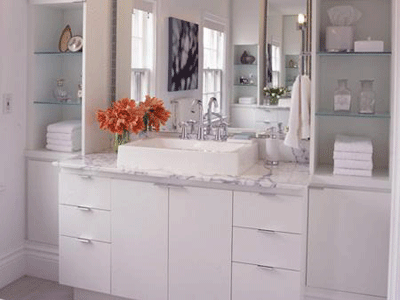 Small bathroom ideas
White color and light fixtures, especially stylish pendant lights, are ideal for ergonomic small bathroom decor. Glass and metal small bathroom furniture pieces and white color decor items visually increase the interior size, complementing modern bathroom accessories and shiny fixtures.
Even small bathroom interior should look stylish, supporting the interior decorating style of your house. Selecting light natural materials, white color for modern bathroom accessories are elements of eco friendly interior decorating trend that make small bathroom interiors pleasant, healthy and breezy.
White bathroom colors, white paint and modern bathroom accessories
Energy saving LED or halogen lights and white bathroom colors suit all modern homes that are decorated in contemporary, classic, art nouveau or country styles. (Eco wall tile design with lights)
Small bathroom ideas, additional lights and white bathroom colors
White bathroom colors and light are cheap small bathroom ideas that bring life to tiny spaces, making them more functional, spacious and cozy. Modern bathroom accessories, made of glass, metal, wood, eco friendly and natural materials, add beautiful decorative accents to eco homes.
White bathroom colors and natural wood, modern bathroom accessories and decor color contrasts
Glass and transparent acrylic bring more light, offering weightless small bathroom ideas for creating more space visually. Glass shower doors and transparent acrylic bathtub designs with white color bathroom decor dramatically change small or dark spaces, transforming them into larger and brighter home interiors.
Modern bathroom accessories, elegant blue-white bathroom colors
People have different preferences and opinions about perfect small bathroom decor and colors. Some like the philosophical simplicity of Japan with its limited amount of decor accessories and strong wood-white color contrast.
Modern bathroom accessories, white and turquoise bathroom colors, blue-green wall paint, dark wood
Others admire the mysterious style from India with colorful, yellow, pink, dark blue and green small bathroom decor accessories. Many people choose Moroccan style modern bathroom accessories or prefer Feng Shui bathroom decorating style that includes light blue, green-blue or turquoise shades. (Turquoise bathroom colors)
Small bathroom ideas for staging
White color is universally appealing. White bathroom colors and bright modern bathroom accessories create truly personal and cheerful space. Use white paint and white modern bathroom accessories for home staging to create neutral decor, spacious look and universal appeal that help sell homes faster. White bathroom colors, selected for tiles, walls paint, storage cabinets, shelves, curtains and towels add freshness and elegance to small bathroom decor.
Modern bathroom accessories, white wall paint colors and green house plants for home staging
Choosing round-shaped modern bathroom accessories and light fixtures makes your small bathroom interior feel softer. Light or neutral bathroom colors, white, light blue or turquoise paint and wall tiles, a large mirror and green house plants are proven small bathroom ideas that that turn a tiny space into attractive, stylish and inviting interior.
Modern small bathroom ideas, white wall paint colors, ball-shaped lights and round vanity
A window, a mirror, white bathroom colors and bright light fixtures dramatically change the way a small bathroom interior looks. Consider an additional source of light in your small bathroom that can be mounted on storage shelves, walls, above a window, a bathtub or storage cabinets. There is never too much light in a small bathroom.
Modern small bathroom ideas:
Modern bathroom lighting design
Luxury bathroom accessories, decorating and home staging
Blue brown bathroom decorating
Small bathrooms, white paint colors

Here are great ideas for kids toys storage and wall decoration with small cars that everyone would love. DIY organizers, like...
and enjoy free articles sent to your inbox