Modern Cat Furniture Design Ideas, Wall Mounted and Heated Beds

pet furniture

Modern cat furniture are available in various shapes, styles, sizes and colors. Eco-friendly cat beds are made of natural or eco friendly materials, that are washable and provide more comfort to pets. Contemporary wall-mounted cat beds offer functional and stylish space saving solutions for small apartments.
Heated cat beds are the most technologically advanced furniture design ideas for cats. Heated cat beds reach a comfortable temperature due to heating elements, built in a cat bed under a layer of foam. The upper layer of heated cat beds is made of soft contemporary materials, like plush sheepskin and eco friendly felt, that cats enjoy. (Eco friendly felt, materials and gift ideas)
Eco-friendly, creative and unique cat furniture design ideas are presented by Vintage Renaissance Blog, vintagerenaissance.blogspot.com/ Luxurious cat furniture is made of old suitcases. Lovely large pillows help cats feel comfortable and warm in the heated cat beds. The pillow is made of cotton fabric with eco-friendly filler. Eco friendly fabrics, used for making unique cat furniture pieces, are available in various colors.
Unique cat furniture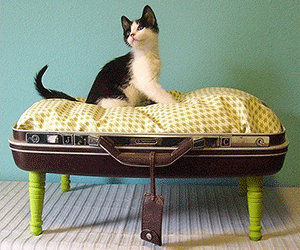 Unique cat furniture design, modern cat bed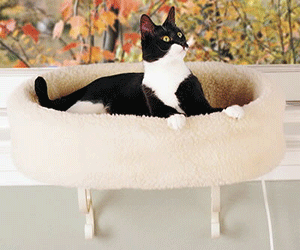 Modern cat furniture design, heated cat bed
Modern cat furniture design expert Norton made the conclusion that heated retro-modern cat bed design is ergonomic, inviting and comfortable.
Norton recommends making modern cat beds of old suitcases and boxes for all cats.
Creative cat bed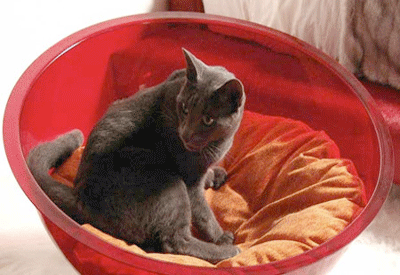 Stylish home decor, room decorating ideas from cats and dogs
Contemporary cat house designs
Unique cat house design ideas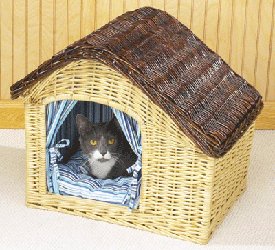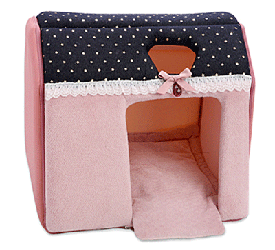 Modern furniture design, cat bed-shelf
The exhibition ICFF in New York showed a few comfortable, eco friendly and modern cat furniture design ideas. The most functional, economical and space saving furniture design for cats is simple and stylish wooden shelves from Akemi Tanako, www.akemitanaka.com/ Designer cat furniture is made of plywood and can be placed on the wall at a comfortable height.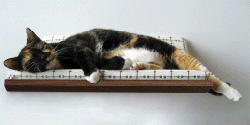 Pet furniture design ideas, modern cat bed shelf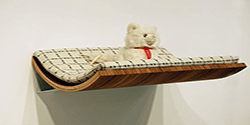 Shelves for cat beds, eco-friendly modern furniture for cats, made of wood
Creative, stylish and space-saving cat beds, offered by Akemi Tanaka Inc. are perfect for city cats, living in small apartments. Lightweight mattresses can be secured on a shelf with buttons or velcro fasteners on the shelf. The attractive curvy shape and elegant simplicity of modern cat beds make designs beautiful items for small apartment decorating.
Wall shelves for cats
Keeping cats off home furniture is important. Cat friendly materials and creative cat furniture design ideas help protect your home furniture and please cats.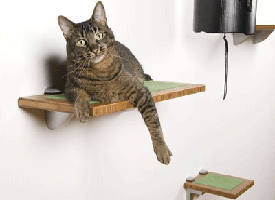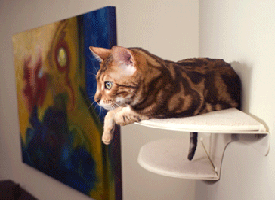 Cat tree concepts with wall mounted shelves are functional and stylish. Lacking useless elements, space saving and modern cat furniture is an excellent solution for tiny homes and apartments.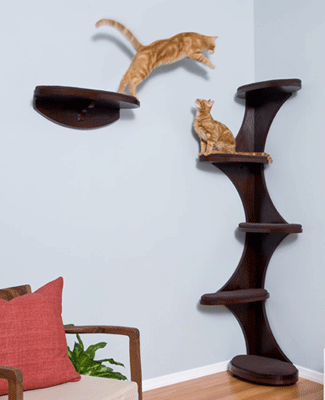 Inspired by modern cat furniture design ideas, you can use a few wall mounted shelves and create your custom made cat tower on the wall. If you add a piece of carpeting material and fix it on the wall below the lowest shelf, then you will get a small scratching post and a modern cat bed combination.
Cat furniture and grooming design ideas
Modern cat furniture design for function and attraction
Design ideas for stylish furry pets
Pet grooming designs for fashion stylish dogs and cats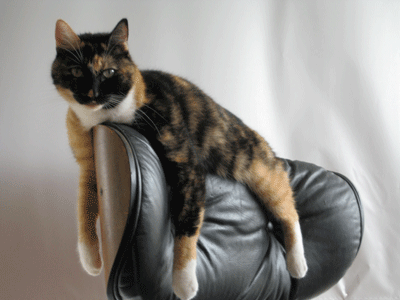 Snowflakes are perfect Christmas decorations and eco gifts that you can make in an infinite variety of sizes and designs. White...
and enjoy free articles sent to your inbox