Contemporary Lighting Fixtures, Modern Interior Decorating with Shadows
---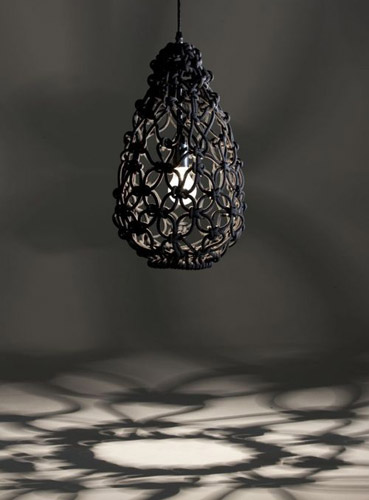 Contemporary lighting fixtures that cast interesting shadows are one of modern interior decorating trends. If you like to use modern lighting fixtures that are designed to create intricate shadows for unusual ans modern room decorating, it is important to plan your interior decorating ideas and think of the best location for the light source.
You can highlight a unique wall art piece with the strongest light or use contrasts of light and shadow, that a large chandelier, contemporary floor lamp or wall sconces create. You can add glowing light and soft shadows to table decor, creating charming dining room decorating ideas to beautiful your home.
Gorgeous lighting fixtures, designed for creating shadows, come in various types and colors, with different patterns and decorative details, which are important for unique and personal, comfortable and modern interior decorating. When illuminated, they produce beautiful shadows on walls, floor or ceiling, making interior decorating ideas look more expressive, rich and surprising.
Interior decorating with shadows
Light shadow on the wall, natural interior decorating ideas
Adam Frank has a line of oil lamps that create beautiful shadows on a wall. (Modern lighting ideas, charming shadows for room decorating)
5 contemporary lighting fixtures that create beautiful shadows
1. Chris Cain cut Tin Can Spinner with an oxycetaline flame so it will cast beautiful shadows in candle light. The designer lamp spins round and round with the heat from the candle, making shadows dance.
2. Andromeda Lamp was created by British designer Ross Lovegrove for Yamagiwa. This lighting design is based upon a simple principle of the reduction of physical mass through selective perforation across a defined form. Its LED clusters cast strange yet beautiful shadows on the surrounding surfaces, offering featuristic modern interior decorating ideas. Carefully placed mirrors maximize the effect, offering dramatic room decorating ideas.
3. A beautiful light by Sarah Parkes make beautiful shadows for impressive interior decorating and offer a unique lighting fixture for spectacular outdoor decor.
4. Gorgeous chandeliers and wall light fixtures make gorgeous shadow designs, when illuminated.
5. Teresa Leonor from Lisbon created lighting gems, TreeHugger tabl lamps, made of recycled glass jars. Unusual and elegant table lamps cast amazing shadows adding charm to room decorating ideas for eco friendly homes.
Modern lighting fixtures
Lighting is one of the key elements of interior decorating that helps make your house a home. The proper lighting ideas and fixture designs enable you to perform room decorating tasks easily, make you feel comfortable, and allow you to enjoy your home interiors at its full potential.
Unique and creative lighting ideas
Scarfty Lamps, creative contemporary lighting fixtures
Dresses for lights, modern lighting design
More from lighting design

Bright contemporary lighting, gray and brown colors are the perfect combination for decorating a bachelor apartment. Neutral colors, comfortable furniture, and...