---
---
Christmas Decorating Trends, Glamor 2010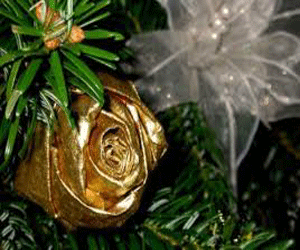 Handmade Christmas tree decorations, gold rose design made of shiny silk
Rich and decorative interior design and Christmas tree decorating ideas are associated with luxury and glamor. No cheap Christmas tree decorations or old living room decorating accessories. Stylish and elegant Christmas color schemes, extravagant and aristocratic Christmas tree decorating ideas, exquisite and luxurious room decorating design are elements of this modern Christmas theme, one of 11 modern Christmas decorating trends in 2010.
Feminine  elegance is seen in charming Christmas decoration ideas. Beautiful room decorating design demonstrates wealth, taste and luxury. Natural or artificial Christmas trees with the latest Christmas tree decorations and LED Christmas lights designs help create refined modern Christmas tree decor and sophisticated atmosphere of high fashion and chic. All elements of Glamor 2010 Christmas theme, including Christmas tree decorations, elegant dining room and lavish living room decorating design demonstrate a modern curve of stylish lines and shapes, quality of fabrics and home accessories.
Modern Christmas theme, glamor Christmas decoration ideas, miniature Christmas tree
Designer Christmas tree, decorating ideas, modern silver-gold Christmas color palette
Glamorous modern Christmas color schemes can include rosy pink or violet, dark ruby or aubergine, mahogany or deep purple, gray, black or one of modern in 2010 home decorating colors with a lot silver and gold. Stylish sky blue and light turquoise with silver and gold create especially festive Christmas room design, emphasizing winter holiday theme. (Look at blue roses and personal notes on petals gift idea.) All shades of brown with silver and gold color schemes are another modern holiday decorating trend for winter 2010-2011.
Exclusive Christmas decoration ideas, expensive materials and unique Christmas tree decorations create excitingly attractive, elegant and luxurious living room decorating style for winter holiday. Crystals, pearls and precious stones, thin glass or crystal dinnerware and decorative accessories, marble or exotic wood home decorations are elements of luxurious and charming 2010 Christmas theme.
Golden Christmas color, angel figurines and decorative cushions with gold embroidery
Venetian glass Christmas tree decorations, silk and shiny satin, soft velvet, fur, leather and feathers create 'expensive'  and dazzling living room decorating design for 2010 -2011 winter holiday. Glamor Christmas trend is a dream come true modern Christmas theme of exquisite Christmas decoration ideas and luxury.
Handmade Christmas decorations, silver and gold, lily with charming pearls and rose, made of shiny luxurious silk
Handmade Christmas  tree ornament, silk, pearl, gold embroidery
One of 11 modern Christmas trends, Glamor Christmas trend is inspired by luxurious Hollywood dream style. Living room decorating design for 2010-2011 winter holiday and Christmas tree decoration ideas should have main elements of glamorous modern Christmas decor: sensual forms, high quality materials, luxurious decorative fabrics, stylish Christmas tree decorations and latest LED Christmas lights design.
Candles and pearls for table decoration
Glamor living room with impressive Christmas tree design must look 'expensive.' Velvet and silk Christmas decorations and living room decorating accessories with silver or gold embroidery are perfect for luxurious Christmas decorating ideas of Glamor trend. (Look at spontaneous, golden and artistic Christmas tree decorating ideas.)
Christmas decoration ideas
Glamor Christmas tree decorations
Modern Christmas color with the brilliance of silver and gold, stylish, but modest glowing design of the Christmas tree decorating with tiny LED Christmas lights,  handmade, hand painted, wooden or glass Christmas tree decorations, crystals, pearls and precious stones help create glamor Christmas theme and luxury atmosphere. (look at built-in design idea to organize and hide cables in walls.)
Dining room decorating ideas, LED Christmas tree lights
Recommended:
Interior design of the year: ideal car for busy women
Decorating homes for Gothic Christmas
2010 Christmas decorating trends, Silver Snow
Modern Christmas tree decorations and gifts, silver and gold apples
by Ena Russ
last updated: 04.10.2016
and enjoy free articles sent to your inbox