Bathroom Design Ideas, Soaking Tub Rejuvenating Experience

Bathroom Ideas

Interior Design Ideas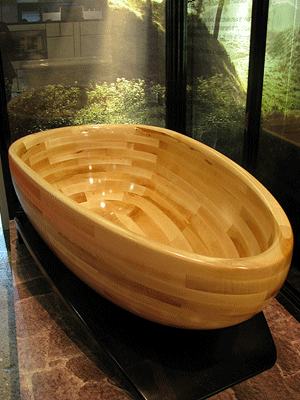 Wooden bathtub, modern bathroom design
bathroom sinks and tubs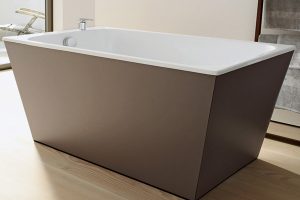 Modern bathroom tub designs are not just about functionality. New bathroom tubs offer a soaking tub experience, combined with a pleasant and stylish look. Bathroom designers explore new ideas and create modern bathtubs that decorate contemporary interiors with original shapes, unique materials, and bright colors and make soaking in a bathtub experience feel rejuvenating and luxurious.
Bathroom designers from Allia came up with modern bathroom ideas that are very different from what we are accustomed to. French acrylic bathtub designs are bright and transparent. New bathroom tubs are so unique that it is impossible to compare them with any other contemporary bathtub designs.
These bathroom tubs bring innovative design and contemporary materials into modern interiors, setting one of the brightest trends in bathroom design. Colored acrylic bathtubs are great for adding a luminous element to modern bathroom design and create impressive, unique, and cheerful contemporary bathroom decor.
Contemporary acrylic bathtub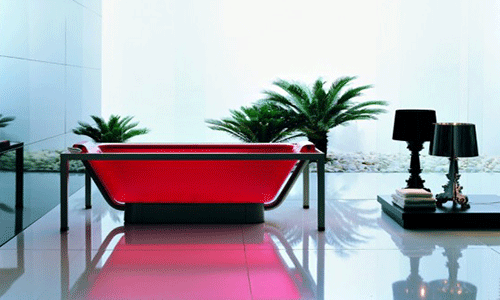 Unusual contemporary bathtubs
Unique contemporary bathtubs from France look like artworks, blending the art and design into beautiful and unusual bathroom features. The Stiletto-shaped acrylic bathtubs are perfect for romantic and artistic modern bathroom design.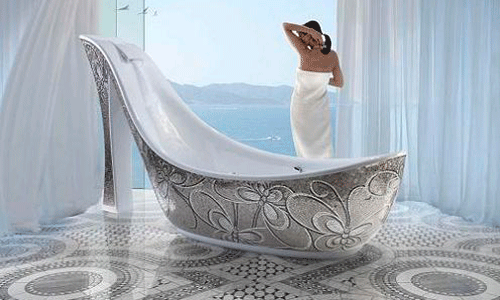 Modern wooden tub designs
Italian designer Edoardo Petri was inspired by old Japanese tubs while working at Francoceccotti, francoceccotti.it/. Today the ancient bathtub designs transformed into beautiful wooden tubs for contemporary bathroom design.
The contemporary wooden bathtub is perfect for stylish and eco-friendly modern bathroom design, offering complete relaxation and a pleasant soaking tub experience. Made of natural wood hot tubs and matching wooden bath accessories, create warm and inviting, functional, and beautiful contemporary bathroom design in eco style.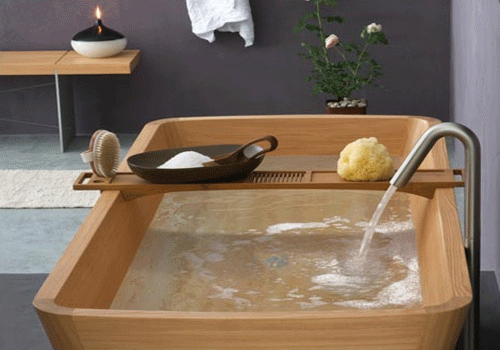 Luxurious redwood bathtubs are pleasant to touch and use. Wooden bathtubs are warmer than cast iron or acrylic bathtub models, and they are lovely for creating modern bathroom design in eco style. Made of natural wood bathtubs, create a unique, rejuvenating atmosphere and beautify traditional, retro, or contemporary bathroom design.
Eco wall tile designs for modern bathroom
Organic design trends in modern bathtubs
The modern bathroom ideas from MAAX, www.maaxcollection.com/ are inspired by beautiful organic forms and natural wood texture. The egg-shaped wooden tubs make gorgeous centerpieces for bathroom design and offer a relaxing experience merging bathroom interiors with the natural environment.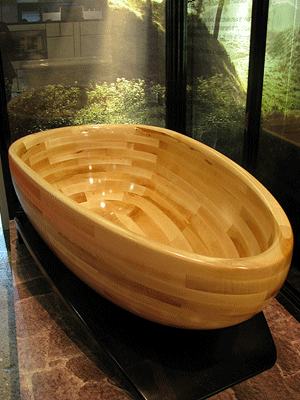 Attractive storage furniture and a new bathroom tub are excellent bathroom remodeling ideas. The space-saving acrylic tub from Rexa, Italy, is inspired by organic design ideas and offering a modern bathroom fixture with bookshelves for storage. Minimalism is in style, and this contemporary bathtub demonstrates a practical and simple design.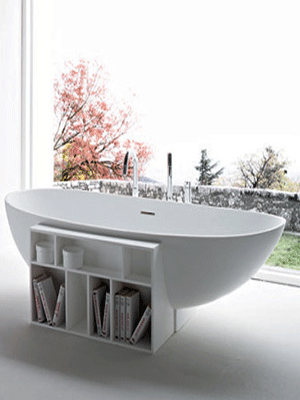 Stone tubs
A soaking tub made of wood offers a luxurious, relaxing, and rejuvenating experience. Wooden bathroom tubs, which are the warmest among contemporary bathtub designs, are beautiful and modern bathroom decorating ideas. Natural stone bathtub designs, including an elegant marble tub, a pleasant limestone tub, new concrete bathtubs, or beautiful granite bathtub designs, keep the water warm longer, add fabulous accents to modern bathrooms and create an unforgettable soaking experience.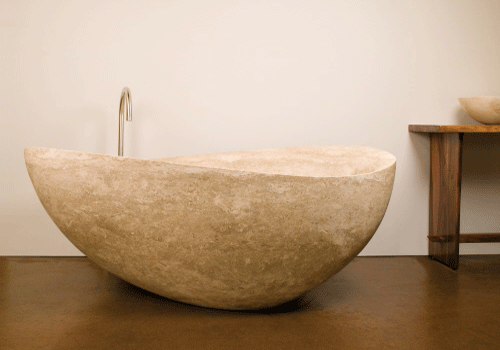 Bathroom designers from Stone Forest, stoneforest.com/ developed unique, eco-friendly, and impressive stone bathtubs. The modern bathroom tubs, made of polished natural stone,  are unique, exclusive, and exceptional. Any spa or modern home bathroom design will benefit from the energy and water-saving stone bathtubs.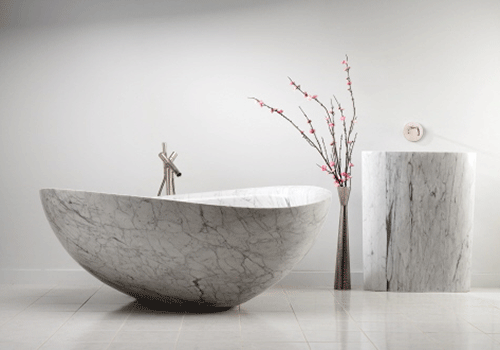 Fiberglass and wood bathtub design
How to Feng Shui home, bathroom design ideas
The fantastic bathtub with fiberglass sides introduces a new bathroom design trend in modern bathtubs. Contemporary fiberglass and wooden bathtubs are new bathroom design ideas that bring transparent elements into modern bathroom design. These modern bathtubs demonstrate the best wood, plastic, and glass qualities, blending luxury bathroom design materials with functionality and a gorgeous look. The contemporary bathroom design ideas came from Bagno Sasso, a company based in Switzerland. The creative and unique collection of modern bathtubs with wooden and fiberglass parts looks very unusual, stylish, and attractive.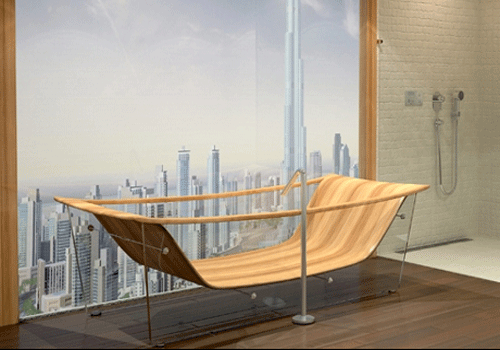 Space-saving bathtubs for small bathroom design
Small bathtub designs are tricky, cute, and practical. Attractive acrylic bathtub models that can transform into a sink are great for small bathroom design. Tiny, functional, and space-saving small bathtubs feature the sink-shaped top. This small bathtub design perfectly utilizes space and offers an innovative and compact solution for small bathroom design.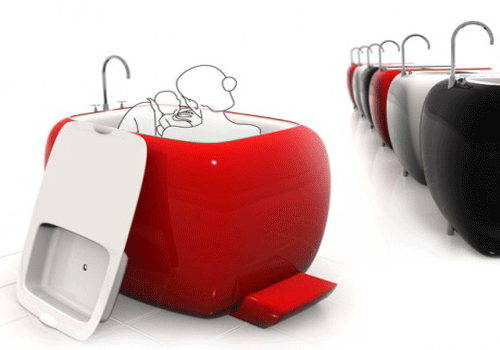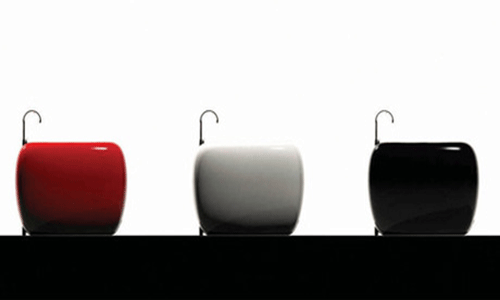 Spacious and luxurious modern bathroom design ideas
When space allows designing a spacious, luxury bathroom, the size, shape, and location of a freestanding bathtub do not matter. You can select your favorite bathtub model and place it right in the middle of your bathroom, add a soft armchair and a small table to create a luxurious, functional, and modern bathroom in a large room.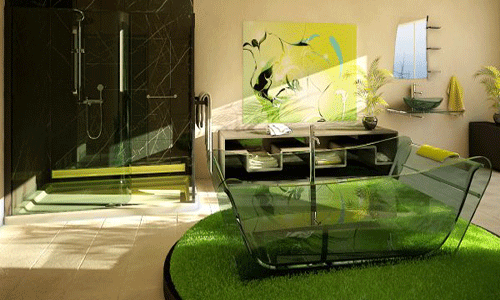 What time is it? It's singing bird o'clock! This unique timepiece is bringing the fresh vibe into spring decorating, making elegant...
and enjoy free articles sent to your inbox