Aquariums as Stylish Room Dividers

Interior Design Ideas

aquarium and decoration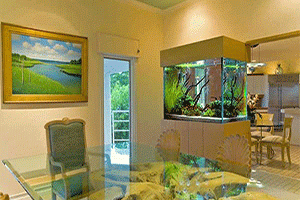 If you want to separate the kitchen and dining area, living room and entryway or divide your large  room interior into smaller spaces, aquariums are attractive contemporary room dividers that offer a unique way to create privacy and add beauty to your home. If you need to break up a large open space and create cozy and comfortable room interior design, tropical fish tanks and aquarium decoration are a great option that will add stylish and colorful decorative elements to your room interior. (3d visualization before buying aquariums)
Tropical fish tanks look great everywhere, from the living room interior to entryway and bedrooms. The water in fish tanks and eco friendly aquarium decoration make kids rooms and office interior design pleasant and relaxing. Bright tropical fish tanks, aquarium decoration and mysterious aquarium light bring soft elegance into bedroom and allow create harmonious room interior design. (Since aquariums generate some noise, these unusual room dividers are more suitable for large bedrooms interior design.)
Impressive room dividers with fish and corals look great in the dining room and living room interior. Aquariums furniture items provide additional storage space, while tropical fish and aquarium decoration with plants and corals create inviting atmosphere and add unique oceanic character to your kitchen or family room interior design. (Glowing design idea from the ocean floor)
Sleeping area in a studio apartment, contemporary room dividers and storage ideas, large aquarium
Tropical fish tanks ares additional sources of light. Large aquariums are simple and elegant room dividers that create peaceful and unusually lit at night environment, transforming room interior design beyond recognition. (Home staging tips for a room with an aquarium)
Tropical fish aquariums, used as room dividers, Feng Shui room interior, creating more balanced, eco friendly and attractive homes. (Feng Shui room with an aquarium)
Kitchen and dining room interior design, aquariums as room dividers, large aquarium and decoration with corals
Aquariums are relaxing and pleasing to the eye. Watching gracious and colorful tropical fish swimming in aquariums water is a great therapy after a busy day.
Glass aquariums help everyone, who want to slow down or to bring something new in their lives, to relax and have fun, to create privacy and Feng Shui room interior design.
Entryway and dining room dividers, aquariums and contemporary room interior design ideas, aquarium and storage ideas
Choosing aquariums for room dividers are one of modern interior design trends for creating peaceful and comfortable, unique and personal interior design. People who use tropical fish tanks as space dividers in their homes like the idea and say, that aquariums are beautiful room dividers and work well for all interiors, – kids rooms and family rooms, living rooms and home office interior design.
Aquariums as room dividers, entryway decorating and living room interior design ideas, tall glass aquarium
Creating pleasant, relaxing and attractive room interior design improves your entire home environment and lifestyle. Room interior with colorful tropical fish tanks and aquarium decoration appear brighter and lighter. Glass fish tanks and water create unique contemporary lighting fixtures that reflect more daylight into the room and produce soft light at night.
Room dividers, contemporary interior design ideas, aquarium light, unique large aquarium design
Moving water helps relax and increase the positive house energy flow that moved through your home, ancient Feng Shui masters say. Watching swimming in an aquarium fish and enjoying stress free environment at home after work are great bonuses. Fish tanks and aquarium decoration make an attractive room divider that helps create privacy and harmonious room interior design.
Aquariums add pleasant blue-green color tones to room interior decor, that produce calming and healing effect. (Home decor colors, most popular blue-green hues)  Aquarium furniture pieces offer practical storage ideas, balanced room interior design and pleasant decorating with attractive color accents.
Partitions and dividers, modern interior design ideas, tropical fish tanks and aquarium decoration
Tropical fish aquarium for home decoration:
Thinking about your room decor before buying an aquarium
Contemporary small aquarium for home decoration
Small aquarium, glass aquarium tanks design trends
Large tropical fish tanks as room dividers, attractive aquarium decoration and painting, unique interior design ideas

A dog shower is a fabulous idea to improve your mudroom design and keep your home clean. Here are functional room...
and enjoy free articles sent to your inbox