3d Interior Visualization Before Buying an Aquarium

Money Saving Tips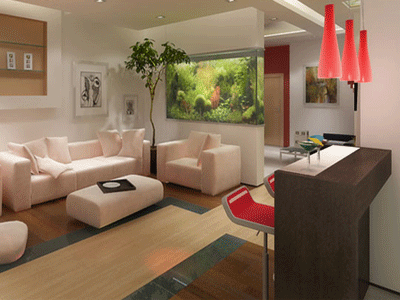 Living room with built-in aquarium, modern interior design ideas, 3d interior rendering
VALENTINES DAY IDEAS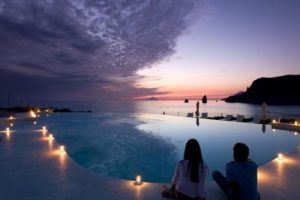 When you realize that you did a mistake choosing an aquarium, which does not enhance your home interior design style, it is hard to return an aquarium and all aquarium supplies after the setup. Interior design ideas and an existing room decor theme can create conflicting contrasts with the fish tank style and size. Home furnishings in a room with bright aquarium decoration can look dull and unappealing. Creating 3d interior visualization before buying an aquarium helps avoid the mistake. (3d  interior design and virtual staging, handy digital application)
People buy fish tanks and hope that they would look good with their interior design ideas and furnishings. (Thinking about your room decor before buying an aquarium) When people see they need to change an aquarium or home furnishings for bringing more harmony into their homes, not every one returns a fish tank and aquarium supplies back  to the shop. Nobody wants the troubles. Those who decide to change the aquarium spend some time thinking about it, because it is not so easy to do. (Small aquarium, glass aquarium tanks design trends)
3d interior visualization and rendering technology offer to see and evaluate virtual interior design ideas and make right decisions, choosing an aquarium for your home. (3d interior design and virtual staging) Also virtual staging and decorating is a helpful technique for creating attractive and comfortable furniture placement for your room with an aquarium. Home stagers and decorating professionals offer 3d interior models or virtually staged photos of your interior with your home furnishings and an aquarium you plan to buy.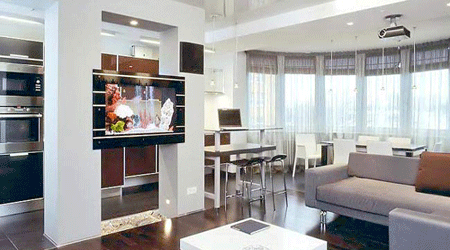 Money saving tip:
You can take a photo of your room before buying an aquarium, then virtually stage your room, if you know how to use photo editing computer programs.
Virtual staging experts can do it for you, showing your room decor, – sofa and chairs, shelves and tables, rugs and lamps, draperies and an aquarium, – suggesting how to make your interior look like a million bucks.
3d interior visualization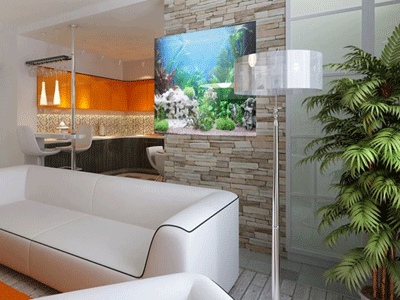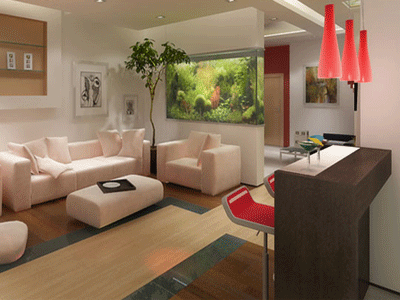 Virtual staging and interior decorating before buying an aquarium
Before you buy a fish tank, plants, fish and aquarium decoration, take few pictures of aquariums you like and the rooms that can accommodate a fish tank. Computer applications can create virtual staging images of your photos that help you visualize how your home interior design ideas will look with a specific aquarium style and find the best place for your fish tank.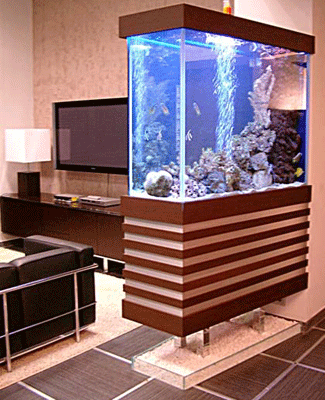 You can use digital pictures of aquariums and scale down large aquariums images on computer, then evaluate various decorating ideas for creating comfortable and modern interior design. You can see how your room interior design will look with different types of aquarium stands and what fish or aquarium decoration is the best for your home.
Virtual staging photos or 3d models of your interior can help choose paint room colors, new home furnishings, appliances and aquarium style for creating attractive, functional and modern interior design. Virtual staging and interior decorating images or advanced 3d home design models are helpful and effective techniques for interior visualization.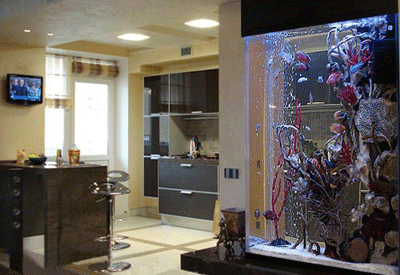 Money saving tip:
If you don't know computer applications that well, find few pictures of different aquariums in magazines and brochures. Take several photos of your room, where you want to place an aquarium. Create a photo collage and think about your room decor and decide what you need before you buy a medium or large fish tank, equipment, fish and aquarium decoration accessories.
Aquarium styles and modern interior design ideas:
Home staging tips for a room with an aquarium
Feng Shui a room with an aquarium
Contemporary small aquarium tanks for home decoration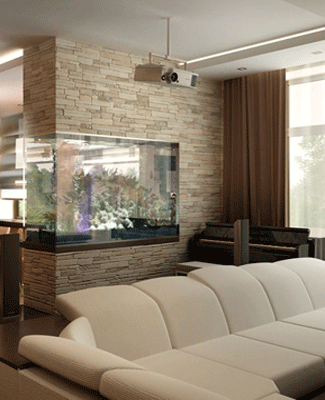 More from home staging tips

Modern interior design trends come and go, and it is impossible to change your home interiors fast enough following them. To...