Small Aquarium, Glass Aquarium Tanks Design Trends

Furniture Accessories

Pet Design

aquarium and decoration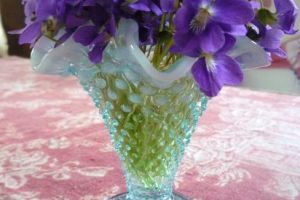 A small aquarium can dramatically change the look of your room. Glass aquarium tanks with light and stylish decoration add beautiful eco accents and bold colors of tropical fish to room decor.  The most popular small aquarium design trends are various, differ from each other and include classy wooden frames, interesting contemporary shapes and natural aquarium decoration with shells, aquarium corals and small rocks, which support the nautical and sea life room decor themes in eco homes.
The latest small aquarium design trends include contemporary acrylic or traditional glass aquarium tanks, interesting combinations of glass bowls with an aquarium light, a sink, a bird cage, a waterfall or a planter for small house plants. Creative aquarium decoration and unusual shapes, merging the function with artistic inspirations are modern design trends for creating a contemporary, eco friendly and unique small aquarium for modern eco homes. (Contemporary small aquarium tanks for home decoration)
Unusual and impressive wall mounted or table top fish tanks are the art pieces of contemporary design. A tropical fish aquarium decoration that can be a night lamp, a picture frame or a vase for flowers offers stylish and elegant details for modern room decor. Small aquarium-coffee tables or built-in the wall glass aquarium tanks are space saving design trends for decorating small places.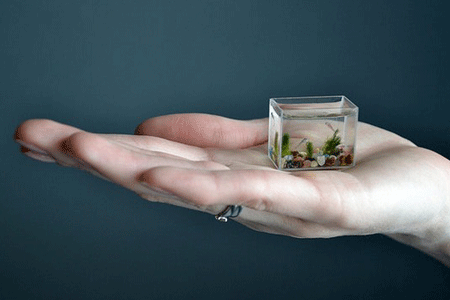 A small aquarium with simple aquarium decoration and small waterfalls are modern design trends also. A small aquarium gets smaller and more delicate for attractive, unique, eco friendly and colorful shelves or office table decoration. (Feng Shui room with an aquarium)
Miniature aquarium and it decoration are created by Russian designers Anatily and Stanislav Konenko. The small aquarium sizes are 30 mm x 14 mm x 24 mm (1 1/4″ x 1/12″ x 1″) with 10 grams of water. Unique small aquarium is the home for few tiny fish.
Small aquarium decoration, tiny tropical fish in the aquarium, modern design trends for eco homes
Designers create aquarium decoration with mini rocks, tiny plants and aquarium corals to create traditional glass aquarium tanks look in miniature.
Interesting small aquarium design from Constance Guisset is an unusual combination of a small aquarium and a bird cage.
Contemporary room decor ideas, unique small aquarium with fish and birds
Modern design trends, a tropical fish aquarium with a bird cage
The small aquarium Duplex offer unique room decor ideas for bird and fish lovers.
A bird cage with a small aquarium decoration, unique contemporary room decor ideas
Wall mounted small aquarium tanks and impressive aquarium decoration create an art piece on a wall, saving space and offering natural eco friendly colorful room decor ideas for modern eco homes.
Eco friendly room decor ideas, small aquarium decoration, modern design trends
Wood is a traditional natural material for home decoration. Small aquarium decoration, made of wooden frame, creates a classy and elegant room decor item for luxurious room decor, adding eco friendly material and beautiful unique texture of wood into modern homes.
Wall decorating with wood, wooden frame for small aquarium decoration
Tropical fish aquarium with a lamp, small aquarium light design trends
Eco design trends are popular like never before. New glass aquarium tanks with fish, combined with a sink, help teach people to save water, Japanese designers say.
Modern design trends, bathroom sink with small aquarium, glass bowl with gold fish, eco room decor ideas
Creative combination of glass aquarium tanks with planters for small house plants and miniature waterfalls bring the nature into modern eco homes, offering beautiful room decor accessories for table decoration. Miniature bio systems are modern design trends that help busy people enjoy fresh green colors and natural life, relax and decrease the stress level.
Modern room decor ideas, eco friendly small aquarium decoration, glass aquarium tanks with planters and green house plants, Domestic Ponds from Duende Studio
Aquarium decoration and room decor ideas:
Home staging tips for a room with an aquarium
Thinking of room decor before buying an aquarium
Feng Shui and home pets
Wooden frame for aquarium decoration, small glass aquarium tanks

Here is a new design concept of Ibis Hotel in Sao Paulo, Brazil. The contemporary and original interior design invites everyone...
and enjoy free articles sent to your inbox