15 Tips for Interior Decorating with Bright Red Color Accents or Dark Room Colors

Decorating Ideas

Red Color Accent

Room Colors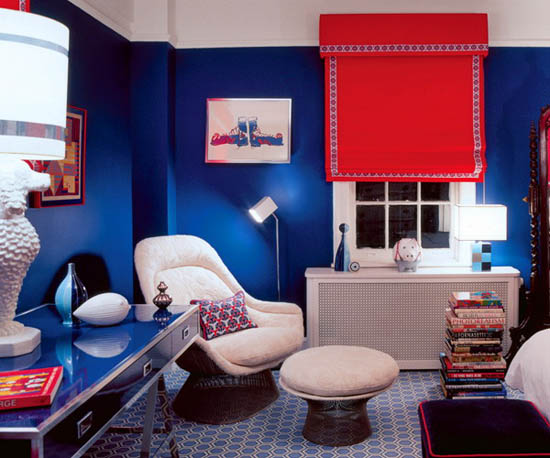 MODERN WALLPAPER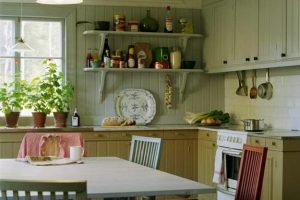 Dark room colors are cozy and comforting. Red color accents feel exciting and energetic. Tips from experts for interior decorating with bright red and dark room colors, deep color shades of purple, gray, green, blue, brown or black, will help select perfect shades for your home interiors and create pleasant and modern interior design in style.
Are you afraid of dark room colors? Have you tried to brighten up your home interiors with bright red color accents? Deep color shades are easy to incorporate into almost any interior design, making decor in any style feel cozier. A red color accent adds a splash of dynamic color, bringing festive mood and joy into home interiors.
Interior decorating with red or dark room colors can feel bold and daring, but it is not difficult at all. There are many elegant and simple ways to use deep color shades and bright red color accents for sophisticated and unique interior design that you will enjoy for years.
15 tips for interior decorating with dark room colors and bright red color accents
1. If you do not want to paint an entire room or wall red or any dark color, try to add a red color accent or experiment with dark room colors, decorating with purple, gray, green, blue, brown or black a part of the wall, chandelier or door. Bright red color, used in moderation are great for creating striking home accents also.
Interior decorating and paint colors trends
2. Combine light and dark room colors that belong to monochromatic color scheme, adding attractive soft or bright color contrasts to your interior decorating ideas.
3. Home decorating fabrics in red or dark colors, – bedspreads, pillows, furniture upholstery fabrics, curtains, lampshades and towels, are simple ways to bring fantastic deep color shades of purple, gray, green, blue, brown or black colors into your home interiors.
Light gray, white and pink-red color schemes
4. Add various textures and patterns for interesting and inviting interior decorating.
5. Make a bold statement in the room by adding a single dark object or an eye catching bright red home accent to your room decor.
6. Use small room decor accessories in bright red color or your favorite dark color tones. Accent pillows, vases, towels, small rugs, light curtains and wall art are simple interior decorating ideas that help find what dark color shades work well for your home interiors.
Matching interior design colors
7. Dark purple color shades create an intrigue without overpowering room decor. The combination of dark purple and dark brown colors of wood furniture and floors looks classic.
Purple color schemes for interior decorating
8. Dark blue colors, burgundy or deep green color tones, blended with lush indoor plants, are a way to create striking interior decorating ideas that feel welcoming and peaceful also.
9. Dark gray and black color shades can bring warmth, elegance or drama. Mysterious as purple, and classy as white, gray and black interior decorating ideas are a simple way to make a stronger statement and create very intimate room design.
10. Bright red and dark room colors, deep color shades of purple, gray, green, blue, brown or black should  be used in moderation in interior decorating, phychologists and decorators say.
Selecting room colors for healthy interior decorating
11. Bright red color shades can create stress and tension. People with heart or high blood pressure problems willbenefit from small bright red color accents.
12. Deep purple, gray brown and black color shades, especially wall paint and wallpaper make even spacious rooms look smaller.
Black and gray room colors for baby rooms design
13. Comfortable dark brown, black or gray room colors, used in moderation and with lighter interior decorating colors are modern interior decorating ideas that help fight apathy and depression. Too much of dark purple, gray, brown or black color can destroy positive attitude and enthusiastic mood, creating sad and conflicting interior decorating.
Brown cream interior decorating color schemes
14. Too dark room colors feel unsafe and depressing. Dark black room decor creates tension, fear and builds communication barriers between people.
White and black wallpaper, modern interior decorating ideas
15. All shades of blue color create pleasant calming and cooling effect, but too dark interior decorating ideas feel cold and unpleasant, associated with loneliness and stress.

Here are great ideas for kids toys storage and wall decoration with small cars that everyone would love. DIY organizers, like...
and enjoy free articles sent to your inbox