Vibrant Pumpkin Vases with Flower Arrangements, Thanksgiving Table Centerpiece ideas

Decorating Ideas

Holiday Decor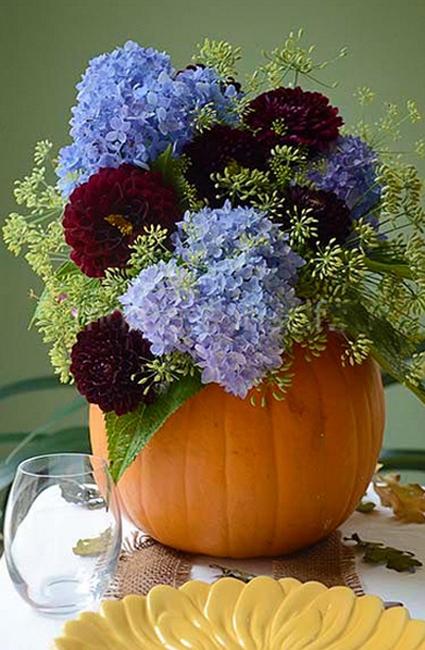 Autumn flower arrangement for Thanksgiving table decoration
flower arrangements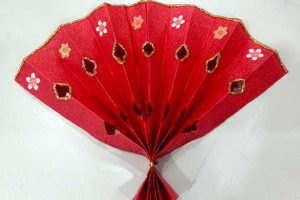 Flower arrangements with leaves and pumpkins are excellent Thanksgiving table centerpieces. Are you looking for the perfect centerpiece ideas for your fall holiday tables? Here is the Lushome collection of bright, original, and elegant pumpkin vases with flower arrangements which can enhance the spirit of your Thanksgiving table decorating and inspire bright, fall-themed ideas for seasonal centerpieces. There are many beautiful designs with autumn flowers. Beautiful flowers and fall leaves look spectacular in orange pumpkin vases or white and green gourds. These festive fall table centerpieces are easy to make but give a delicate, romantic touch to fall holiday tables. Check out the ideas and create handcrafted floral centerpieces for your fall decorating.
The fall colors of autumn leaves and beautiful flowers combined with seasonal elements, like pumpkins and gourds make the best Thanksgiving table centerpieces and allow quick alternations for the winter holiday season. The idea is versatile. The mix of natural materials and bright colors offers bright centerpiece ideas. This style of handmade table centerpieces is universally appealing and suits every type of celebration. Changing flowers and making new vases bring fresh flower arrangements into your home and decorate your holiday tables every week, month or season. The key is to choose seasonal accents and enhance your decorating theme.
How to create fall flower arrangements in handmade pumpkin or gourd vases
Pumpkin flower arrangements, beautiful fall table decorations
Thanksgiving table centerpiece ideas and Halloween pumpkin designs
Thanksgiving table centerpiece ideas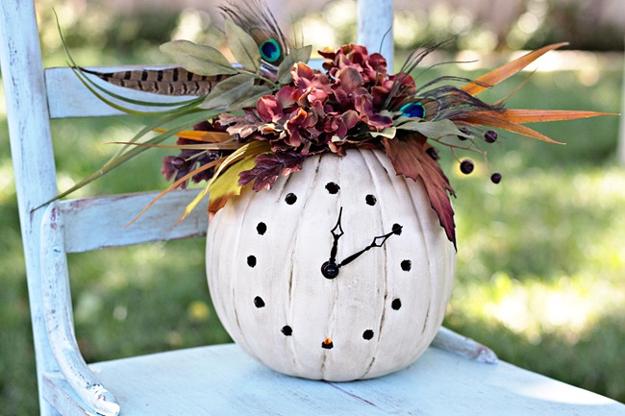 Handmade designs are big for fall decorating. Nature provides beautiful flowers, vegetables, leaves, and other attractive materials for home decorating. Time for Thanksgiving decorating is the time of year when people are thankful for simple things, so handmade designs and natural materials from local parks or backyards enhance the spirit of the season. Homemade table centerpieces add an authentic country home feel to dining rooms. Hand-made vases carved from pumpkins and gourds add interest to the table centerpieces.
Recycling old clothes and fabric leftovers for handmade pumpkins,
cheap ideas for fall decorating
Vibrant Thanksgiving table centerpieces, fall decorating ideas
Small orange and white pumpkins with a single fall flower, a pine cone or a leaf make charming and elegant table decorations and offer individual table centerpiece ideas that are cheap, but beautiful and romantic. Potted mums in the vibrant reds, yellows, and orange pumpkin vases are excellent for fall decorating. Other beautiful flowers work well with fall leaves, pumpkins or gourds also, turning the flower arrangements into harvest-themed, vibrant, and unique Thanksgiving table decorations. The vegetables and flowers arrangements are easy and quick to make. They are adorable, romantic, bright, and affordable.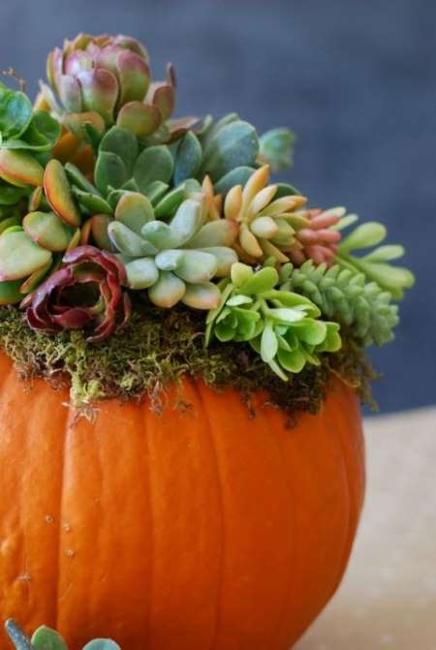 Fill the handmade vases with fresh flowers in rich shades of purple, red, burgundy, add white, orange and yellow flowers, accentuate the centerpiece design with colorful fall leaves and brown branches with vibrant berries. There is no rule how to create floral centerpieces for fall decorating. Experiment, unleash your imagination. Love the fall colors and textures which the season brings into your home.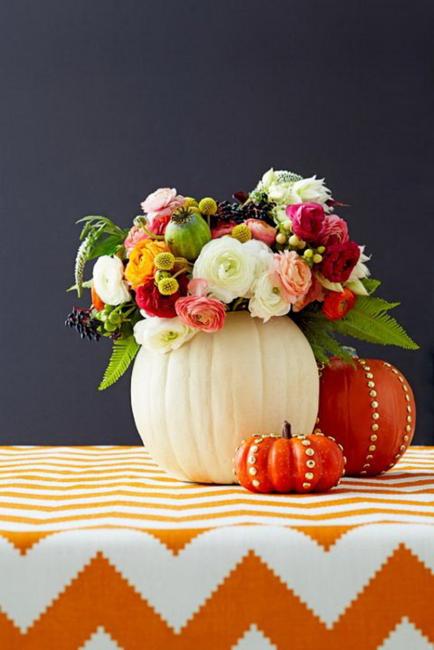 Halloween decorating ideas look bright and friendly when you mix them with flower arrangements in colorful pumpkin vases. Add the face to your pumpkin vase creating a fantastic table centerpiece for the night of hand-carved jack o' lanterns. Instead of scary faces, carve elegant Halloween motifs such as monograms, cats, bats, leaves. Use a container inside the carved pumpkin to water your fall flowers and enjoy the attractive table centerpiece. Flower arrangements lift the pumpkins beyond the typical jack o' lanterns adding an elegant touch to your holiday decorations.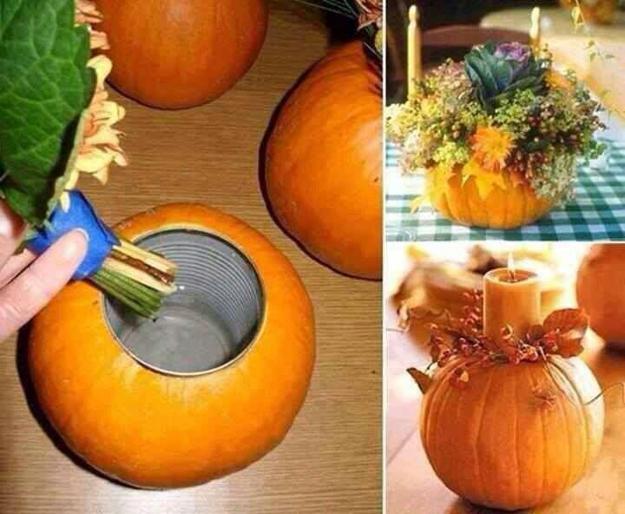 Fall colors turn the season into a fantastic time for making decorations with natural materials. Thanksgiving table centerpiece ideas which mix vegetables and autumn flowers are lovely designs that enrich the fall decorating themes. These beautiful fall decorating ideas are great for creative Thanksgiving table centerpieces, Halloween decorations, but they can transform into designs for Christmas decorating and accentuating the New Year Eve celebration also. Fresh flowers and natural materials are perfect for handmade table centerpieces in any season. With a maximum or minimal autumnal flair and seasonal accents, the flower arrangements capture the splendid beauty of nature and add a stylish touch to holiday tables.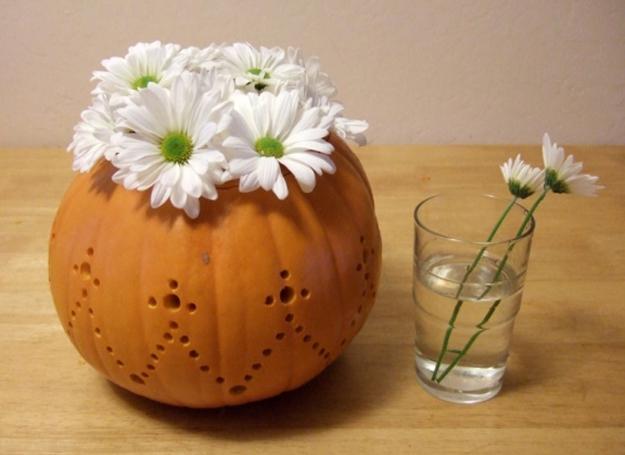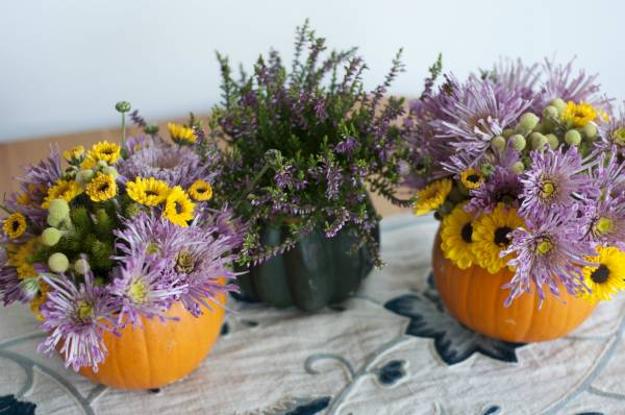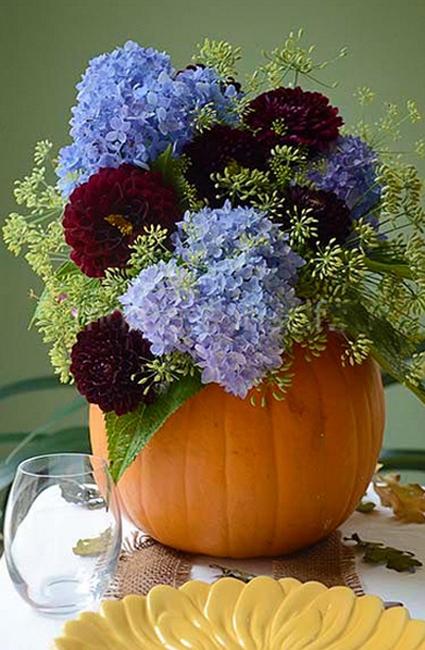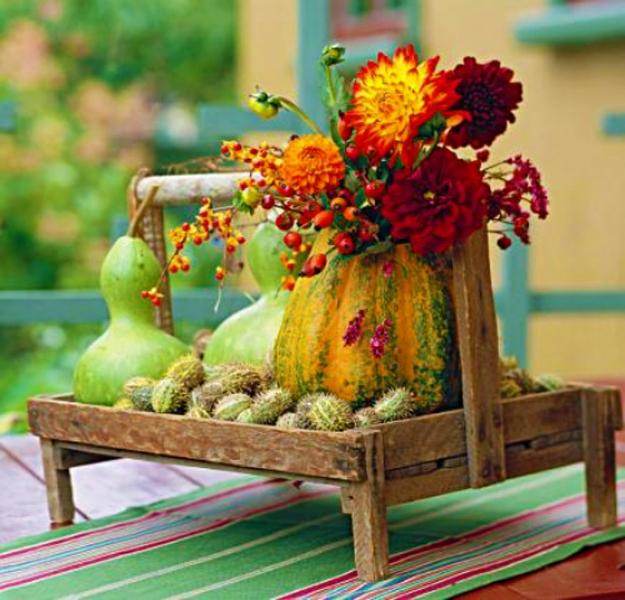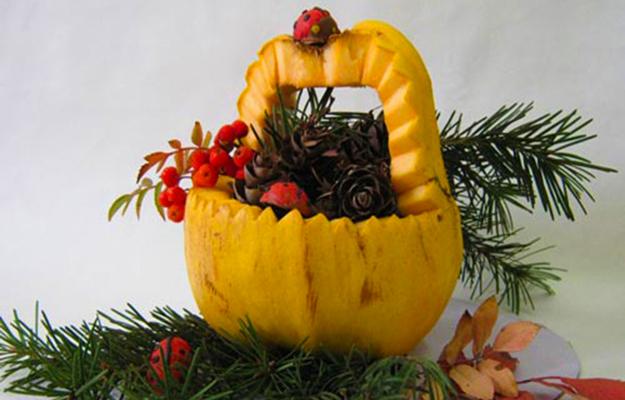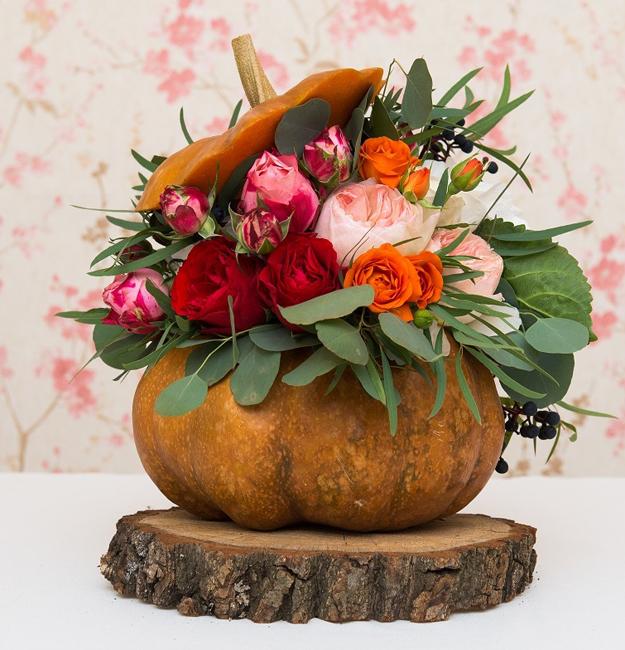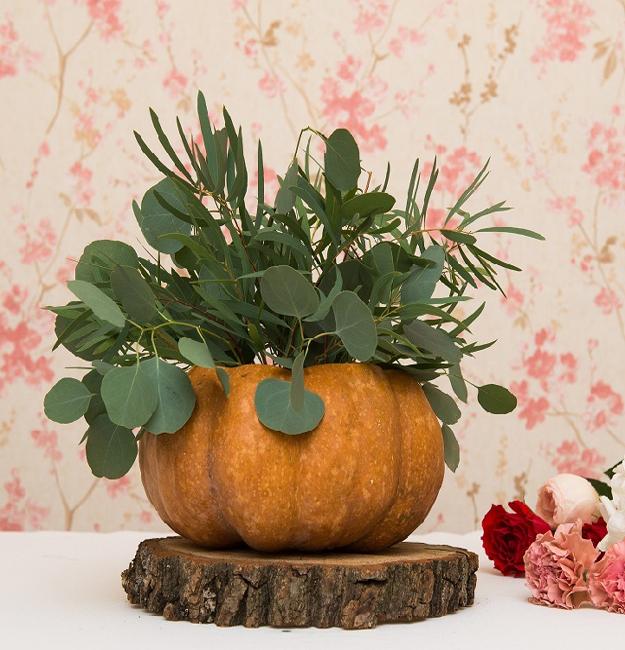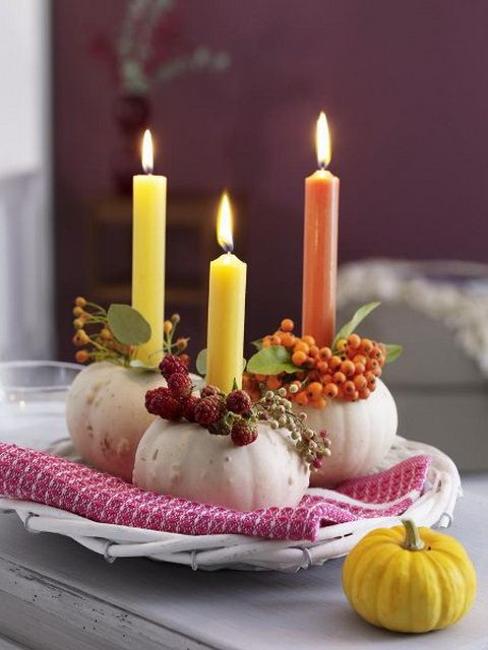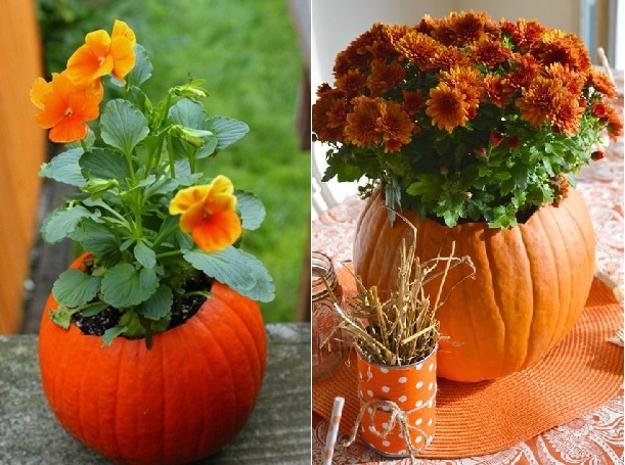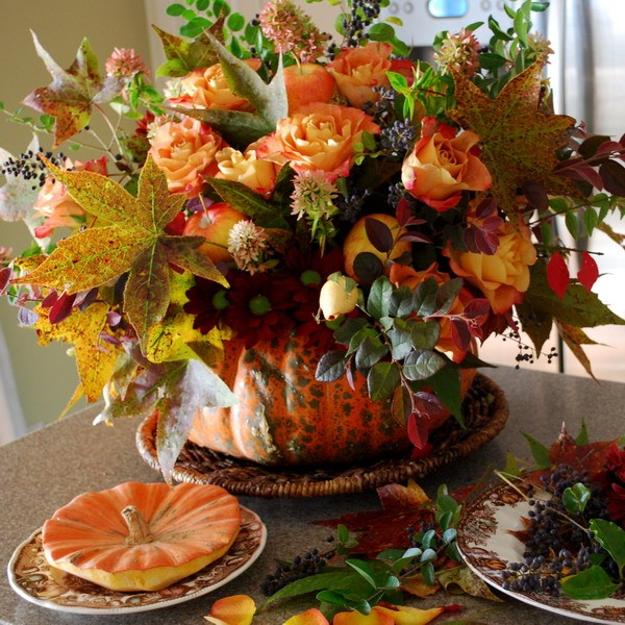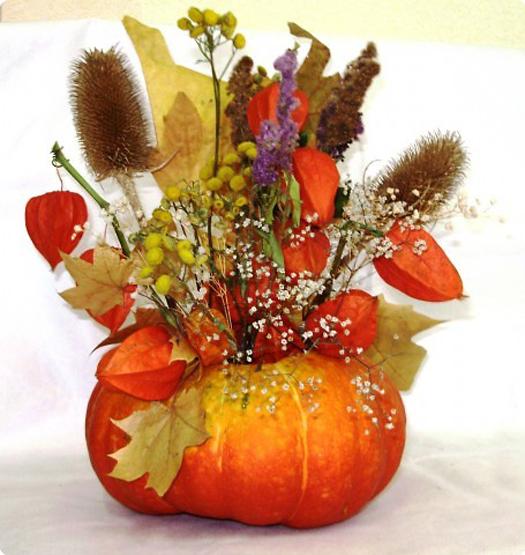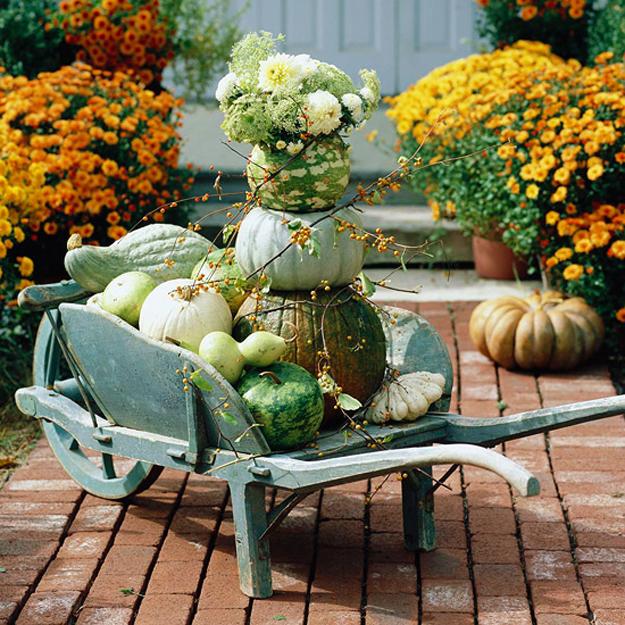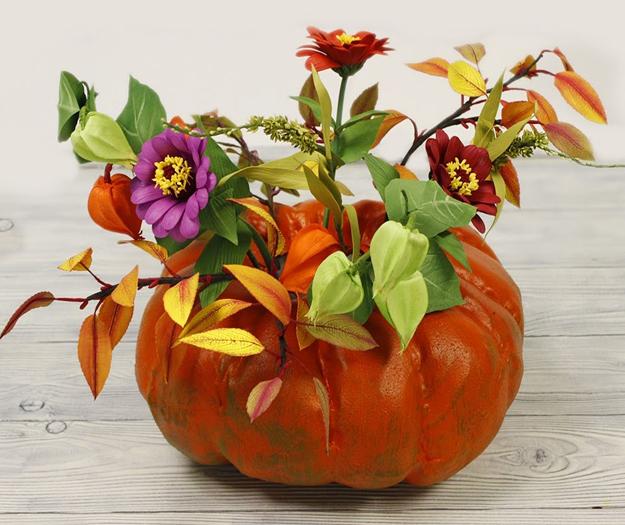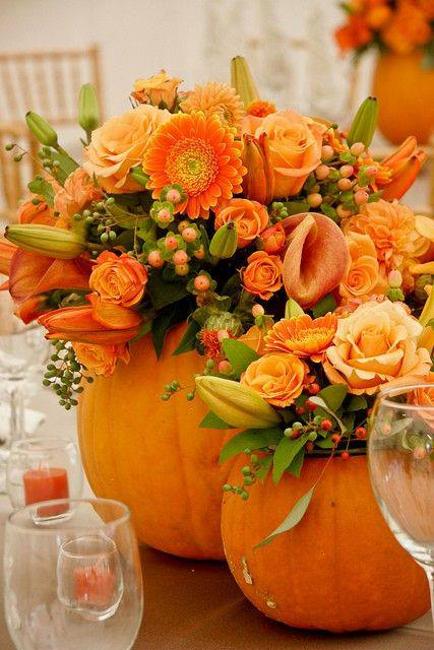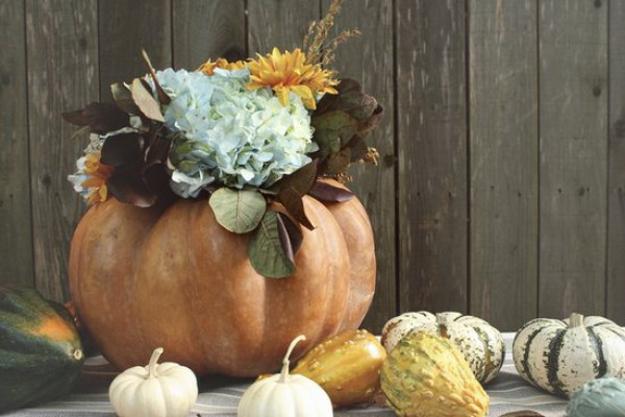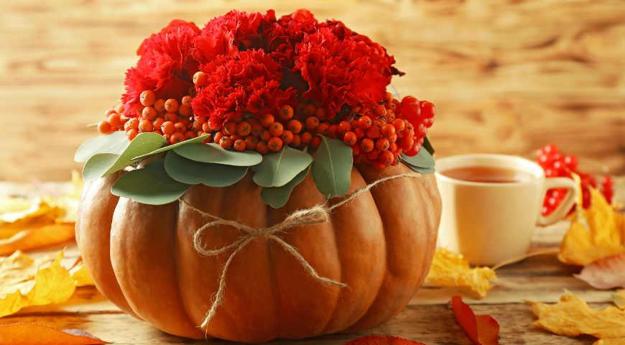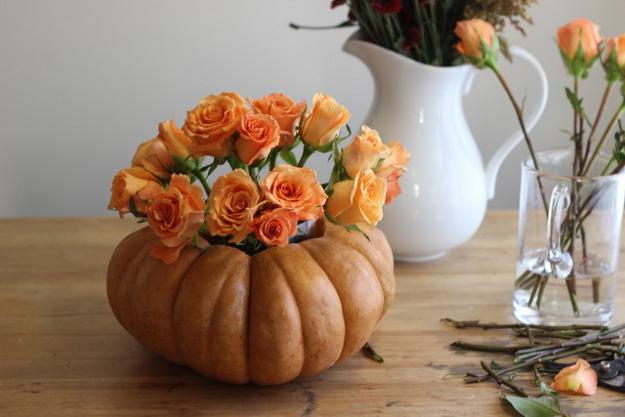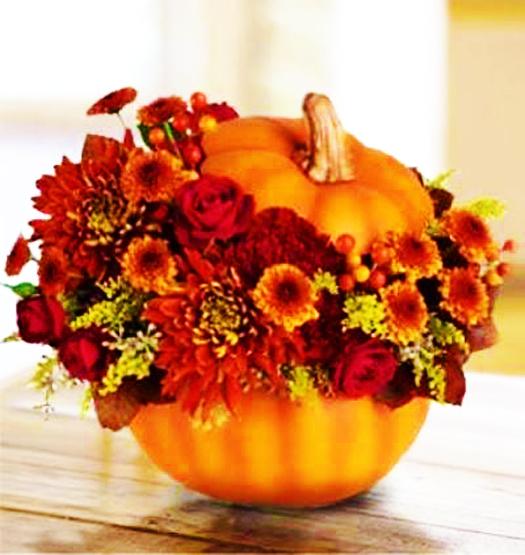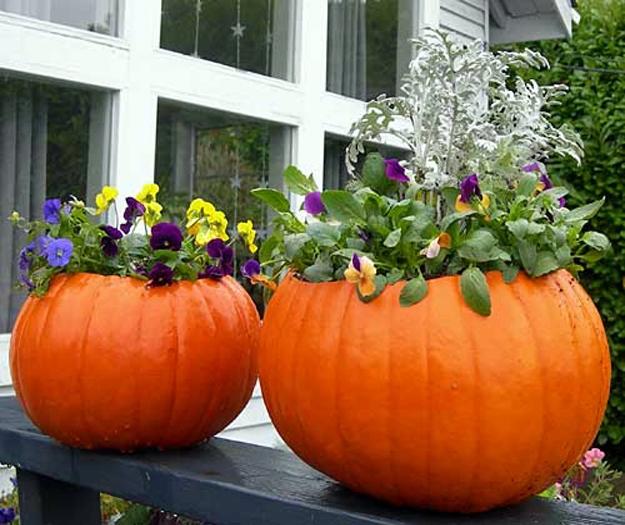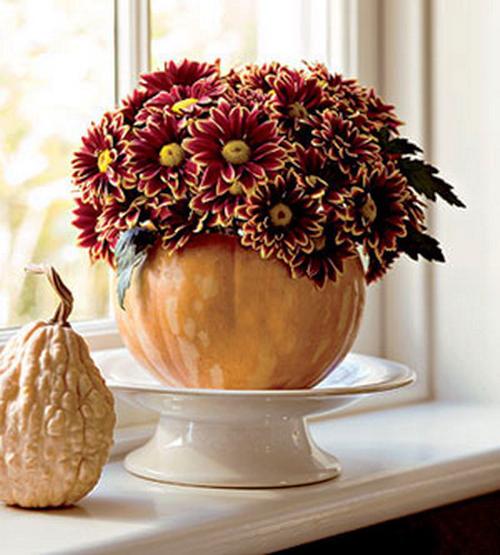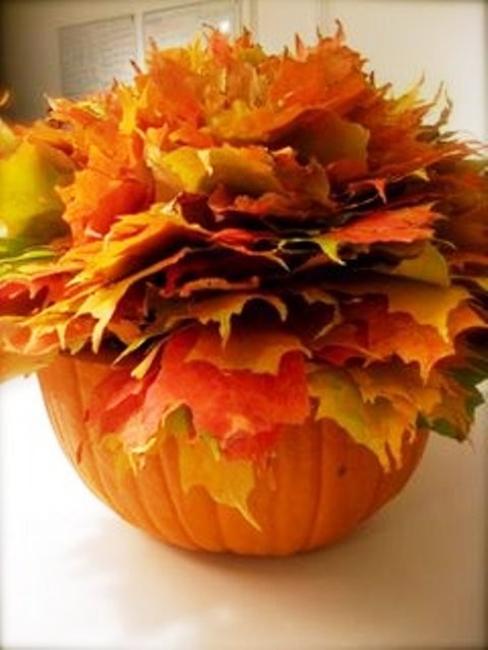 More from decorating with flowers

Fabulous designs take modern food decoration ideas to the next level blending innovative concepts with traditions and exploring new ways to...
and enjoy free articles sent to your inbox