How to Create Fall Flower Arrangements in Handmade Pumpkin and Gourd Vases

Decorating Ideas

Holiday Decor

Plants and Flowers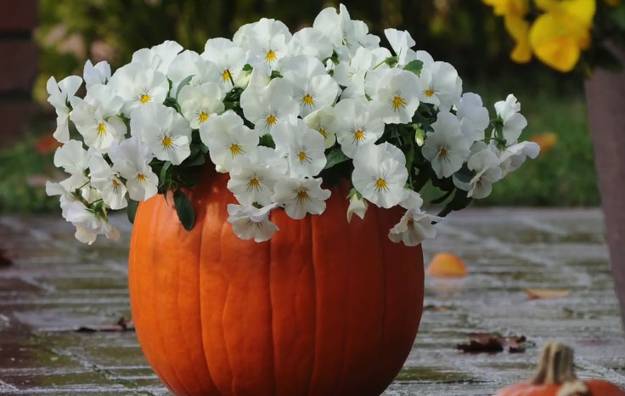 White flower arrangement in handmade pumpkin pot
floral designs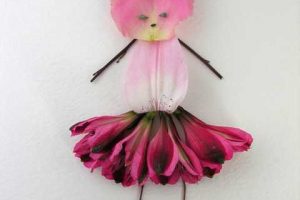 Fall flower arrangements look fabulous in hand carved pumpkin vases. The designs for these table decorations and centerpieces get more elaborate, but even very simple vases created with pumpkins or gourds add spectacular details for fall decorating.
Instead of buying vases and pots in bright fall colors, you can make your own, eco friendly and biodegradable vases of pumpkins and gourds. It takes just a few minutes to make beautiful table decorations and centerpieces for your shelves and night tables. Fall flowers look stunning in handmade vases that enhance fall decorating with unique shapes, natural colors and original designs.
Flower arrangements are colorful and impressive. Autumn leaves and fresh flowers look even more interesting in pumpkin or gourd vases and pots. These simple and beautiful fall decorations do not take a lot of fuss to get ready for your table.
Fall flower arrangements in carved pumpkin and gourd vases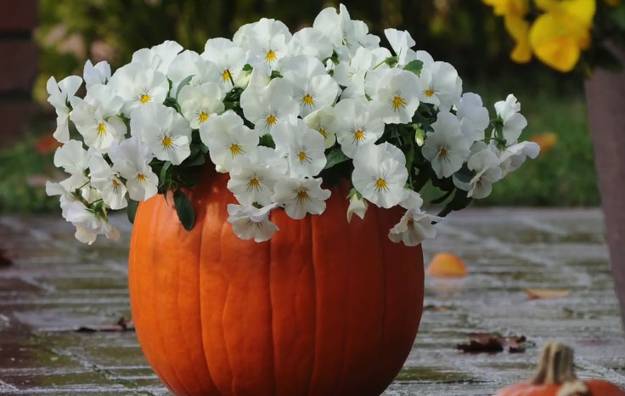 Arranging seasonal flowers in these hand-carved vases and pots is simple as filling a bowl with Halloween apples or sweets. You can decorate your handmade vases with colorful buttons, ribbons, beads or carving designs to add extra sparkle to creative fall decorating ideas.
Plastic bowls and glass jars work well as water containers that can place inside your hand carved pumpkin vases and small gourd pots. Filled with fall flowers, these vases makes spectacular table decorations and centerpieces which last for a few weeks.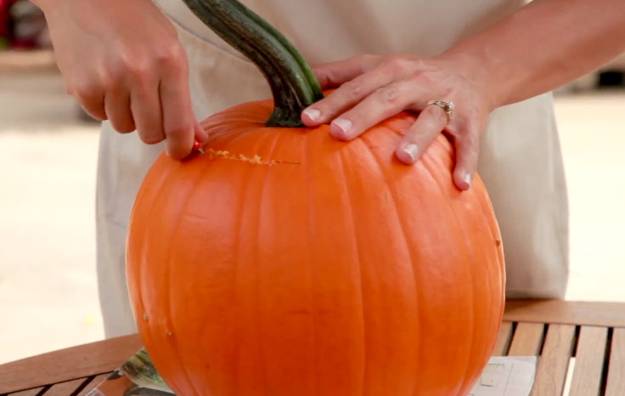 Fall flower arrangements bring amazing aroma, unique shapes and textures into your your home. Fall flowers are versatile and suitable for any home decorations, that add color and natural feel to fall decorating.
Pumpkin flower centerpieces, fall table decorations
15 Thanksgiving table centerpieces and Halloween decorating ideas with cute pumpkin designs
Eco friendly and very decorative vases made with pumpkins and gourds are less likely to cause hurt feelings if they break, offering great table decorations that are kids-friendly. Here is a collection of dazzling fall flower arrangements and step by step tutorial for making a vase of a pumpkin or gourd. Get inspired by these colorful floral arrangements and experiment with new ideas for making eco friendly table decorations and centerpieces for fall decorating.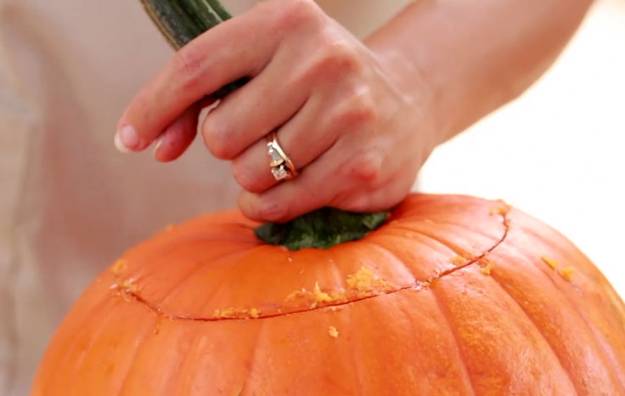 Hand carved and hollowed pumpkins and gourds make excellent Halloween decorations and table centerpieces for Thanksgiving decor. Fall flower arrangements in pumpkins and gourds are excellent for all special events in fall and everyday home decorating.
18 fall flowers arrangements welcoming guests at your front door
15 cute autumn leaves and fall flower arrangements to cheer up fall decorating ideas
Making a vase is similar to making a jack-o-lantern. Potted fall flowers or floral arrangements in containers with water can be places inside your pumpkins and gourds to add fabulous table decorations and centerpieces to your home.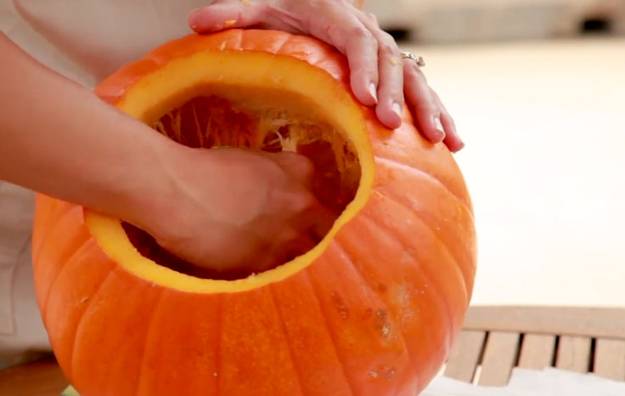 The pumpkins and gourds serve as a decorative flower pot or vase for a few weeks. When Halloween is over you can take the potted flowering plants out of the pumpkin and plant them outside if you live in warm climate.
22 colorful fall floral arrangements and autumn table centerpieces
25 Thanksgiving table centerpieces with fall flowers
A vase, plastic bowl or glass jar, filled with seasonal fall flowers, can be used instead of the potted plants, depending on your preferences. Using pumpkins and gourds in this way turns fall flower arrangements into a fun and festive table decorations and centerpieces for all fall events.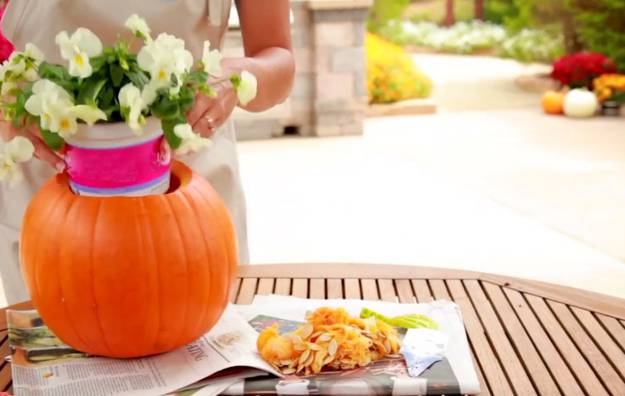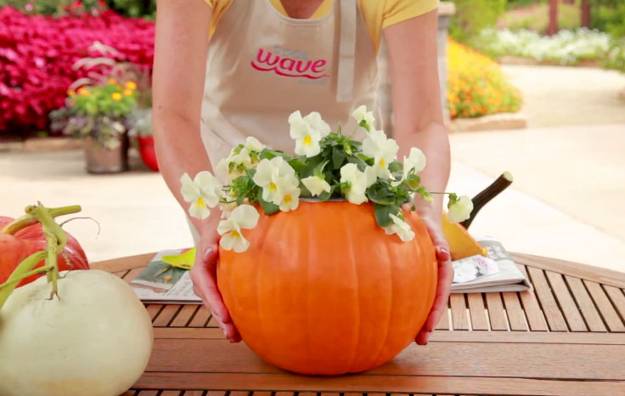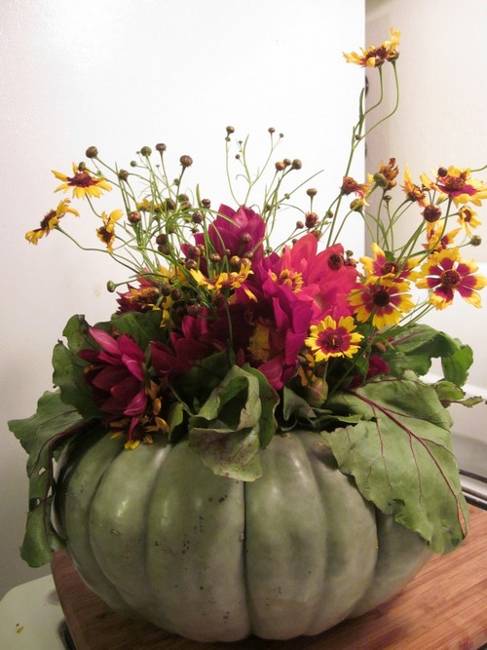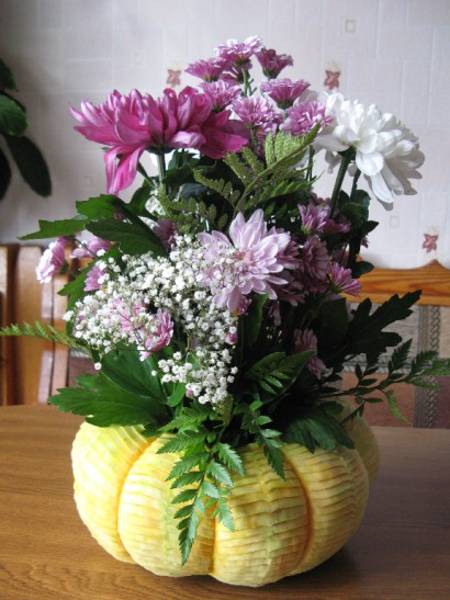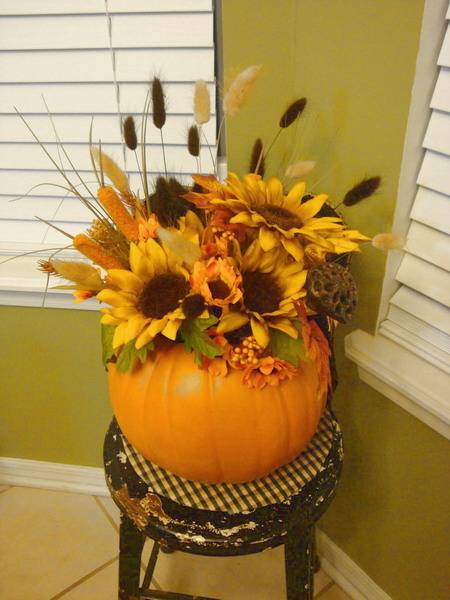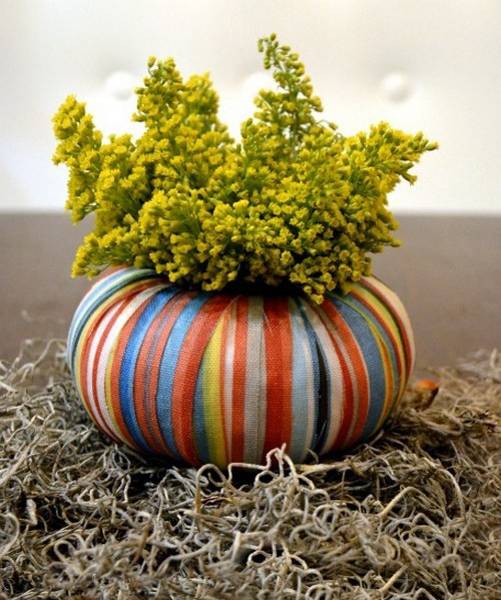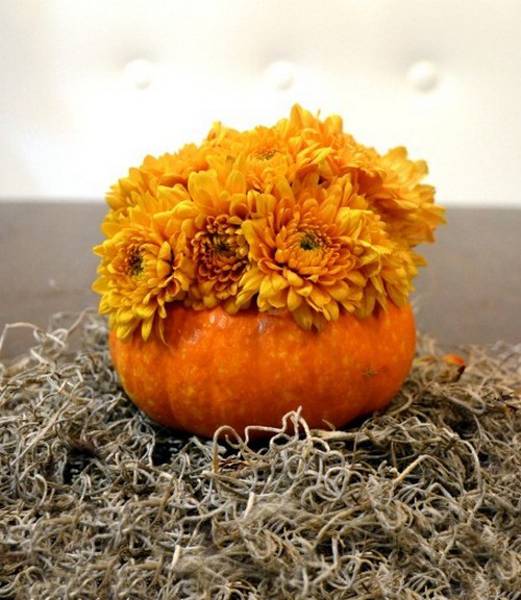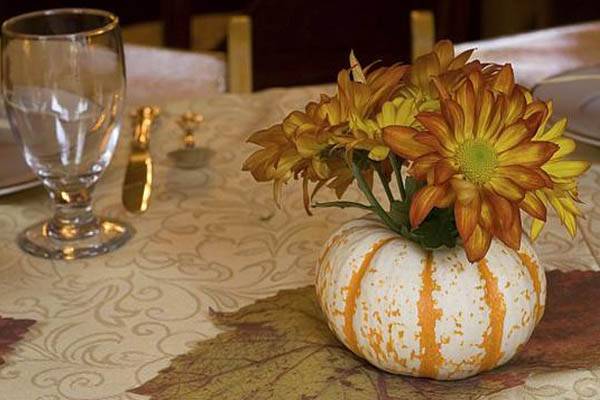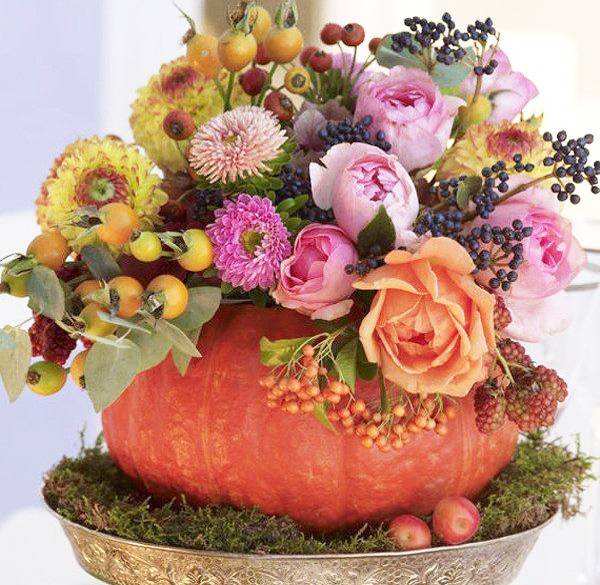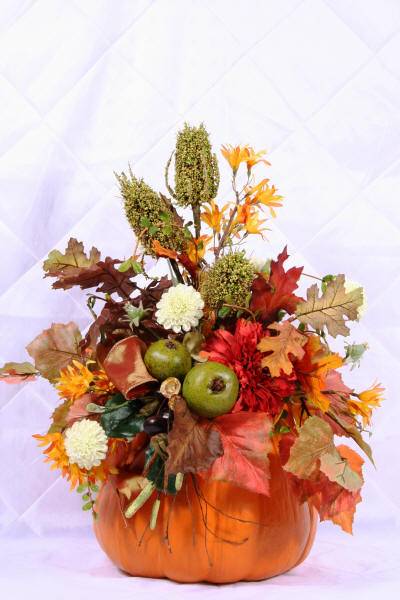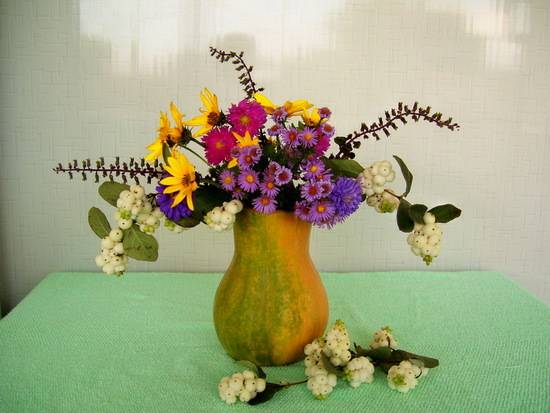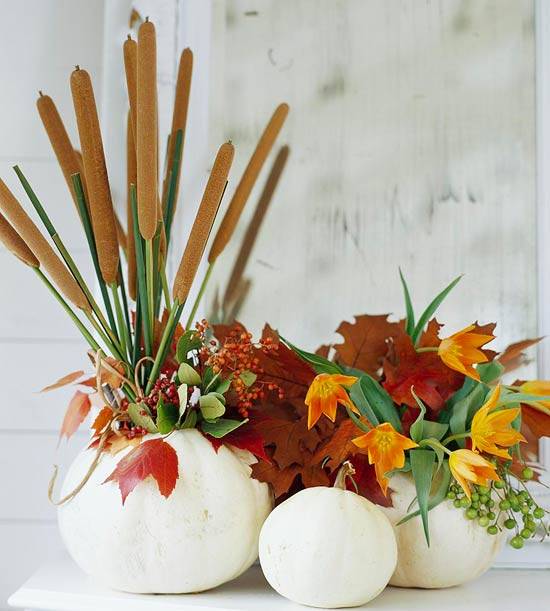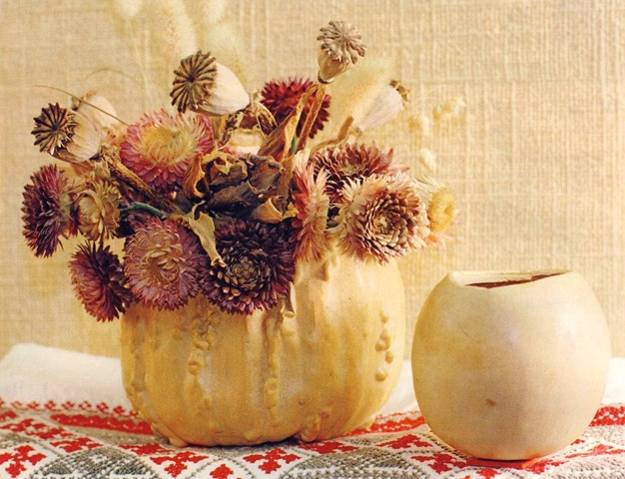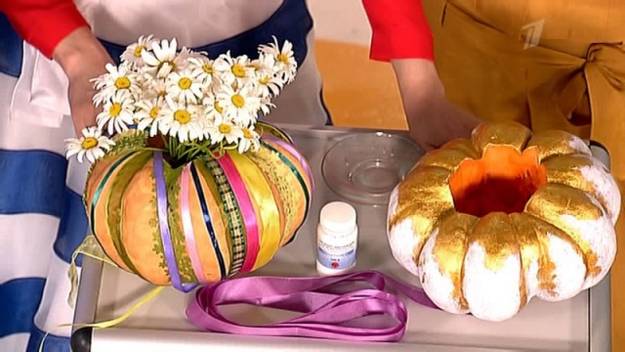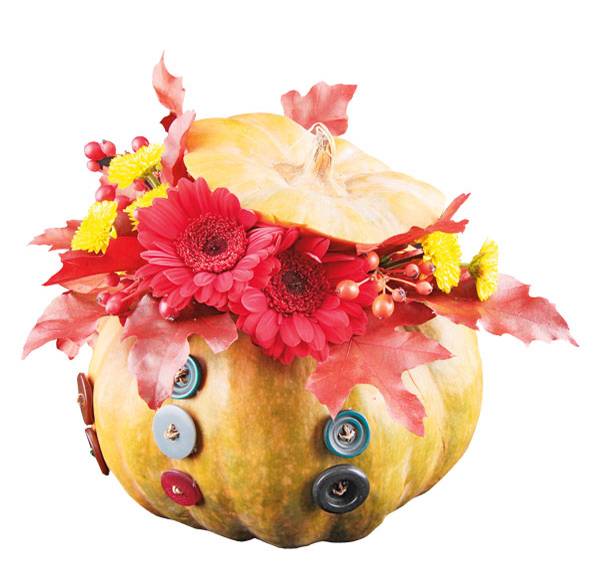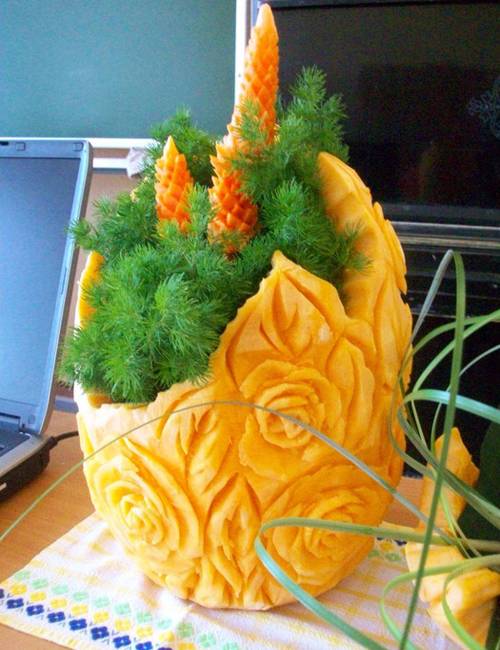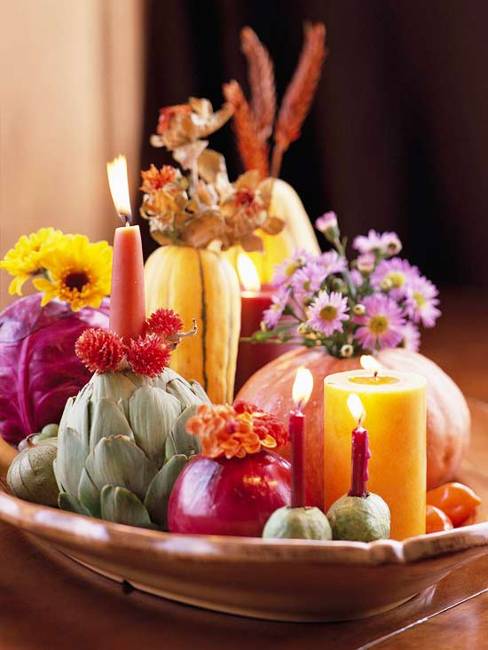 More from fall decorating ideas

Fall floral arrangements are perfect for Thanksgiving decorating. Fall flowers show off traditional hues and unexpected winks of pink, white, and...
and enjoy free articles sent to your inbox