Pumpkin Flower Centerpieces, Fall Table Decorations
---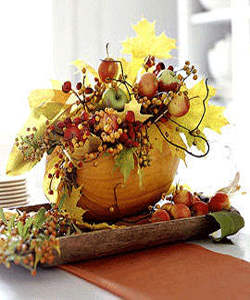 Decorating ideas
Fall is the time of pumpkins, colorful leaves and beautiful flowers. There are many ways to use pumpkins in autumn: for cooking soups, baking pies, making Halloween lights. Pumpkins with fall flowers and leaves make wonderful, bright and inviting table decorations also. Colorful pumpkins and all gourds make great vases for fall flower arrangements and attractive table decorations with leaves, berries and branches. Cream, green or orange vases , made of gourds, with fall blooming flowers and leaves are perfect for creating colorful and welcoming dining table centerpieces in autumn. (Look at modern flower arrangements, gifts and dining table centerpieces.)
Making table decorations with pumpkin and flowers
All you need is to get one, two or three nice orange, green or cream pumpkins and choose fall blooming flowers for making dining table centerpieces. You can choose your garden flowers or buy beautiful flowers from the store. Draw or scratch the line where you plan to cut, so the edge will be even. You can design a straight line, zigzag or wavy edge line for your dining table centerpieces. Cut off the pumpkins' tops and clean pumpkins from seeds and pulp to prepare vases for fall flower arrangements.
Pumpkin and flowers fall table decorations
Pumpkin table decorations, fall blooming flowers and leaves in pumpkin vase, fall flowers dining table centerpieces
Dinning table centerpieces, fall blooming flowers, mums in pumpkin vase, thanksgiving table decorations
Place a plastic container, a small bowl or a glass inside each pumpkin for water and fresh fall blooming flowers. Make sure that the container or glass has right size and do not peek out the top. Fall flower arrangements should look like flowers are growing right inside the pumpkins for more interesting and naturally looking table top decorations. (Look at ideas for creating recycling decor, old shoes with green plants and flowers for home or garden decorating.)
Add fall flowers, creating pretty dining table centerpieces. It is a good idea to arrange fall leaves, cones and branches for more colorful fall table top decorations. You can use any fall blooming flowers, like chrysanthemums, dahlias, asters with beautiful yellow, red and purple maple leaves. (Look at simple fall decorations that improve mood.)
Fall flower arrangements, fall centerpieces, fall table decorations with gourds and fall blooming flowers
Pumpkin vase decorating ideas, fall flower arrangements, dining table centerpieces, fall table decorations
Small container or glasses with water and flowers can be fixed inside the pumpkins by filling the gaps with wet paper towels or wet cloth. Pumpkin vases and fresh fall flower arrangements should be kept moist. (Look at Green home decor miniatures, creative table decorations and unique gifts.)
Pumpkin  and fall centerpieces for table decorating look even better, if flowers lean over the sides of the pumpkin vases instead of standing straight up. Plain greenery, pine cones, arranged around the bottom of pumpkin vases with fall flowers and leaves, create larger table top decorations and very artistic fall centerpieces for table decorating. (Look at egg shell and flower decorating ideas.)
Beautiful rose and leaves pumpkin table decoration ideas, fall dining table centerpieces
Fruits, leaves, flowers and pumpkin vase, thanksgiving table decorations, colorful fall ideas
All gifts of nature, walnuts, chestnuts, corn cobs, cones, pears and apples, add beautiful accents to pumpkin with fall flowers table top decorations. Glowing candles, shiny plates on white table cloth and beautiful, inspired by fall, pumpkin with flowers dining table centerpieces create festive and stylish fall table setting.
Recommended:
Edible flowers for blooming table decoration
Tender rose petal decoration for gourmet recipes
Organic flowers for dinner table decoration
Fall decorating ideas, leaves, apples and fall flower arrangements for thanksgiving table decorations, pumpkin table decorations
Fall flower arrangements and gourds vases, fall decorating ideas, thanksgiving table centerpieces, holiday table decor ideas

Recycling cargo shipping containers for small and affordable homes is one of the latest trends in Green building. These unique house...