Top 11 Modern Tableware Design Trends 2013 Adding Unique Flavor to Stylish Table Setting

Decorating Ideas

Dining Room

Kitchen Ideas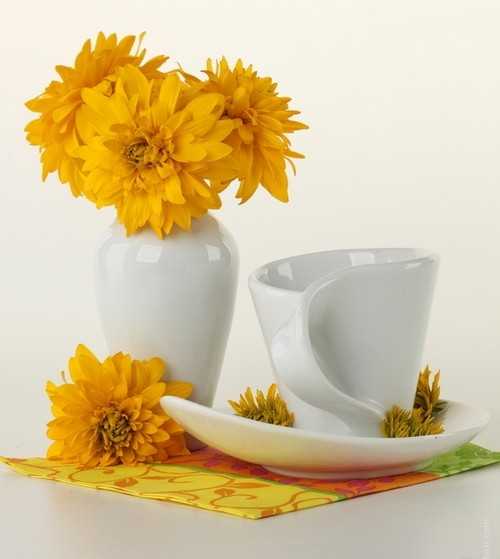 latest trends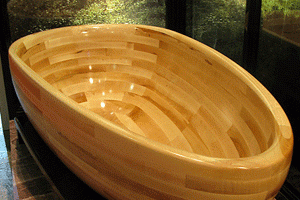 Modern tableware design trends bring beautiful accents, dishes, bowls and utensils into kitchens and dining rooms. Attractive tableware designs and pleasant colors improve mood and add more appeal to everyday dining and holiday table decorating, creating balanced and comfortable, stylish and lush homes.
Modern tableware sets look beautiful and elegant. They are excellent for those who do not have time for creating an exclusive, well matched sets of plates and cups in different styles and colors. Also choosing the right tableware set for your home is easier if you select the theme and material.
Traditional ceramic dishes and bowls or contemporary glass tableware, elegant china sets and informal stainless steel tableware create modern tableware design trends that help make your kitchen and dining room decorating unique and interesting.
Top 11 modern tableware design trends 2013
Modern dinnerware trends for contemporary table setting
Modern tableware inspired by sand shapes that pouring water creates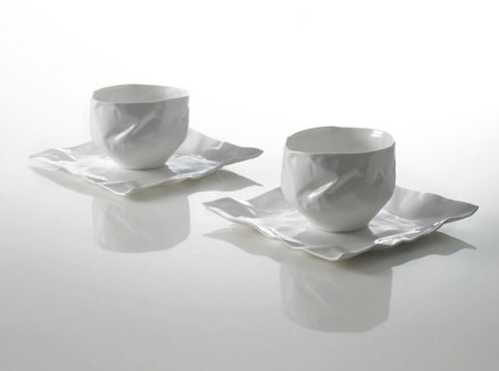 1. Asymmetrical tableware sets
Asymmetrical modern tableware sets are one of latest trends for 2013 table setting. Impressive and very unusual, stylish and interesting, asymmetrical tableware items features amazing forms, uneven edges and unexpected shapes, reflecting contemporary design trends 2013 and bringing modern colors into kitchens and dining rooms.
2. Stainless steel tableware
Stainless steel tableware sets appear contemporary and adventurous. Simple or creatively designed, with matte or shiny metal surfaces, smooth or crumpled designs, modern tableware items made of stainless steel are perfect for holidays and informal parties, kids events and family dining inviting to enjoy surprising and unique table setting.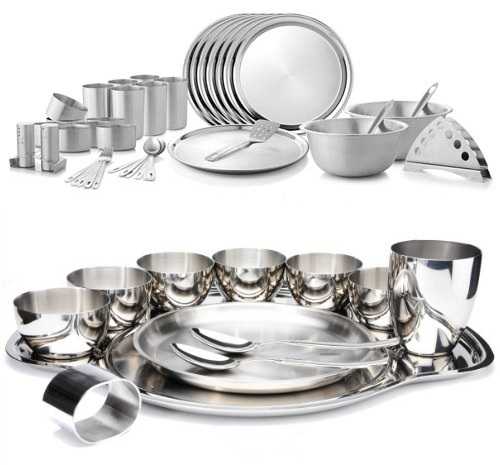 3. Modern tableware design in eco style
Eco style is one of hot interior decorating and design trends that influenced modern tableware design also. Natural themed tableware come in all forms, sizes and color combinations. Modern tableware manufactures develop dishes, bowls, vases and utensils of eco friendly materials, traditional porcelain and ceramics with botanical or zoological prints. Birds and bamboo, flowers and tree branches, fruits and vegetables are traditional tableware design trends in 2013 table setting.
4. Ceramic dishes and bowls
Ceramic dishes and mugs are one of traditional design trends for 2013 table setting. They are very easy to use, colorful and smooth, available in many different design styles and can have a variety of decorative items and paintings. Ceramic dishes and mugs are easy to clean with water and can be washed in dishwashers. Heat resistant ceramic tableware is ideal choice for those those who like to make individual meals in ovens.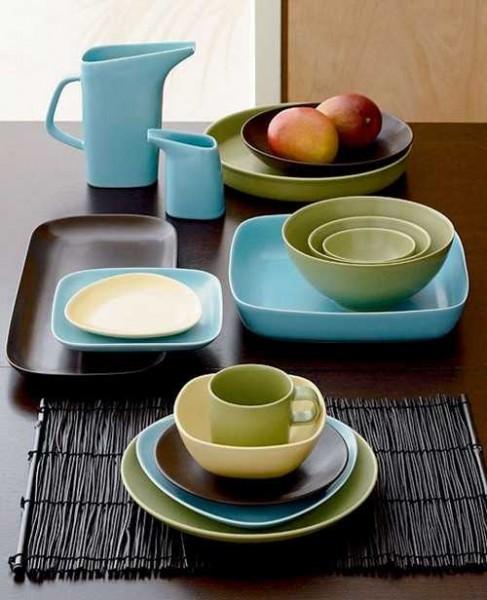 5. Modern tableware made of glass
Glass tableware adds light to table decoration, bringing elegance and vivid expressions of style. Glass tableware is great for changing a mood in your kitchen or dining room, selecting patterns that support your decorating theme.
Pipe Glass design idea challenging traditional glass geometric properties, modern tableware
Edible cups for coffee, modern tableware or delicious treats
Colorful Cartoccio collection of modern tableware and decorative vases
6. China dinnerware sets
Fine china tableware sets are a timeless design trend in dinnerware. A china tableware set looks airy, expensive and exclusive.
7. Plastic tableware
Modern tableware made of plastic is a nice way to add a splash of color, bold pattern and design to your table setting. Plastic tableware sets are ideal for cold meals and snack foods, picnics and summer parties.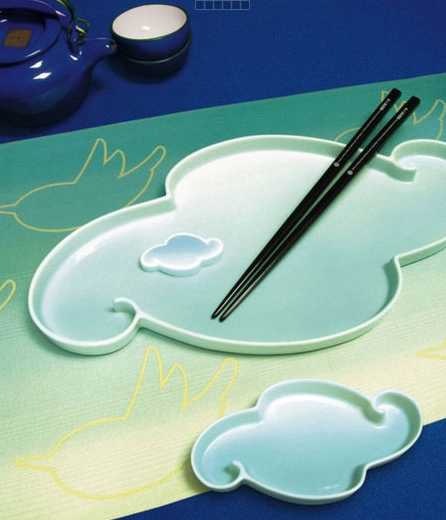 8. Professional tableware
High quality tableware differs from ordinary dinnerware sets. It is made of natural or recycled materials, features great strength and thermal conductivity. Professional tableware items are more durable and environmentally friendly.
9. Creative tableware sets
Creative tableware sets are one of spectacular and exciting modern tableware design trends 2013. Original tableware sets and vases for table centerpieces come in unusual shapes, reinventing traditional table setting with round plates. Oval and triangular, square-shaped and rectangular plates and mugs in contemporary shapes bring a contemporary flavor into dining and table decoration.
Modern tableware and unique gift ideas, coffee cups with handbags and pockets
5 people coffee and tea set, playful white dinnerware design idea
Red and white dinnerware with floral patterns
10. Themed tableware
Beautiful dishes and cups in a romantic vintage style, or oriental style are modern table setting trends 2013. Also themed tableware sets that emphasize a spirit of a certain holiday are very popular choices for festive table decoration.
11. Kids tableware design
Modern tableware design trends bring amazing ideas for kids. Colorful or decorated with playful images kids tableware sets are made of natural and eco friendly materials, ceramic, china, glass and stainless steel, and look engaging themes and colors into your home, delighting kids and adults.
Kitchen and dining room decorating with modern tableware
A modern tableware set is not only functional and beautiful way to add a unique accents to your kitchen or dining room decorating, but also an excellent gift idea. Also modern tableware sets can be used for lush home decorating. Beautiful dishes and bowls please the eye and can decorate a shelf or wall, or make a gorgeous centerpiece on your coffee table.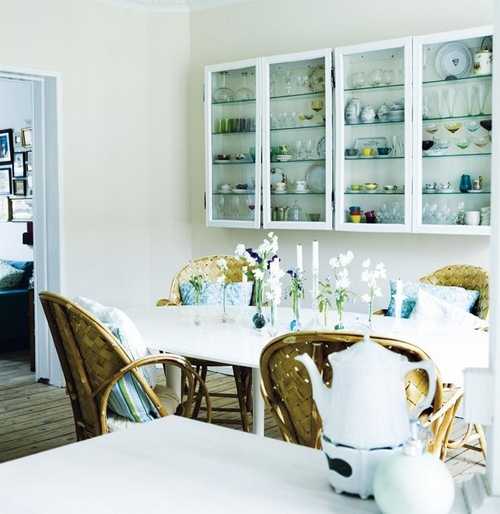 Open kitchen shelves and storage furniture with glass doors are modern interior design trends that allow to create fabulous displays with modern tableware. If your dish, mug or bowl features an usual design, form or trendy vibrant colors, it is just perfect for your any room decorating. If your antique or modern tableware item is in soft or neutral color that matches your home decorating color palette, it will complement the style of your room decor, adding a personal touch to your home interior.
More from modern furniture

Weave furniture design blends traditional techniques and modern trends in decorating with handmade items. Using natural ropes and twines, you can...
and enjoy free articles sent to your inbox