St Patricks Day Food, Simple Green Table Decorating Ideas

Decorating Green

Food Design

Holiday Decor

edible decorations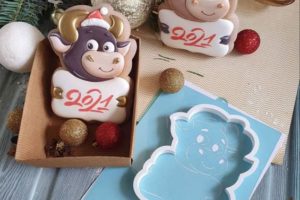 Green color is the color of St Patricks Day. White and bright shades of green color are perfect colors for St Patricks Day food and party table decorations. Beautiful shamrock decorations and white-green table decorating ideas look fresh and bright. White and green St Patricks Day colors create dynamic and cheerful contrasts,  creating spring atmosphere and festive mood for St Patricks Day celebration.
Despite the fact that St Patricks Day is Irish National holiday in memory of St Patrick, it is celebrated all around the world. Originally St Patricks Day was a religious holiday with the spring feast to remember St Patrick, the priest who died on March 17. St Patrick used a shamrock as the symbol of three Christian religion principles. Today St Patricks Day celebrations include parades, music and entertainment. People enjoy St Patricks Day food and Irish beer, make St Patricks Day crafts and shamrock decorations with kids.
Green table cloth with white or green shamrocks, place mats and white or green paper napkins are simple table decorating ideas that celebrate Irish symbols. Green and white plates, glasses and dinnerware are popular table decorating ideas that support traditional St Patricks Day colors. (Green color for room decorating, Irish inspiration)
White and green table decorating, St Patricks decorations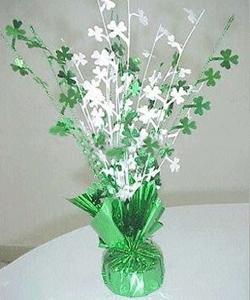 You can start your day with a healthy breakfast, enjoying green and white St Patricks Day food colors on March,17. Simple white and green table decorating ideas and St Patricks food will set a happy mood for the holiday.
St Patricks Day food
Place a green pear or an apple on each plate, or use green food colors for making edible decorations. Invite your children to help you with table decoration.  Kids are naturally creative and enjoy experimenting with food design, ingredients and food colors.
St Patricks Day food in shamrock plate, green table decorating
Fruit Salad for St Patricks Day
Ingredients: 1 cup green grapes, 1 honey melon, 3 kiwis, 2 mint springs.
Preparation: cut the melon in half, empty the melon halves, gently mix fruits and fill two melon 'bowls' with them. Garnish with mint sprigs.
Shamrock crackers, green table decorating, St Patricks Day party
Shamrock Srackers
Ingredients: 3 1/2 cups wheat flour, 300 g cream cheese, 250 g margarine, 4 Tbs water, 2 eggs, 1 Tbs salt, 1/2 Tbs poppy seeds.
Preparation: combine flour, cream cheese, margarine, one egg, salt and water. Cover and refrigerate the dough for 30 minutes.
Roll out the dough into 1/2 inch (or 1 cm) thick layer, brush with beaten egg, sprinkle with poppy seeds and using a cookie cutter cut biscuits.
Bake for 10 minutes at 230F-186C until lightly browned. Cool for 1 minute before removing to wire racks.
Leprechaun beer soup, St Patricks Day food ideas
Leprechaun Beer Soup

Ingredients: 2 cups dark beer, 200 g rye bread, 1/2 cup water, 1 Tbs grated lemon peel, 1/2 Tbs sugar.
Preparation: cut bread crusts, chop, pour a beer over bread pieces and leave for 3 hours. Then bring the mixture of beer and bread to a boil, add the rest ingredients, and cook for 5 minutes. Blend until smooth in a blender and bring it to a boil again.
Green drinks and table decorating on St Patricks Day
Lemonade Leprechaun
Ingredients: 1 part of each lemon juice, water, soda and tonic, 1 tsp lime juice.
Preparation: mix all ingredients, pour into glasses and decorate them with shamrock cocktail straws.
St Patricks Day food and decorating ideas:
Colorful spring drinks to catch a leprechaun
Green decorating for St Patricks Day, food inspiration
Modern flower arrangements, unusual centerpieces and gift
More from table decoration

Pink is one of the most ubiquitous and versatile Christmas colors that are perfect for elegant table decoration. The tender, pale...
and enjoy free articles sent to your inbox