Shamrock Plant, St Patricks Day or Christmas Gift Ideas and Cheap Decorations

Decorating Ideas

Holiday Decor

Plants and Flowers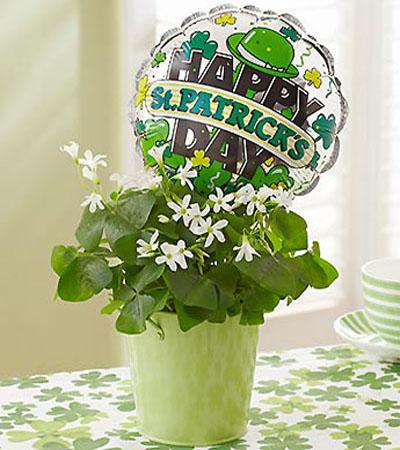 Shamrock gift ideas, spring holiday table centerpiece with shamrock plant
eco gifts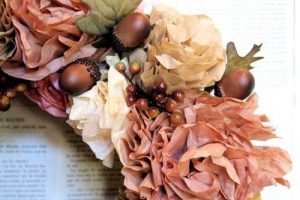 Shamrock is the national plant of Ireland. St Patrick used shamrock leaves to demonstrate three principles of Christian religion. Beautiful Shamrock house plants can make wonderful, inexpensive and symbolic Christmas gifts. Green clover leaves are popular St Patrick's Day decorations. People wear shamrocks to celebrate Irish heritage holiday on Marh,17 and welcome spring. Shamrock house plants are nice gift ideas for St Patricks Day that bring traditional white and green St Patrick's Day colors into homes.
The word shamrock comes from the Irish Gaelic word Seamrog that means a summer plant. The Lucky Clover, or oxalis house plants, are sold at stores in early March as the symbols of St Patrick's Day. The green shamrock  plant is one of the best house plants for home decorating. Its foliage cleans the air and adds beautiful green color accents to home decor, helping create pleasant, relaxing and healthy home environment without taking too much space.
Oxalis is a small plant and a popular Irish decor item for St Patrick's Day or spring decorating. These small plants with attractive and unique green leaves are great for outdoo home decorating also. Tender small plants look beautiful, fresh and cheerful, and make meaningful and cheap gifts for Christmas, St Patrick's Day and Easter.
Gifts for home decorating with shamrock house plants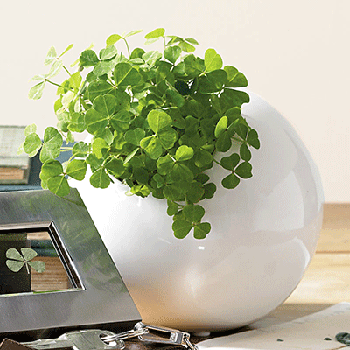 The meaning of St Patrick's decorations
Simple and elegant St Patrick's Day decorations, shamrocks refer to three green leaflets on a stem. It is believed that during a religious debate St Patrick plucked a shamrock to demonstrate the meaning of the Christian Trinity. Lucky Clover are great house plants and Irish holiday gifts that help make St Patrick's Day, Easter and Christmas home decorating very special, eco-friendly and memorable.
Irish priest and a missioner St Patrick used three leaves held together by a single stem to explain the concept of the Holy Trinity, that God was composed of three entities: the Father, the Son and the Holy Spirit. Each entity is a part of the other, just like shamrocks have three leaves on a single stem.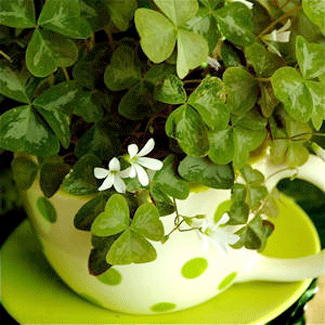 St Patrick played a key role in bringing Christianity to Ireland. It happened quite quickly and without bloodshed. March 17 is St Patricks Day. In Ireland St Patricks Day has long been considered solely religious holiday, and there are several legends associated with St Patricks Day.
Green decorating for St Patricks Day, food inspiration
Interior decorating with maranta plants
St Patrick's Day legends
There are a lot of legends about shamrocks in Irish history. Saint Patrick banished all snakes from the island. He ordered snakes to come to a high hill, and when they all got their, he ordered them to leave the country. One big snake refused to leave the homeland, then St Patrick lured it into the big box and threw into the sea. True or not, but there are no snake on Irish land.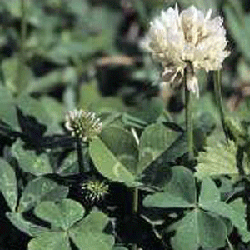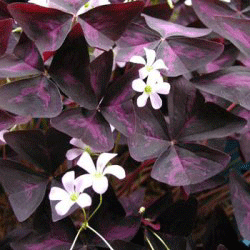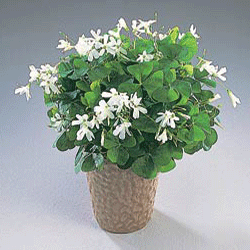 It is also believed that Saint Patrick fasted for 40 days and nights on that hill. God was afraid that Saint Patrick could die before fulfilling his purpose in life, and God spoke to him. He told St Patrick to stop fasting, but St Patrick could not agree before God learned St Patricks wishes.
Green color home decorating, Irish inspiration
Eco friendly decor and Valentines gifts under $10
The priest asked God to free Ireland. He wished Irish land would go under the water for seven days at the end of the world and avoid seeing the disaster and the destruction. Also St Patrick asked God to allow him to talk to each of his people on the last day of the world.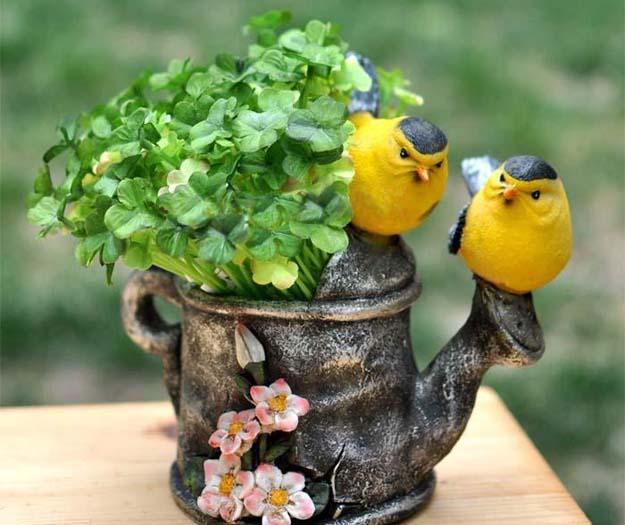 St. Patrick was baptizing people and establishing monasteries, schools and churches in Ireland. By the time he died, on March 17, 461 (or 493), he left behind the organized church on the island of Christians. That's why shamrocks are meaningful Easter, St Patricks Day or Christmas gifts and table centerpieces. The date he died has been commemorated as Irish St Patrick's Day ever since.
Holiday gifts and home decorating ideas
Artistic Christmas Tree: from spontaneous to golden image
Edible flowers for blooming table decoration
Fern decor for room windows facing north
Easter, St Patrick Day or Christmas gift ideas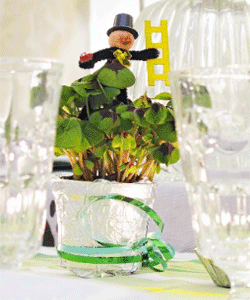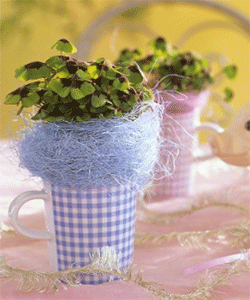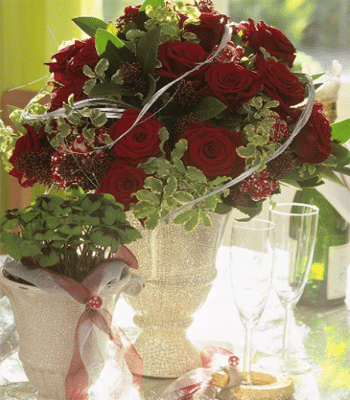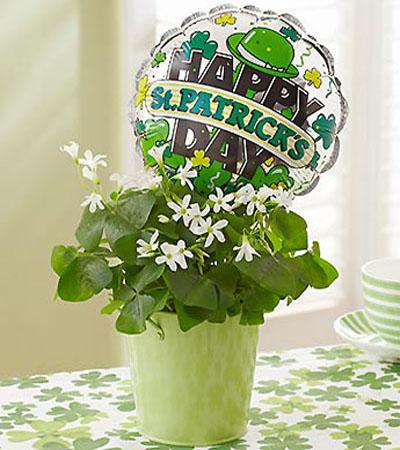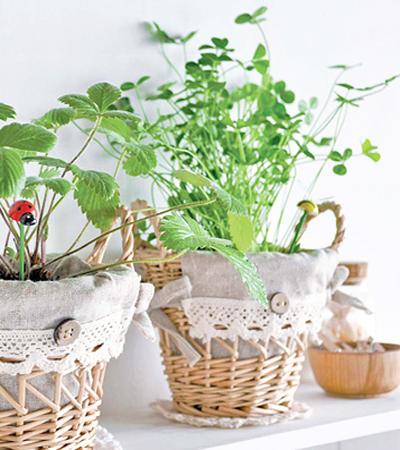 More from holiday decorations

Creative Easter ideas offer many quick and easy techniques for spring eggs decoration. Instead of dyeing eggs, try decoupage turning Easter...
and enjoy free articles sent to your inbox