Modern Cat Houses, Furniture Design Ideas for Small Pets

Decorating Ideas

Furniture Accessories

Pet Design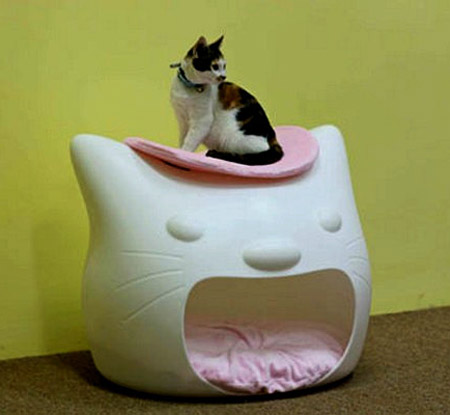 Modern cat furniture design ideas, white cat house with two beds
pet furniture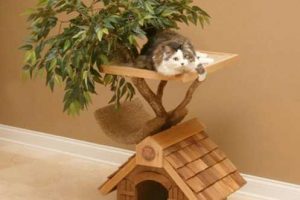 Modern cat house design Kitty Meow from Studio Mango look cute and charming, provide soft and warm beds for cats and add attractive room decor accessories in white, gray, black, red and pink colors to home interiors.
Cats were deities in ancient times, and people continue to admire cats now, although worshiping and gifts are different today. (Contemporary cat houses) Cat lovers make or buy stylish clothes for their small pets, pay for unusual fur styling and design nice cats houses, as colorful fun houses for cats Kitty Meow. (Grooming design ideas for stylish furry pets)
Designing attractive houses for cats is a way to show love, making a house pet comfortable and creating modern room decor with attractive, functional and stylish accessories. Kitty Meow cats houses are not made of old suitcases, modern cat houses offer unique design ideas that look like a cat head.
Modern cat house
Modern cat furniture design ideas, white cat house with two beds
Cat tree design ideas, simple diy modern cat furniture
Modern cat furniture design ideas, wall mounted and heated cats beds
Modern pet furniture is getting more interesting and playful. Cat hammocks, cat trees and soft cat beds transform room decor into a comfortable place for cats.
Cute colorful cat houses from Studio Mango, www.studiomango.nl/ offer a way to please furry friends and cat owners at the same time. Cats will enjoy comfortable and cozy cat houses, and pet owners will be happy with unusual contemporary design.
Creative furniture design ideas for small pets
Colorful modern cat houses in white, gray, black, red and pink colors
Modern cat furniture design, ideas for creating playful environment for cats
Room decorating tips for making a home comfortable for pets
Colorful modern cat houses have two beds, a cat bed inside and a top bed between ears, which allows better observation. Fun cat house design efficiently utilizes available space for creating more fun for cats with lovely accommodations for two cats.
White cat house, creative pet furniture design ideas
Modern cat furniture design for functions and attraction
Luxury boarding hotel for paws
Modern cat houses in white, gray, black, red and pink colors, designed by Paul Hendrikx for PetsInn Shanghai, made of contemporary plastic which is easy to clean, demonstrate creative design ideas and make perfect room decor accessories for all cat owners who appreciate humor and unique design for pets.
More from contemporary design

Modern house design in Japanese style celebrates the functionality and elegance of minimalism. Airy, bright rooms look inviting and comfortable. Natural...
and enjoy free articles sent to your inbox