Modern Cat Furniture, Playful Pet Furniture Design

Furniture Accessories

Money Saving Tips

Pet Design

pet furniture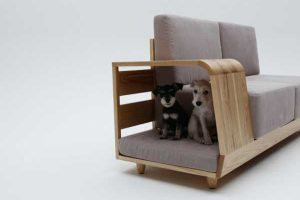 Modern cat furniture offer various playful design ideas that your cat will enjoy. Interesting cat beds and small cat towers with toys help organize modern homes, keep cats off furniture and save space. Modern cat friendly materials and creative design ideas make toy-furniture for cats exciting and enjoyable.
Inspired by modern cat furniture  design ideas and designer concepts, you can find and buy or make cat furniture for your pets. Shopping for pet furniture online and looking for pet furniture discount sale or free used cat furniture are good ideas that save you money.
You can build pet furniture, refinish and redecorate cheap cat furniture items or upgrade old home furniture pieces in accordance with your cat personally, your taste and budget, having fun, enjoying creative ideas, keeping cats off home furniture and saving money.
Modern furniture design ideas for cats
Modern cat bed, playful pet furniture for modern homes
Cats, interesting and playful pet furniture design ideas
The idea of keeping a cat off furniture inspire creative solutions. Eco friendly and cat friendly materials, combined with playful pet furniture design ideas keep cats busy, help save cats body heat (Contemporary room heaters for pets) and make modern cat beds especially comfortable and attractive.
Playful and cozy pet furniture can be the best cats toys. Cats can play with hanging toys, various parts of cat beds and towers or climb on them, enjoying cat friendly materials. Interactive and interesting, comfortable and modern cat beds and cat towers help stop cats from scratching home furniture.
Modern cat bed, playful and cozy pet furniture design
Modern cat towers and cat scratching posts with hanging toys
Modern cat house design
Modern cat furniture design for function and attraction
Playful and funky pet furniture design ideas
The flower-shaped, colorful modern cat bed with soft flexible petals is an example of interactive, interesting and attractive pet furniture design for cats. Also playful, cat friendly and modern cat bed is easy to move around the house.
Playful cat beds can be added to cat towers and fixed on cat scratching posts for creating lotus-shaped pet furniture design for cats. Turned up side down the flower-shaped cat beds make kitty friendly model with smaller petals.
Cats toys and pet furniture design ideas, modern cats beds
Cats hammock, made of wood and cat friendly fabric, pet furniture design for modern homes
Cats hammock
Funky modern cat furniture design, cats hammock is made of wood (Solid wood furniture, eco style interior) and cat friendly fabric. Light, portable and relatively cheap pet furniture add charming accents to pet friendly modern homes and can be used for cat playtime outdoor.
The frame of the cat hammock can be disassembled without tools. Fabrics in different colors vary from wool for cold winter days to light microfiber fabrics for the summer. Cats enjoy practical, playful, attractive and unique outdoor furniture design, that bring more comfort and fun into cats life. (Unique furniture design, playful seats made of tennis balls)
Playful pet furniture design ideas for kitties
Modern cat towers with hanging toys for kitties
Modern cat scratch posts with hanging kitty toys
Learn more about modern cat scratch posts and cat bed design ideas before choosing the pest pet furniture design for your cat. Buying or building interesting and playful pet furniture items will keep cats of home furniture, making them busy and happy.
Cat tree design ideas, simple diy cat furniture
Modern cat furniture design ideas, wall mounted and heated beds
Stylish home decor, room decorating tips from cats
Modern cat beds and toys
Modern cat bed-cave for kitties

Here are great ideas for kids toys storage and wall decoration with small cars that everyone would love. DIY organizers, like...
and enjoy free articles sent to your inbox