Original Garden Benches Adding Beautiful Accents to Backyard Designs

Decorating Ideas

Furniture Accessories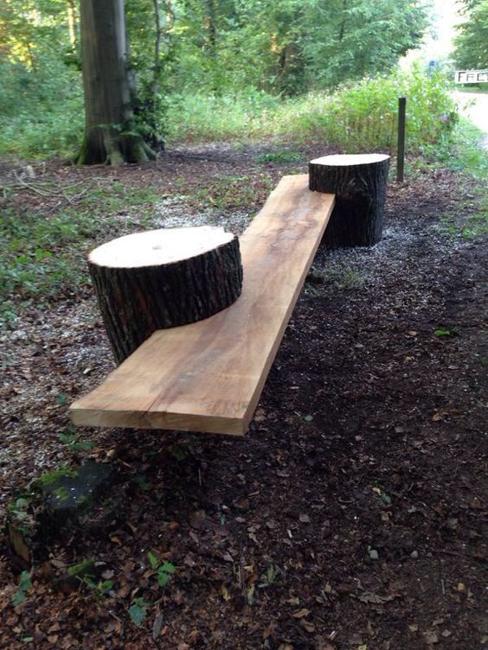 Wooden bench recycling tree stumps
garden decorations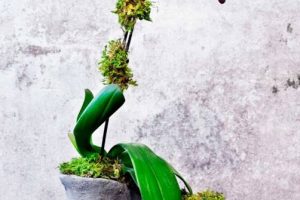 Outdoor benches are beautiful garden decorations that blend gorgeous designs and textures, surprise with original combinations of materials and offer functional pieces of outdoor furniture, ideal for porches, pool patios, and green lawns. A bench gives a finishing touch to yard landscaping and makes a backyard look welcoming and comfortable. Lushome provides some examples of original garden furniture made of salvaged wood or stones, metal wire, rocks to share inspirations for decorating gardens and backyards.
Handmade garden benches redefine the traditional outdoor furniture turning wood and rocks into fabulous sculptures that bring personality into outdoor living spaces, create unique gardens. Original and comfortable garden furniture creates visual interest and adds an inviting feel to yards and patio designs.
Innovative architectural forms and surprising combinations of materials create beautiful centerpieces for gardens and outdoor seating areas. Unique outdoor benches made with wood and rocks do not only look attractive and welcoming, but provide low-maintenance, practical, and eco-friendly solutions for personalizing outdoor living spaces. Recycled and Green materials help blend bench designs with the surroundings and give a natural feel to outdoor seating areas.
33 wood furniture designs complimenting backyard landscaping
Recycling wood chairs and benches for blooming garden decorations
30 unique furniture pieces adding beautiful accents to backyard designs
Original garden benches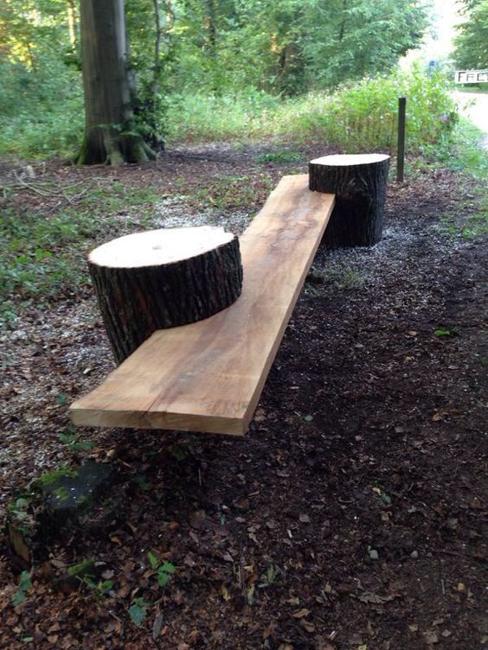 1. Wooden bench.
Wooden garden furniture is not only pleasing to the eye but comfortable, warm and timelessly stylish too. Wood boards and logs are fabulous, eco-friendly, and attractive materials, perfect for creative bench designs and home decorating in a traditional style. The greatest things about wooden materials are that they are widely available, cheap or free, and perfect for DIY projects.
2. Recycling for wood and metal furniture.
Recycling metal items for creative garden seats brings another beautiful texture into outdoor living spaces and gives an elegantly surprising look to backyard designs. Vintage wheels make original legs for benches, but these beautiful metal parts need protection against rust. Metal wire that holds rocks can be the easiest solution for a low-maintenance garden bench with a wooden seat.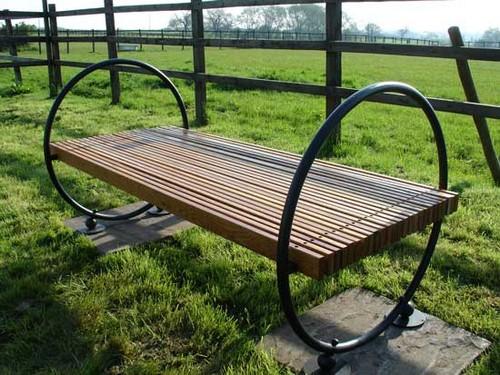 3. Concrete benches.
Concrete benches look extremely elegant in classic gardens with mature trees and curvy paths among beautiful flower beds. Contemporary designs with concrete blocks and wooden seats are excellent DIY projects which offer cheap ideas to spruce up gardens and yards. Concrete blocks and wooden boards are easy to work with materials. The only disadvantage of a concrete block bench is that it remains where you install it.
Garden bench with concrete blocks legs and wooden seat
4. Stone benches.
Stones bring luxury into garden designs. The garden furniture items, made from carved stone slabs, are sturdy, durable, do not require maintenance, and last forever. Stone benches are elegant and chic garden decorations. They are good investments in outdoor furniture if you want to add luxury and timeless elegance to your yard landscaping. Stone garden benches are beautiful garden decorations that create one-of-a-kind centerpieces, attractively personalize outdoor living spaces and promise a relaxed, stress-free lifestyle.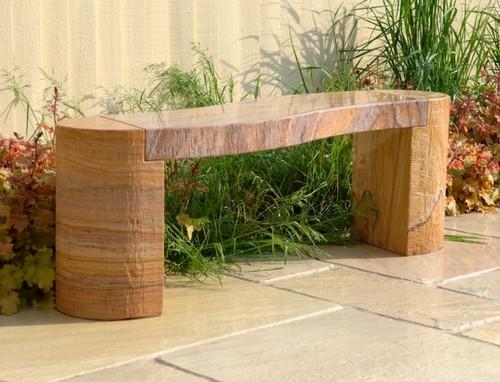 5. Unique furniture design.
There are many ways to add character to yard landscaping. Material combinations, colorful painting ideas, and unique bench designs brighten up outdoor living spaces and complement modern houses. Recycling wheels and salvaged wood, carved out of logs seats, backrests sculptured like birdhouses or letters, bright painting ideas and rocking garden benches are just a few examples of unique furniture design which makes outdoor rooms look creative, comfortable, and original.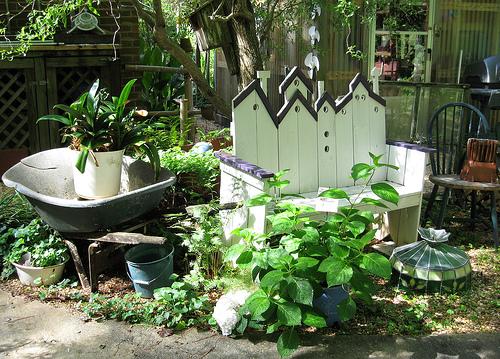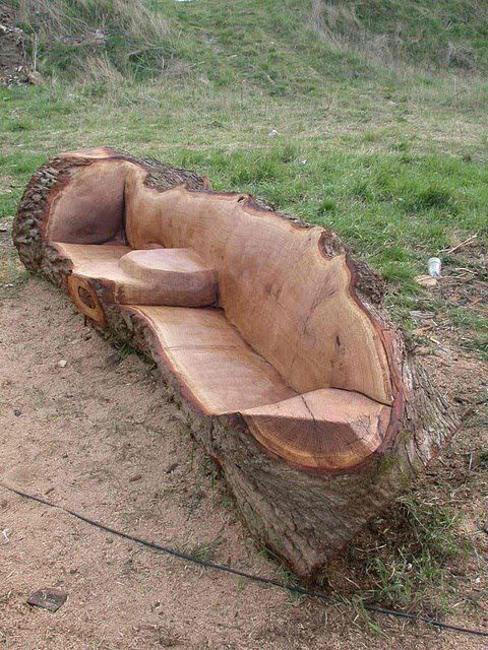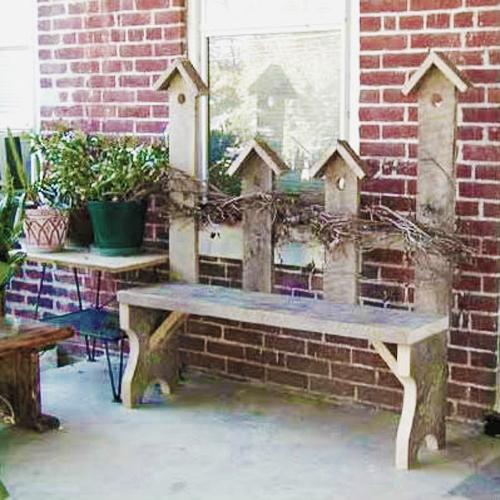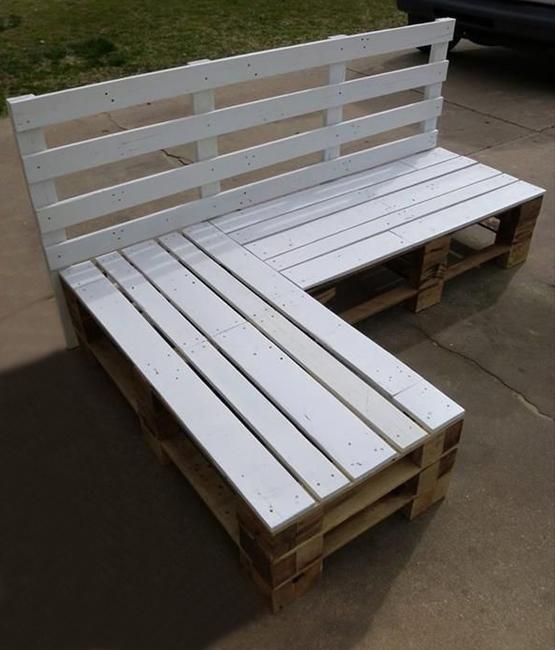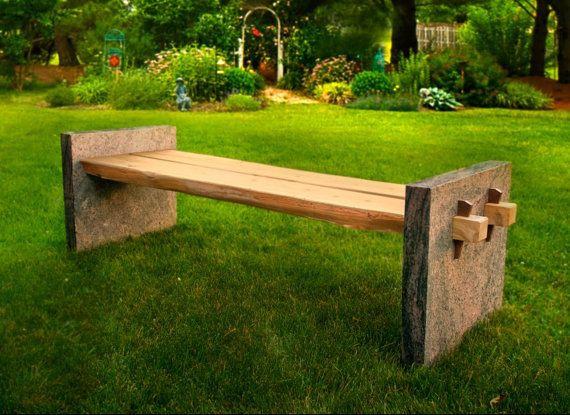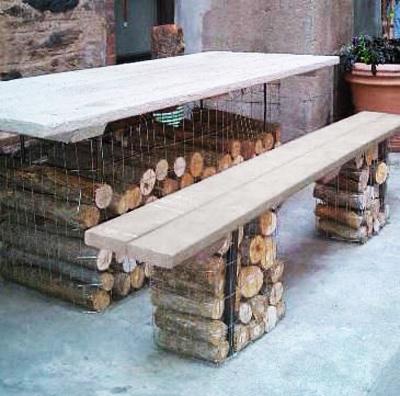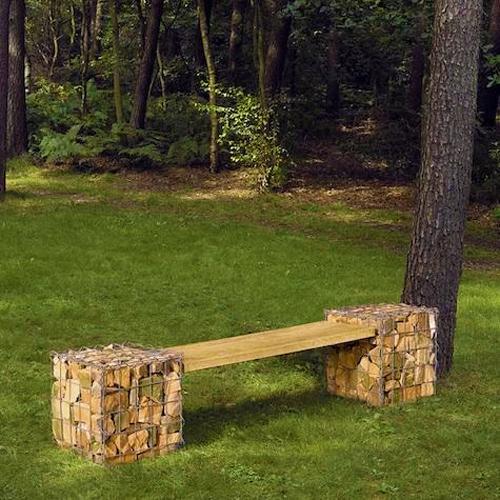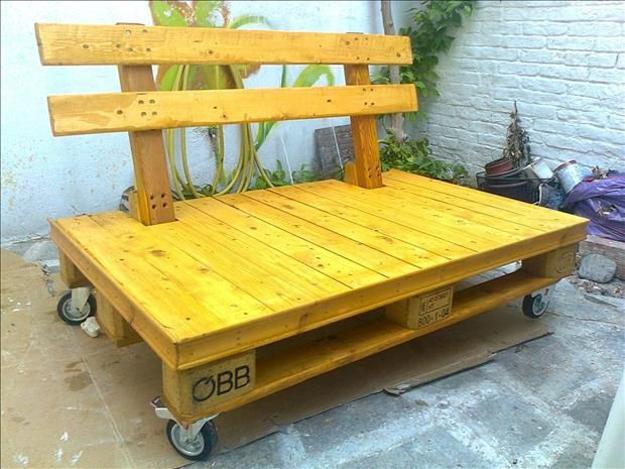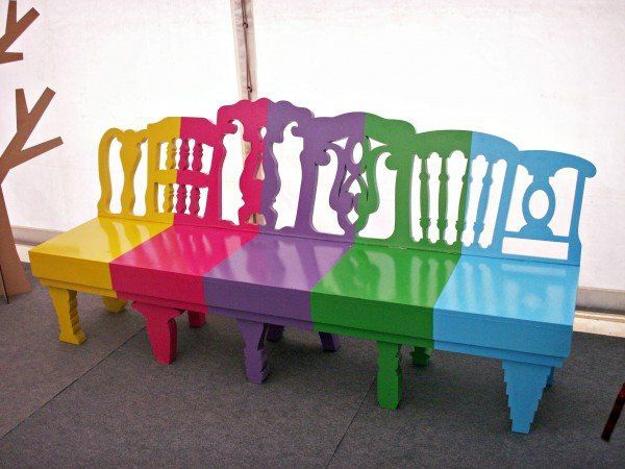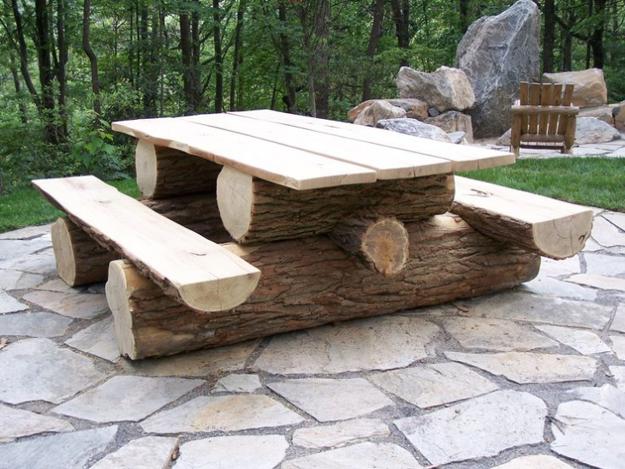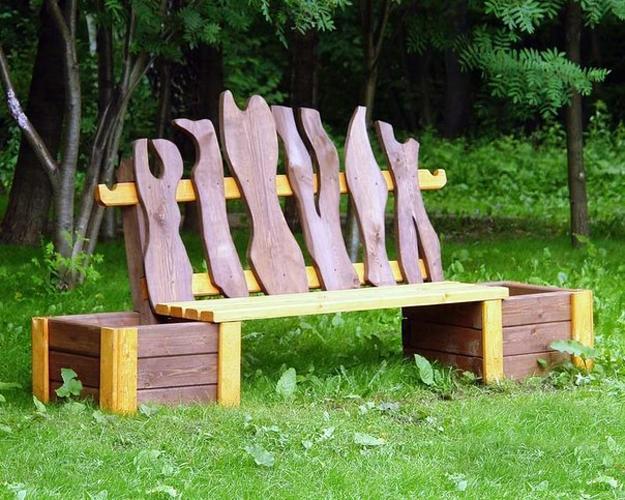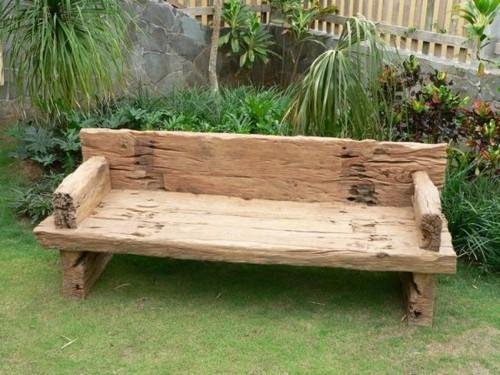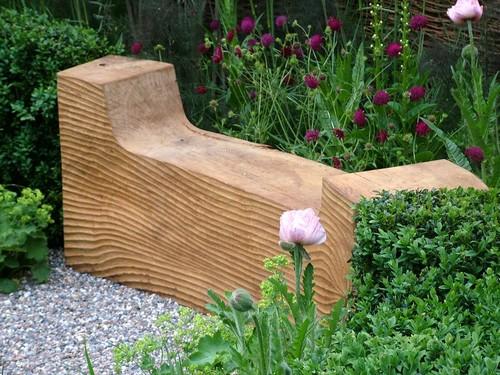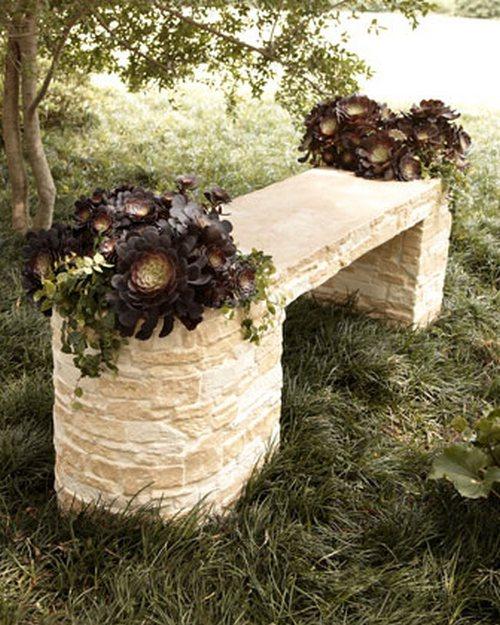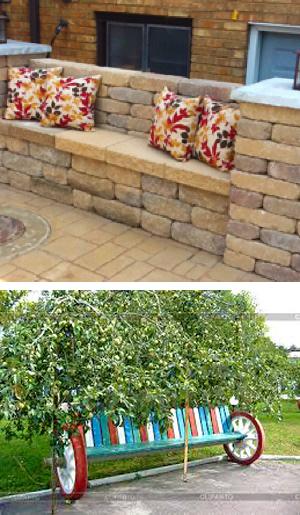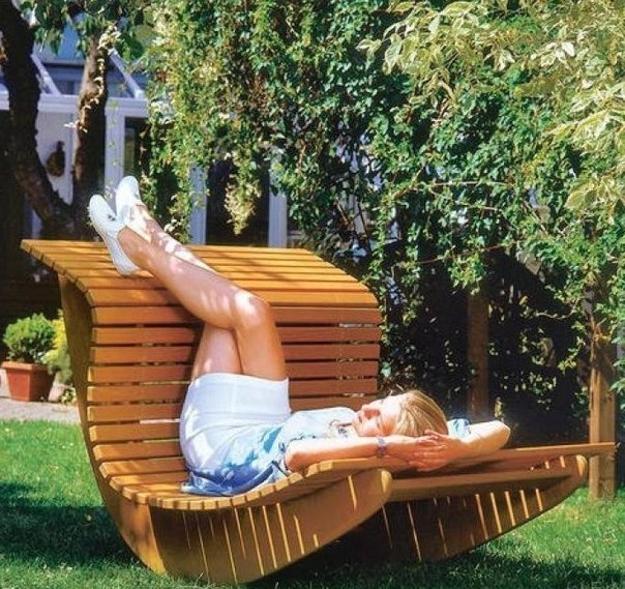 Wooden shelves are unique kitchen storage ideas that require good organization. Nobody wants to see the mess inside of the cabinets,...
and enjoy free articles sent to your inbox