Recycling Old Chairs and Benches for Blooming Garden Decorations

Decorating Ideas

Outdoor Living

Plants and Flowers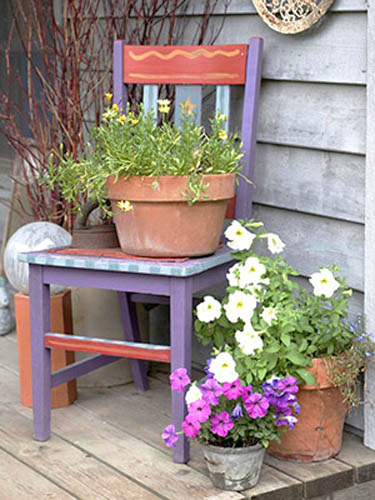 Wood chair painted in red and purple colors and decorated with flowers
garden decorations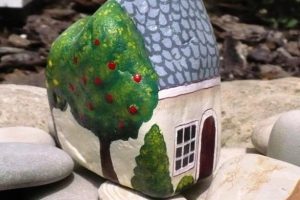 Recycling old, broken or useless things and junk is a green way to get rid of clutter and an opportunity to design unique decorative accents to balconies, porches, backyard designs and front yard decorating. Recycling wood chairs and benches or furniture pieces made of metal and plastic is great for the environment and saves money.
Creative front yard or backyard ideas for simple and inexpensive diy projects are very personal. Recycling old chairs and benches and designing blooming garden decorations can turn front yard or backyard designs into gorgeous places for rest and enjoying the natural beauty, creating private retreats.
Simple garden decorations made of wood furniture and containers with plants and flowers create charming atmosphere and add value to your home. Old chairs and benches with plants and flowers look familiar and sentimental. Unusual containers, made of water cans and buckets, old tires and tea kettles, make front yard or backyard designs, balconies and porches even more interesting  and impressive.
Recycling old furniture for garden decorations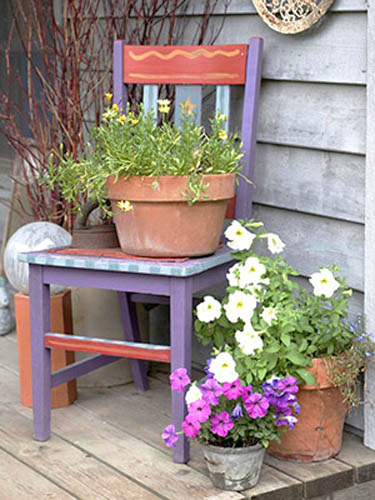 Old chairs and benches, combined with unusual containers with plants and flowers are simple, inexpensive and very attractive way to decorate your outdoor rooms. A wrought iron bed frame is another exciting ideas to reuse and recycle furniture you do not need.
Old wooden or metal chairs, benches, console tables or stools can be found on flea markets. You can make a simple rustic wood chair, bench, console table or stool and decorate it with plants and flowers, creating unique and pleasant front yard or backyard design.
Old garden bench made of wood and decorated with plants and flowers, simple and charming garden decorations
Here are 20 beautiful ideas for garden and backyard designs or front yard decorating, that can inspire you to design a unique garden decoration, recycling wood furniture pieces.
Two inspiring design ideas, unique DIY garden decorations
Garden Fork Table and 6 creative backyard ideas
Old chairs and benches, decorated with plants and flowers, look so charming that immediately change how your outdoor rooms look. Painting old wood furniture in bright colors and unusual planters increase the effect, creating dramatic garden decorations which grab the attention.
Creative way to reuse and recycle old furniture for yard decorating, wrought iron bed with flowers
Green color, combined with white flowers or various flowers in bright colors, look stunning, fresh and interesting, emphasizing the beauty of natural surroundings.
Backyard ideas for spring decorating, 6 tips to make backyard landscaping more fun
Picnyc Table by Haiko Cornelissen, dining room table with green top
You can decorate an old chair, bench or stool with edible herbs, evergreen plants, annuals or perennial flowers, cacti, mosses or decorative mini palm trees. You can use few chairs and design each in accordance with a different decorating theme.
Wrought iron chair with red flowers, bright balcony or porch decorating ideas
Experimenting is a fun part of recycling old chairs, benches, console tables, barrels or stools. Unusual design ideas, surprising mix of plant containers and interesting blend of flowers colors make bold and unique garden decorations for amazing backyard designs or front yard decorating in style.
Plastic and glass recycling for fences built of empty bottles, 20 green building ideas
Unusual planters for backyard decoration, 20 spring decorating ideas
Old garden bench with flowers, backyard ideas
Creative ideas for outdoor decorating with flowers

Wooden shelves are unique kitchen storage ideas that require good organization. Nobody wants to see the mess inside of the cabinets,...
and enjoy free articles sent to your inbox