Picnyc Table by Haiko Cornelissen, Dining Room Table with Green Top
Creative contemporary dining table designs, dining table with green grass on its top
unique furniture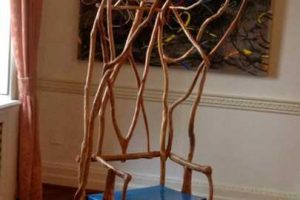 Dining room table with green grass growing on the top is a bright eco friendly interior decorating idea that allow to enjoy the natural beauty, add a splash of fresh green color to dining room decor and have a summer picnic at home any time of the year.
Made of aluminum, contemporary Picnyc Table from designer Haiko Cornelissen is excellent for those who like romantic dining outside and appreciate unusual and creative dining table designs.
The designer created a simple and elegant, attractive and eco friendly modern dining table for busy life in urban eco friendly houses and apartments, bringing a piece of nature into modern homes.
Green home decor miniature, modern tables with mini gardens
9 dining tables and chairs design trends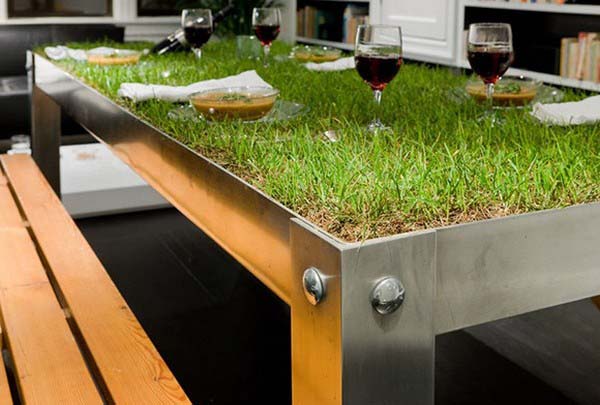 Durable aluminum frame of the modern dining table is light and contemporary. A table top is a shallow container for growing green grass or creating a small flower bed and a mini garden with edible herbs. The designer offers different kids of grass, depending of the amount of light in your dining room.
Various grass and blooming flowers will add different green color shades and bright colors to dining room decor, creating an amazing focal point of interior decorating. It is possible to grow vegetables, while enjoying meals at this unusual and creative, eco friendly and modern dining table.
Picnyc table design is light and can be easily moved to different places, and you can take the modern dining table outside in summer, enjoying meals on a deck or a balcony in style. Kids can spill drinks and do not worry about making a tablecloth dirty. Dining room table with green grass on the top is great for families with young children.
Lilliputian table decorations and gift ideas
Green grass on the top of designer dining table needs just watering and cutting, but the beauty and uniqueness of dining table designs with green grass, edible herbs, vegetables or fresh flowers are worth it.

What time is it? It's singing bird o'clock! This unique timepiece is bringing the fresh vibe into spring decorating, making elegant...
and enjoy free articles sent to your inbox