Modern Bedroom Wallpaper, One Wall Decoration Trends

Bedroom Designs

Staging Home Interiors

modern wallpaper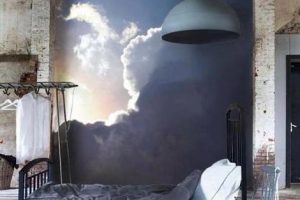 Elegant and practical, one wall decoration trends help add beautiful and dramatic accents to neutral bedroom decorating ideas with modern wallpaper patterns, stylish themes and colors. Selecting neutral or white room colors and decorating only one wall with beautiful wallpapers are modern bedroom decorating ideas that bring pleasant color contrasts into bedroom decor.
Light neutral and white room colors for bedroom decorating  are perfect for staging home interiors also, and work well for small spaces and large rooms, creating fresh, airy and spacious look. Beautiful wallpapers and white paint, modern wallpaper patterns in light colors and creative one wall decoration ideas make bedroom decor interesting without decreasing bedrooms sizes visually.
Light room colors, romantic flower wallpaper patterns, tender stripes or attractive abstract designs on one wall add character to bedroom decor, offering stylish and spacious bedroom decorating ideas that feel both unusual and relaxing.
Modern wallpaper patterns and colors, interior design in eco style
Modern floral wallpaper patterns and designer fabrics
1. Bright bedroom wallpaper patterns for one wall decoration
Light paint colors for walls and ceiling and one wall decoration with modern wallpaper pattern are effective and interesting bedroom decorating ideas, especially suitable for lacking any interest small spaces.
Flower wallpaper patterns, abstract and striped wallpaper can be combined for creative and exciting wall decoration.
Unique and modern wall decoration ideas, neutral and pleasant room colors, and simple decorating ideas are a great way to transform bedrooms into inviting and stylish rooms.
Room decorating, poppy flower wallpaper
Stylish striped wallpaper patterns for modern rooms
2. One wall decoration ideas, modern wallpaper patterns in soft colors
Light pastel or white room colors and soft wallpaper patterns, white ceiling, white furniture and bedding are perfect for creating spacious bedroom decor.
Creative bedroom decorating ideas that include modern wallpaper patterns with white flowers, add romantic flavor to wall decoration, creating charming bedrooms.
Modern wallpaper patterns, wall curves
Neutral color, room decorating with modern beige tones
Soft pastel colors, white paint and bedding, neutral bedroom wallpaper are excellent for staging home interiors or decorating in eco style.
3. Black and white wallpapers, one wall decoration ideas with black wallpapers
Black wallpaper patterns look dramatic and mysterious. Classy white and black room colors create a sense of chic and add luxurious charm to bedroom decor.
Elegant striped wallpaper patterns or black and white wallpapers with flowers are stylish choices for modern bedroom decor.
Black wallpaper, mysterious room wall decor
Kids room decor with playful shadows, bedroom wallpaper

Here are great ideas for kids toys storage and wall decoration with small cars that everyone would love. DIY organizers, like...
and enjoy free articles sent to your inbox