Thatched Roofing for Gazebos and Sheds, Gorgeous Backyard Designs

Green Design Ideas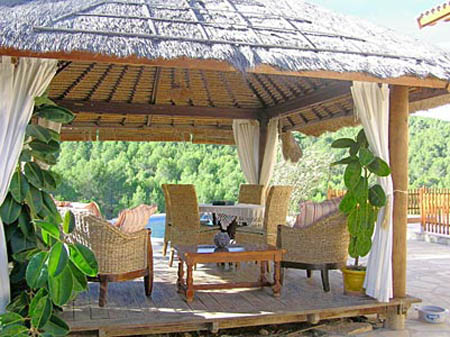 outdoor rooms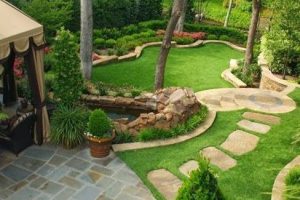 Owing a gazebo with a thatch roof design will give your garden a touch of serenity. For thousands of years, people have been using thatching roofs for creating traditional homes that look charming. Thatching roofs is one of the most beautiful and eco friendly ways to create unique gazebos and sheds that attractively decorate backyard designs.
Thatching a roof is a craft that is generally handed down from father to son. A qualified roof thatcher will take about five years to train someone to master hatching roof skills. Thatching  roofs for gazebos and sheds are inspired by traditional European homes, mainly in Germany, Holland and England.
A gazebo or a garden shed with a thatch roof should not be built near to or under trees. If the thatched roofing material gets wet, it needs to dry out as soon as possible to prevent rot or fungal growth. If surrounding trees keep a thatch roof in the shade for most of the day, a thatched roofing will have a much shorter lifespan than those in the full sun.
Feng Shui home design, roof color
Contemporary small garden design, creative yard landscaping ideas
Beautiful garden design with pool patio and thatch roof
The leaves from the surrounding trees will also drop onto a thatch roof and keep it damp for even longer, which will also lead to rotting.
Thatched roofing material is very decorative and practical. Thatched roofs are great for building in  countries with very cold winter climates. During the winter months the thatched roofing material freezes, and all insect and fungal dies.
Beautiful garden design with small pond, gazebo with hatched roof
Thatch roofs are good for gazebos, small garden buildings and sheds located on sea or ocean front yards. Protected by sea spray thatched roofing material serves longer, as salt sterilises natural thatch roofs.
Roofing material to Feng Shui house roof design
Two inspiring design ideas, unique DIY garden decorations
Beautiful backyard design with small gazebo, thatch roof made of reed plant
Thatched roofing materials are the best for eco friendly insulated roof designs. Most other roofs need to be insulated after they have been installed, while thatch roofs offer excellent insulating properties, making a roof design ideal for hot or cold climate to keep the living spaces under the roofs cool in summer and warm in winter.
Small building with thatch roof
Thatched roofs are maintenance free, although thatch roof designs are very vulnerable to being stripped by birds. If you need to protect your thatched roof,  it is better to cover it with a plastic or wire mesh that will keep the birds away.
Feng Shui home design, roof style
Green roof, sustainable architecture and rooftop garden designs
Thatched roofing for green building, backyard design with small pond and gazebo
The weakest point of any thatch roof design is the ridge. One can get it covered with a fibreglass hood or the old method of mortar will also do the trick. This is the most vulnerable part of a thatch roof design and needs to be constantly maintained.

Winter backyard landscaping is about designing peaceful and beautiful outdoor spaces that celebrate natural beauty and provide a habitat to protect...
and enjoy free articles sent to your inbox