Staging Home Interiors, Small Bathroom Decorating Ideas

Bathroom Ideas
Staging Home Interiors

small bathroom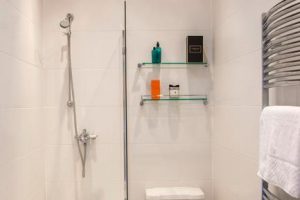 Modern bathroom decorating is an important part of home staging. Staging home interiors for sale prepares proper homes presentations and helps captivate the potential buyers hearts. Staging home interiors can  improve your living conditions also, making your small bathrooms design and other rooms decor more comfortable, stylish and functional.
Simple small bathroom decorating and home staging tips help bring dramatic changes. Staged homes sell first, because they present comfortable, functional and pleasant rooms that people enjoy and want to have. Easy to follow home staging tips and modern bathroom decorating ideas can turn your bathroom into a relaxing, functional and spacious retreat, that adds joy to your life or helps sell your home faster. (Small bathrooms design, light and color ideas for bathroom remodeling)
Art and mirrors, lighting fixtures and small decor accessories are gems that help beautify your small bathroom, if you choose the right colors and places for them. Home staging tips for bathroom decorating give you practical and effective ideas where to arrange mirrors, art works or storage furniture, how to use colors and decor accessories for creating attractive and spacious small bathrooms design.
Home staging tips and bathroom decorating ideas
1. Match towels and bathroom decorating accessories with the selected color scheme.
2. Use a brighter accent color for the visual impact. White towels add freshness, creating luxurious, spa like feel. (White color and light for breezy bathroom decor)
3. A modern hook or an interesting towel rack make small bathrooms design more functional and attractive.
4. Creating a nice storage for linens and small accessories are good home staging ideas, especially helpful for small bathroom decorating. (Small bathroom storage ideas and space savers)
5. Do not hang bathrobes on the door or walls, keep them on small shelves or in a closet. Fluffy fabrics do not reflect light and make small bathrooms design look cluttered and smaller.
6. It is better to avoid bright towels and bathroom decorating accessories in small bathrooms. Staging home interiors with neutral, light and relaxing colors increase small spaces size.
7. Large items, like big pictures, storage units or large towel heaters, are not the best choices for small bathrooms design. Large wall decorations, shelves and heaters reduce free wall space and create the illusion of a small interior.
8. Pictures and mirrors sizes should be large enough for the free wall space to make small bathroom decorating ideas balanced and attractive.
9. Simple frames look great in small bathrooms, bringing elegant accents into decorating design.
10. Light horizontal lines on paintings, modern wall stickers and decals, mirror frames, wall tiles and curtains visually increase small bathrooms design.
Staging home interiors, bathroom decorating ideas:
Staging home interiors, bathroom decor, acrylic tubs
Attractive bathroom storage, creative storage ideas
Home staging and creative redesign to feel better
More from home staging tips

Modern interior design trends come and go, and it is impossible to change your home interiors fast enough following them. To...
and enjoy free articles sent to your inbox