Interior design colors determine the way a room feels. Red accent walls, ceiling, floor and home furnishings make people feel active, passionate and energetic in a room. By paying attention to the amount of red colors used in interior design, you can control a powerful and subtle element of your room decorating.
Modern interior design with red red colors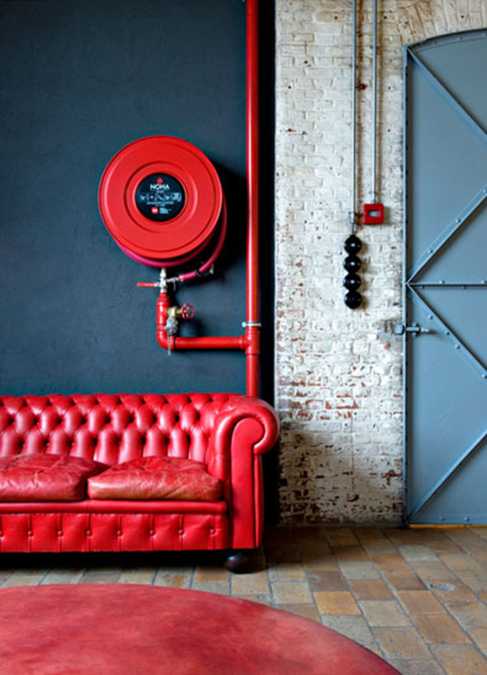 The color red is historically seen in the romantic red roses and red blood of the hunt. Red colors are associated with a warm fireplace and an explosion of a volcano. Danger and passion are blended in red colors, and these color shades excite people when they see red color. Modern interior design and decorating ideas that include red colors are ideal for those who enjoy moving, acting and doing, blending furious and passionate into dynamic rooms.
One of the main effects the red color creates is that it speeds up the metabolism and encourage to speak and move faster. People eat and talk more in the presence of red colors, loosing more weight, because interior design with red colors encourages to spend more energy. Red interior colors create an invigorating effect and force people to take action. Interior design and decorating with red colors make people to take chances and come up with decisions rapidly. Bedroom decorating with red colors makes it easy to wake up in the morning, but more difficult to fall asleep at night.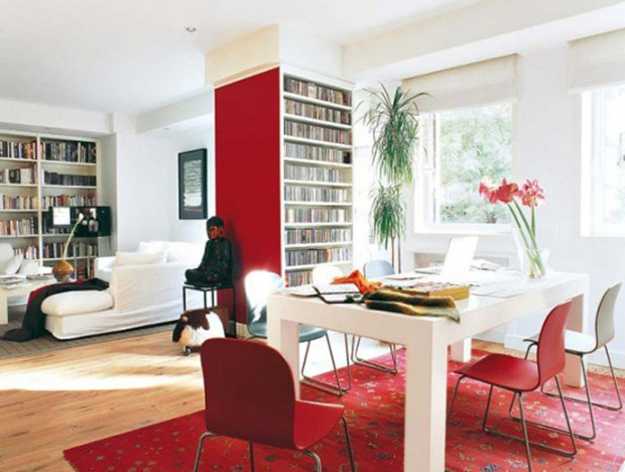 Red interior colors are passionate and provocative. For people who are already argumentative, interior design and decorating with bold red color shades are not the best choices. Red colors are a way to add passionate and romantic interior colors to your rooms. Comfortable and modern interior design and decorating that include hot red colors are not just bright and exciting, but can bring more loving feelings into people life.
Light gray, white and pink-red colors, 5 color schemes for modern interior design and decorating
15 tips for interior design with bright red color accents or dark room colors
Bright red color accents, 15 bold and beautiful interior design and decorating ideas