Bachelor Apartment Ideas, Decorating Personal Small Spaces

Black White Decor

Interior Design Ideas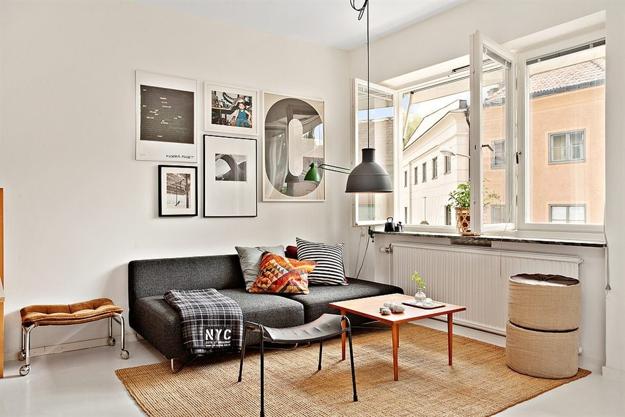 Black and white decorating ideas for small apartment
decorating small apartments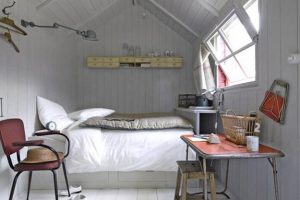 Bachelor apartment ideas for decorating small spaces have to deal with a challenging of creating enough storage space while making rooms look spacious, stylish and comfortable. Even very small spaces can look airy and appear twice as large with a few easy visual tricks and smart ideas for decorating small apartments.
Functional furniture placement and strategically placed room decor accessories add comfort and vibrant color accents to decorating small apartments in elegant style. Decluttering and white decorating ideas, combined with simple and functional furniture visually stretch small spaces. A few brightly colored room decor accessories, a furniture piece or a lighting fixture add depth and interest to light neutral colors and jazz up white decorating ideas.
Tiny kitchens and bathrooms are true challenges for decorating small apartments. Functional kitchen layout and small kitchen cabinets create modern kitchen design where all the cook needs is easily available. Limiting home furnishings to a few furniture pieces, like a sofa, a chair and a coffee table is great for decorating small apartments.
Decorating small apartments in black and white with green accents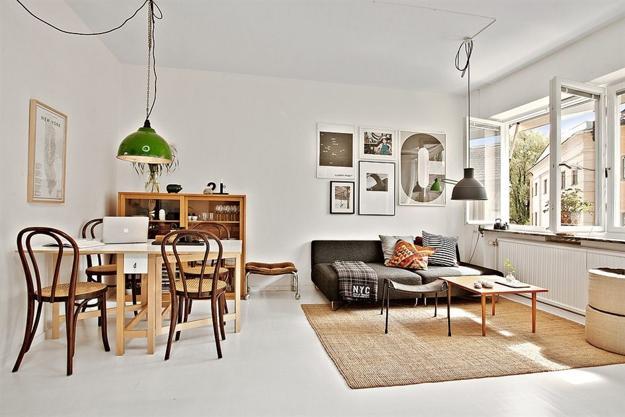 Adding a small bookshelf in a corner and keeping home furnishings against the walls save floor space in the center of the room. The wide open and easy to walk through living spaces appear larger and more comfortable. An accent rug in the living area adds beautiful texture to simple apartment ideas for a bachelor.
The small bedroom design features a large bed with storage boxes and a wall light. All bedroom decor items are in white and black colors creating very simple and bright interior decorating in minimalist style.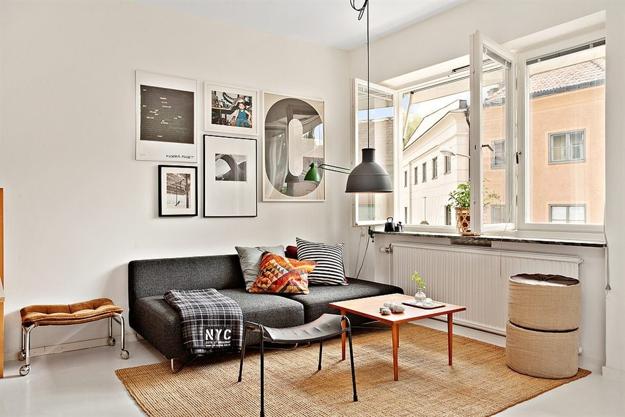 Lots of natural light and efficient lighting design make small apartment ideas look brighter. Small spaces look larger when they are filled with natural light and well lit at night. Light window curtains add to an airy feel of small rooms. Hanging curtain rods near the ceiling gives the impression of a tall window which enriches and beautifies interior design.
White apartment ideas and red accent wall design for decorating small apartments
3 small apartment ideas creating multifunctional and modern home interiors
Simple light and modern interior design and decor, small penthouse in Sweden
White decorating ideas and light neutral color shades are great for decorating small apartments. White paint colors and home furnishings in light neutral colors make small spaces look bigger, while a few items in dark or bright colors add interest to small rooms and spruce up apartment ideas with colorful accents and energetic contrasts.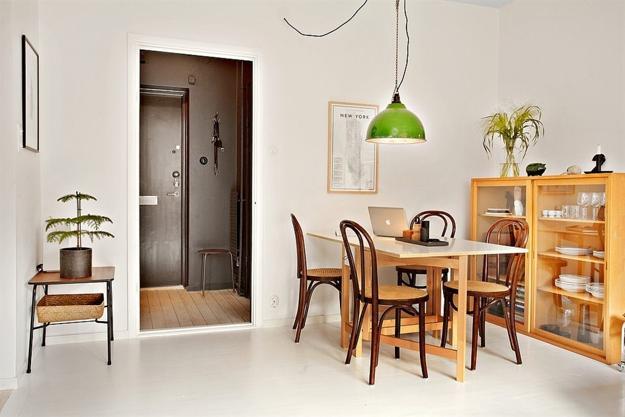 Light wooden furniture and jute floor rugs, white bedding sets and black and white photography on the walls, combined with light sand, pastel peach, butter yellow and other light almost neutral color shades for upholstery, accent rugs and curtains are perfect for decorating small apartments. Adding splashes of color, like green lamp shade or orange sofa pillow, make small apartment decorating ideas attractive and balanced.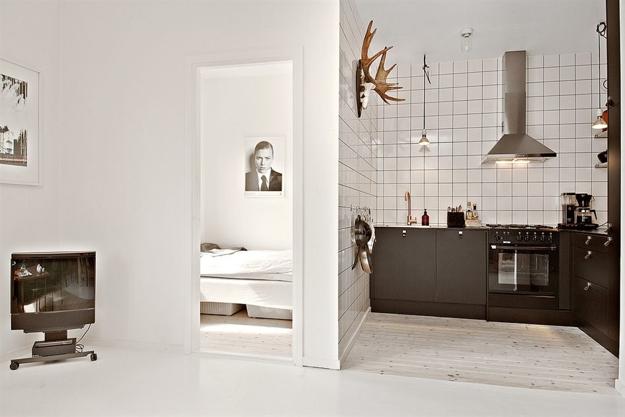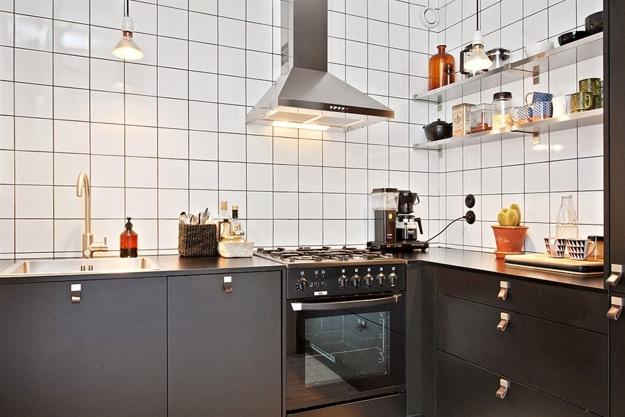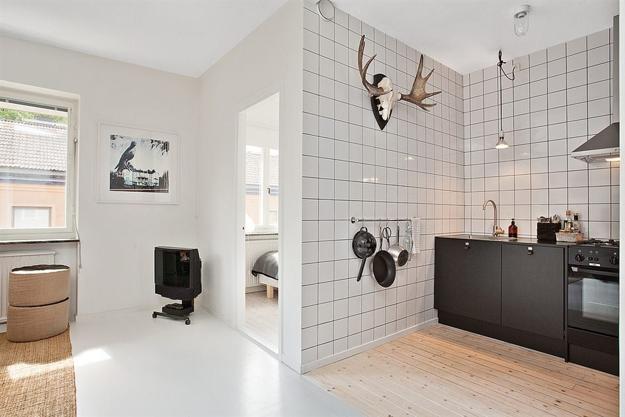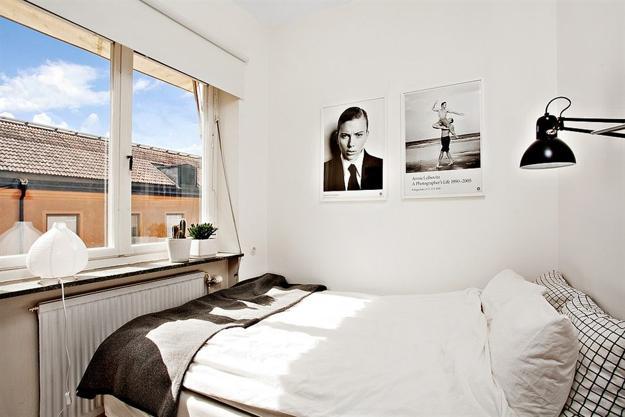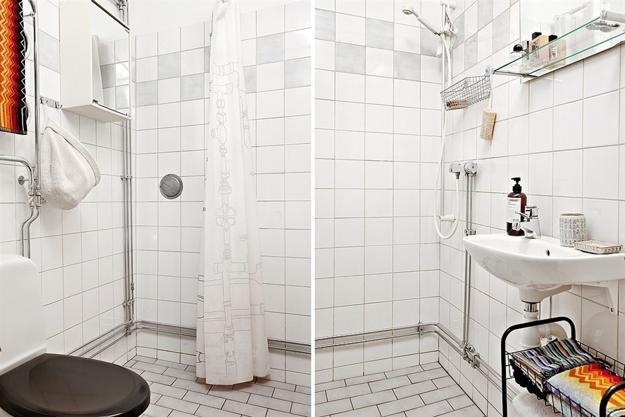 More from apartment ideas

Unusual interior design is exciting and inspiring. We can wonder how people get their ideas for creating an original interior design,...
and enjoy free articles sent to your inbox