Recycling Used Wine Bottle Corks for Hot Pot Coasters, Green Ideas for Crafts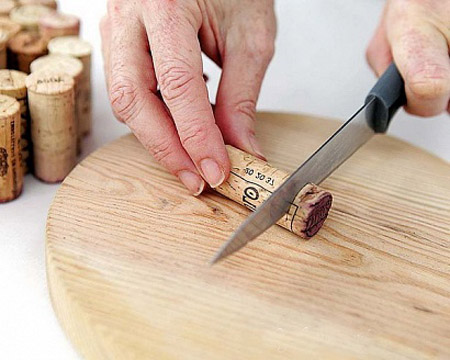 Cutting wine corks, preparing them for making a hot pot coaster
eco friendly products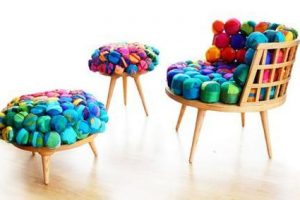 Recycling used wine bottle corks is fun. Making hot pot coasters and home decorations are the most common craft ideas. Used wine corks, wine stoppers  are unique material for creative art and craft projects that can add unusual and functional items to eco homes.
Recycling used wine bottle corks is a great green idea that helps declutter your home and unleash your creativity, adding comfort and beauty to eco homes. There are many ways of creating hot pot coasters, wreaths, garlands, message boards, simple gifts, functional items and home decorations, reusing and recycling wine corks, that are inspiring, cheap and quick.
Few craft ideas for making hot pot coasters of used wine bottle corks may inspire you for creating unique items for your kitchen that reuse and recycle wine stoppers, bringing more natural materials into your home.
The simplest craft project for making a round hot pot coaster
Diy project and craft ideas for making hot pot coasters of used wine bottle corks
Cork is an impermeable, buoyant and soft material made of bark tissue that is harvested for commercial use primarily from Quercus suber, the Cork Oak) in southwest Europe, especially Portugal, and northwest Africa.
Cork is composed of suberin, a hydrophobic substance, and because of its impermeability, buoyancy, elasticity, and fire resistance, it is used in a variety of products, including modern furniture and accessories, home decorations and kitchen products.
Measuring wine corks for making a hot pot holder
Breakfast, lunch and dinner at home are especially pleasant, when you can enjoy neat and beautiful table setting. Simple and elegant craft ideas create the aura of warm and welcoming home, where everything is comfortable and pleasant.
Unique designs that reuse and recycle tennis balls
Eco friendly green building to reuse and recycle old empty bottles
Crafts and handmade home decorations reflect the taste of the owner, adding unique personality to home decor, including dining room and kitchen decorating.
Cutting wine corks, preparing them for making a hot pot coaster
Small details, handmade home decorations and functional items, made of natural materials make a huge difference, creating inviting and beautiful eco homes.
Eco friendly felt for wall decorating
Recycling crafts, old shoes for green plants
Placemats, glass and hot pot coasters, made of used wine corks are wonderful accents for eco homes, that create informal and friendly atmosphere at the table.
Attaching wine corks together with a glue gun
Hot pot coasters, made of used wine corks, look unique and creative, attracting the attention, helping people to relax and making meals or hot drinks more delicious.
Empty container house, cheap and durable modern house designs
Recycling plastic IMacs shells into aquarium tanks, green design ideas for eco homes and offices
Unusual and interesting glass and hot pot coasters, made from wine corks, are excellent thermal insulators that protect the furniture surface from damage.
Making a simple round hot pot coaster of used wine bottle corks
Cut to the desired size and connected with heat resistant glue or threads, wine corks make beautiful hot pot holders for simple and eco friendly table decoration.
Handmade hot pot coaster, simple craft idea to reuse and recycle wine bottle corks
Table decoration with hot pot holders, made of recycled wine bottle corks, look charming. It is even more pleasant, when people reuse and recycle household items, save money and create unique handmade home decorations and recycled crafts for eco homes.
Creative craft ideas for making hot pot coasters of used wine bottle corks

Recycling is a creative, Green, modern way to create something new, exciting, original, stylish for your home interiors. Do-It-Yourself projects are...
and enjoy free articles sent to your inbox